Miner pride in local media
UTEP's Student Alumni Association (SAA) hosted its fifth 35 Under 35 Speaker Series discussion with special guests Stephanie Shields, Brianna Chavez and Amanda Guillen. 
The discussion focused on alumni in local media and how their UTEP education and miner pride helps them be successful in the field of journalism. 
"I love sharing and being able to help because people from UTEP can go on and do great things," Shields said. 
SAA's 35 Under 35 Speaker Series is an annual year-long project that invites 35 UTEP alumni to speak with students about their accomplishments and share the possibilities that a UTEP degree offers. 
Brianna Chavez graduated from UTEP in 2019 and has been working with KVIA ABC-7 for three years as a morning reporter for "Good Morning El Paso" and as a co-anchor and co-producer for "ABC-7 at Noon." 
Stephanie Shields graduated in 2016 and has been a multimedia journalist for three years at KTSM-9 News. 
Amanda Guillen also graduated in 2016 and has worked with CBS-4/KFOX-14 for five years as a weather anchor and now as the morning news anchor and a producer and anchor for the CBS-4 noon show.
The discussion panel was directed by a moderator who asked all three guests questions regarding their UTEP college experience, their best and most challenging experiences in the journalism field and any advice they might have for future UTEP journalists.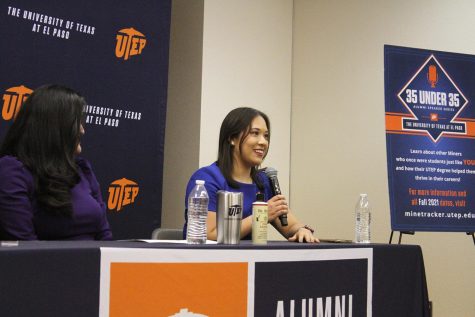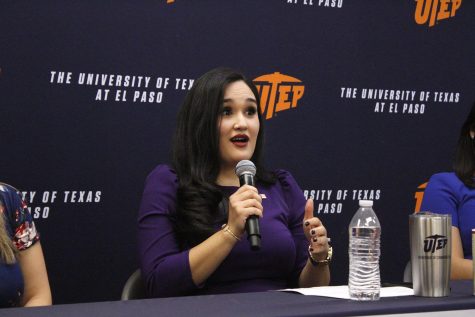 "You have to work with what you are given. Unfortunately, we don't have a broadcast program at UTEP, so make it, do it and be the person you want to be on your own. You can do it," Guillen said. 
All panelists spoke about their appreciation for UTEP and the Communication Department for the support, opportunities and connections they have built and acquired over their careers. 
"I don't think I would be where I am, or I guess as well-versed, and maybe even as confident in my abilities if it was not for The Prospector," Chavez said. 
Although Chavez plans to explore and expand her career outside of her hometown in the future, all speakers expressed their admiration towards El Paso's unique bicultural and strong community. 
They also shared how difficult and heartbreaking it is to report on stories about the COVID-19 pandemic, fatal monsoon season, the Aug. 3, 2019 shooting as frontline workers, and the stressful responsibility of keeping the public informed. 
"We are in the middle of all of it. We have big stories, immigration, we have Ft. Bliss that brings so many stories. Our community is so rich in its culture, and there are so many stories here," Guillen said. 
Panelists encouraged students to make connections with their professors and sources and take advantage of opportunities and resources provided by UTEP. 
"Take a chance on yourself, that's also very important in an industry like this, that's competitive," Shields said. "It's hard, and it's exhausting sometimes. It's something that college students can relate to because of the long hours." 
All speakers expressed their joy and passion in telling the stories of people and helping the community by reporting on their struggles and success. 
"Whatever choice we make, whether is news or not, we know we have the department, and UTEP, our families, and everyone behind our backs," Chavez said. 
The last 35 Under 35 Speaker Series discussion will focus on alumni in the health profession from 12 p.m. to 1 p.m., Wednesday, Nov. 17. 
Victoria Rivas is the Arts and Culture Editor and may be reached at [email protected]; @VicRivas_18 on Twitter.