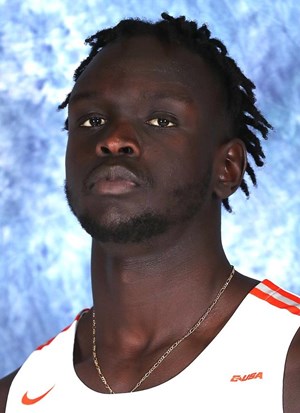 Dunk and go nuts! Standing at six foot 10 inches is UTEP men's basketball player Bonke Maring. Maring is originally from Cypress, Texas, and is currently a sophomore at UTEP. He is currently taking his core courses and is still deciding on his major.  
The UTEP men's basketball player plays forward on the team. He previously played for Blinn College located in Brenham, Texas from 2019 to 2021. This is his first season playing with the UTEP Miners after transferring from the Blinn College Buccaneers.  
"I came here to UTEP because it is a great place to be at and I really like all of the people here and my coaches," Maring said.  
Maring and the team have been hard at work under the guidance of their new head coach Joe Golding to prepare for the upcoming season. 
Maring has been playing basketball for 15 years. He started playing because his brother inspired him to play. The first time he dunked a basketball was when he was 15 years old. Maring is a pivotal part of the team, not only because of his towering height, but thanks to his skills as well.  
"I bring a lot of rebounds, good shots and hustle to the team. I hope all of us as a team can work together to win all of our games this season and hopefully bring home another championship," he said.  
Maring's strengths include having good hands around the basket and finishing on contact. His weakness is that he needs to get better on defense.  
Maring was named All-Region XIV Conference second team after averaging 12.6 points and eight rebounds per game. He shot 62.9 percent from the field and added a 2-for-5 effort on three-pointers. Maring also finished 71.7 percent from the free-throw line.  
Maring made an impressive jump in his sophomore season after averaging only 2.7 points and 2.4 rebounds during his freshman season. Maring is hoping to show even more improvement with his season starting next week.  
During games to stay motivated, Maring listens to his favorite rapper Drake to get pumped up to play. He doesn't get nervous playing in front of a crowd since he's been playing for so long.  
He wants to play in the NBA after he graduates from college. It doesn't matter what team he plays on, as long as he gets to play. It has always been his dream to play in the NBA like his favorite professional basketball player, LeBron James.  
Maring's advice to future basketball players, "Keep working and stay humble."  
Maring and his teammates will kick off their season at 7 p.m. Tuesday, Nov. 9, at the Don Haskins Center against the Western New Mexico Mustangs. 
Tickets can be purchased by calling the Eisenberg Family Ticket Office at 915-747-UTEP, email [email protected], visiting www.UTEPMiners.com/tickets or in person (Brumbelow Building on UTEP campus, 201 Glory Road) between 8 a.m. and 5 p.m. Monday through Friday. 
You can also follow Maring on Instagram @BonkeMaring33 and keep up with UTEP Men's Basketball news at https://utepminers.com/sports/mens-basketball. 
Stats acquired with the help of UTEP Athletics.  
Alyson Rodriguez is a contributor at The Prospector and may be reached at [email protected]