Katia Gallegos preps to lead team to victory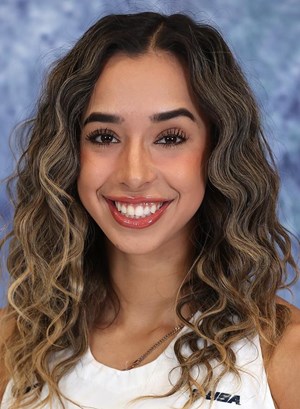 UTEP's Point Guard Katia Gallegos discusses her experience on being a D1 student-athlete, who relies on her family's support to honor her heritage on the court and her achievements.  
According to the UTEP 2021-2022 women's basketball roster, Gallegos was the first Miner Sophomore since 2008 to be a first-team All-League Honoree. Her assist average (5.0) was the second-best in school history by a sophomore. She started all 25 games her sophomore year, and was on the 2021 and 2022 Nancy Lieberman Award Watch list. Despite all these prestigious honors, Gallegos says her focus is on her team.  
"It is cool having recognition, but at the end of the day, my goal is set for more conference USA, like championship as a team. That's really my goal right now, just trying to put in my two cents to help this team to win and lead them," Gallegos said.  
Gallegos says that her coaching staff prepares her well, not only on the court but off the court. Knowledge about press conferences, interviews and how she presents herself has stemmed from her basketball experience and has taught Gallegos discipline.  
Awarded the Nancy Lieberman Watch List for two years, Gallegos says she feels a lot of joy bringing honor to her family and other Hispanics.  
"I know it's a lot of hard work for a Mexican to come out in the U.S, in the NCAA to be recognized, and I think it's a motivation for a lot of people," Gallegos said.  
The passion for basketball drives Gallegos to keep pushing during school and the game.  
"I've been in love with this game for a very long time, and I'm just getting started. It's just the motivation for the future, I want to go far with this, every day is work," Gallegos said.  
Gallegos says she owes God for keeping herself and her family happy. She says her family's and the El Paso community support  help her mentally and emotionally.  
Gallegos says the heart of wanting to succeed plays a key role in her academic, athletic and personal life.  
When Gallegos was younger, she would love to watch American basketball player Russell Westbrook and became inspired by him, Gallegos said.  
Gallegos was born in Ciudad Juárez, Mexico and moved to the United States when she was 8-years-old.  
When she moved to the United States, she was excited that most basketball courts were indoors, unlike the ones she would play outside in Juarez.  
"Growing up in El Paso the opportunities I was given to keep playing, represent my middle school, my high school, and now college. I'm very lucky because not a lot of people get to have this opportunity," Gallegos said.   
When Gallegos is not on the court she enjoys spending time with her friends and enjoys socializing.  
Gallego's favorite shows are Money Heist and Queen of South. She enjoys listening to Myke Towers, Bad Bunny and Ozuna.   
"I listen to a lot of reggaeton before games, after games all the time," Gallegos said.  
Julia Lucero is a contributor and may be reached at [email protected]