A Legacy of Excellence: Remembering Diana Natalicio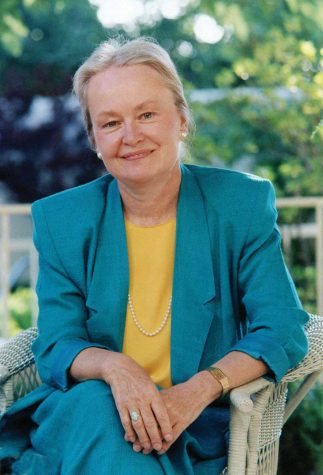 A restless silence nestled itself in every crevice of The University of Texas at El Paso following the passing of former president Diana Natalicio, Ph.D., at the age of 82 on Sept. 24, 2021.
Though the wind-bent tree branches, inviting the onset of autumn in the borderland, and many flowers upon Natalicio's memorial wreath in the center of Centennial Plaza softly fluttered, there was no other sound. The breath of the campus was still, preceding a wailing that could not be heard but was palpable in every heart. 
The morning's idle chatter was beset with an impenetrable fog, the space in which an inevitable conversation was set to take place — and while all were aware of its presence, no one was truly prepared to acknowledge it, fearing the weight of it might just be too much. 
But few had the presence and character that shattered silence and barriers like Diana Natalicio. 
Born in St. Louis, Missouri, to a family of modest means in 1939, Natalicio began work as a switchboard operator directly out of high school. In the first of a lifetime worth of groundbreaking decisions defying complacency in pursuit of progress, Natalicio enrolled in the private Saint Louis University and graduated in 1961 with a bachelor's degree in Spanish. She proceeded to receive a Fullbright Scholarship, studying in Brazil and earning her master's degree in Portuguese before returning to the U.S. to earn a doctorate in linguistic at the University of Texas at Austin.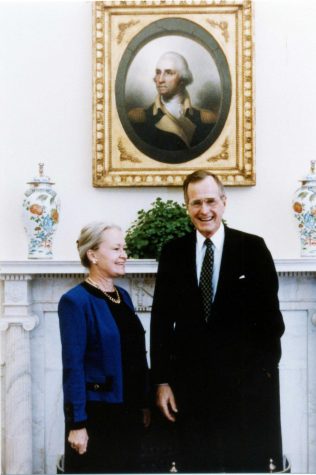 Natalicio became a professor of linguistics at UTEP in 1971, quickly becoming chair of the modern languages department two years later, followed by time as the dean of liberal arts and vice president for academic affairs. 
She was officially appointed president by the University of Texas Board of Regents in 1988, cementing what would become a true legacy in the national history of higher education and a bounding leap in the advancement of historically underrepresented individuals. At the time of her retirement in 2019, Natalicio's 31-year tenure as the UTEP president stood as the sixth-longest of any public doctoral and research university president in history, coinciding with her place as the longest term a female president of a doctoral and research university or four-year public university served, and the first female president of UTEP. 
During an interview with University Communications regarding her 30th anniversary as president, Natalicio referred to herself as the "improbable candidate" while reflecting on the day she was selected for the position. 
Natalicio's encouragement and advocacy for the improbable candidates, the disadvantaged and marginalized is what propelled UTEP to the forefront of academic representation and among the most impactful Hispanic Serving Institutions (HSI) in the nation. 
While many institutions of higher education champion their success in diversity and accessibility, it was not always the standard, and even now many Hispanics and people of color remain underrepresented in colleges and universities across the country. Natalicio, a fervent believer in "access and excellence," insisted that opportunity should be granted invariably and UTEP would rise as an institution that provided both a holistic, quality academic and research experience while maintaining accessibility to the community that it stands to serve. As history would prove to the astonishment and praise of many that believed one came at the sacrifice of the other, UTEP thrived as it coalesced social and cultural recognition with engaging and innovative instruction and experiences, influencing and eventually becoming the foundation for many universities that adapted this success model.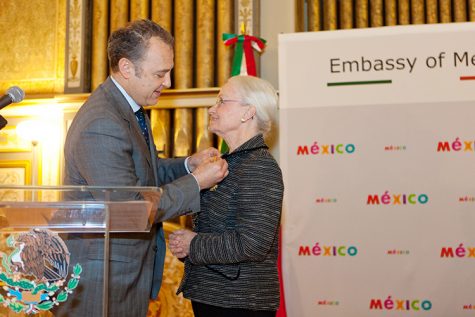 The result of Natalicio's commitment to her inclusive philosophy is an HSI with a student body comprised of over 83% Hispanic individuals, at least 49% of whom are first-generation college students, providing a true reflection of the cultures and identities that populate the city. 
Just as important as the education afforded to the students at UTEP are the opportunities available upon completing their respective programs. Natalicio placed great emphasis on external partnerships with prestigious companies and businesses that have become key to the expansion and improvement of not only the city, but the lives of students that now have the credentials to cultivate a diverse workforce.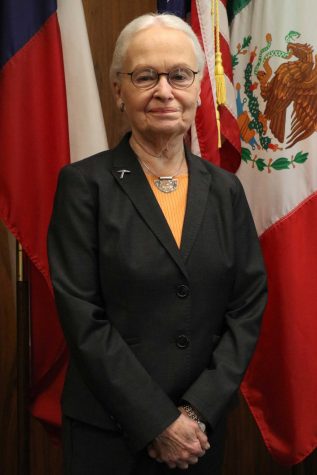 The university has grown substantially, in both size and influence, since Natalicio became president. The student body has increased from 15,000 to 25,000, 164 partnerships and internships around the world have been established, and UTEP generates over a billion dollars for the local economy annually. However, among these achievements overseen and impacted by Natalicio's influence is UTEP receiving an R1 top tier doctoral research university classification by the Carnegie Classification of Institutions of Higher Education, indicating that the university has attained the most prodigious standard for academic research excellence and output, something Natalicio strived for since the beginning.
During her tenure, Natalicio accumulated a multitude of accolades and honorary recognitions for the ways in which she impacted her community and society at large. Among the most notable are her appointments to the Advisory Commission on Educational Excellence for Hispanic Americans by President George H.W. Bush and the National Science Board by President Bill Clinton. TIME magazine listed Natalicio among the 100 most influential people in the world in 2016, and she was subsequently featured in Fortune magazine's Top 50 World Leaders in 2017. The Carnegie Corporation, the President of Mexico, and the Texas Women's Hall of Fame are only a few others that have held Natalicio and her efforts in the highest regard with the utmost respect.
Although, it is possibly the impact that Natalicio had on the lives of innumerable students, faculty, staff and UTEP that overall is the greatest monument to her legacy. The effect her work had on the way institutions of higher education develop their curriculum and acknowledged the social and cultural significance of their communities is evident in even the most recent Executive Order by the Biden administration regarding the advancement of educational equity and opportunity for Hispanics, fully recognizing the potential and insight of underrepresented communities, just as she wanted for her own.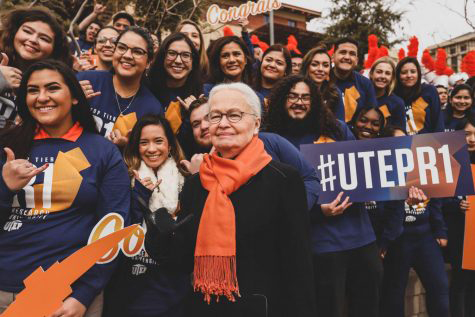 Diana Natalicio dedicated most of her life to those that longed for a chance to achieve, with a dream to accomplish, a desire to be liberated by knowledge and given the opportunity to create a life that otherwise may never have existed. Her work has brought together some of the most innovative minds and unique voices under a shared identity as UTEP Miners. Those that she chose to believe in have gone on to create a better world, shaping a future that nurtures the intelligence and aspirations of even the most disadvantaged, and gives us all a chance at a better life. 
For this, we can never thank her enough. 
"Dr. Natalicio's life is a prime example that one person can make a difference. She led UTEP through a transformative process that affected the lives of thousands of people, including my own.  My Abuelita, an immigrant with a second grade education, always instilled in me the drive for higher education because it was something she had not been privileged to have, but knew had the power to change our lives.  It was Dr. Natalicio's philosophy and work that made my Abuelita's dream of higher education for me a real thing and transformed not just my life, but the trajectory of my family."

— Ms. Andrea Cortinas, Vice President and Chief of Staff

"Diana Natalicio was a supporter of Liberal Arts and a friend. Since I came to UTEP, she encouraged our College to think outside of the box and to sort of shake things up in several areas tied to UTEP's mission of access and excellence. We had plans to increase our community engagement by getting more of our faculty and students to get off of the campus to do projects in the communities of Paso del Norte. And we wanted to get people back into the habit of going to Juarez and working with our colleagues and in our communities across the border. She was a huge supporter of both of these initiatives. We missed her professionally when she stepped down as President but I know I'll miss the prospect of running into her around El Paso or sharing a beer with her and just talking. Her passing leaves a big hole in our community." 

—Dr. Denis O'Hearn, Dean of Liberal Arts, Professor of Sociology

"Dr. Natalicio's vision positively transformed the entire El Paso community and beyond. She was tough when she needed to be, especially when advocating for UTEP, but also so kind to all her Miners. She led a large institution in a very personalized way where she knew many faculty, staff, and students by name. Her legacy will live on for generations."

— Dr. Cristina Morales, Associate Dean of Research for the College of Liberal Arts, Associate Professor of Sociology

"I would love to provide thoughtful and meaningful comments that Dr. Natalicio deserves, but I am at a loss for words to adequately convey how much she meant to me. On a general note, I will forever remain impressed by her, her love of students, passion for science, her endless commitment to the community and her relentless effort to support all of the above (and be successful) for half a century. 

 I will forever be jealous of her public speaking, consistent messaging, ability to comprehend large and diverse topics, use data to inform her decisions, her focus and to stay the course, regardless of the pushback. She had a wonderful laugh that I can still hear in my head! 

 On more practical terms 

Former President Natalicio was an amazing and approachable leader that had a vision of higher education that was not in fashion for her time. Her inner strength and determination saw her dream realized that all students, regardless of their backgrounds, ethnicities, and socioeconomic status would have access to an affordable education that would make them competitive on the world stage. She believed in, developed, and defended concepts including inclusion, social mobility, opportunities for first generation students, access and excellence that many take for granted today. I am thankful she did not and championed them her entire career. 

 I remember my first interaction with Dr. Natalicio when I interviewed for the Chair of the Department of Biological Sciences. I remember coming to UTEP with limited expectations and after just 30 minutes of conversation with her, chatting with the students, and listening to the faculty reflecting her vision, I became a "believer" and knew that I needed to come to UTEP and join her on this important mission. 

 One aspect that I always admired about her was that she wanted to attain Carnegie R1 status, not for her prestige, but what it would mean for the brand recognition of the degrees earned by the students and thus better their opportunities in life.  I also appreciated how she managed to attain this status as a research-intensive university, and did so without sacrificing other university programs. She always told me, "We will get there in our own time and at our own pace". She was true to her word.         

 Dr. Natalicio did more than provide me with incredible academic opportunities to work with the faculty staff and students during my 15 years at UTEP, she brought me and my family to a wonderful community grow and appreciate new cultures and experiences that I had never known before. I am very appreciative of this unexpected outcome of my hire.   

 — Dr. Robert A. Kirken, Dean of College of Science 

"Diana Natalicio changed public higher education, not just in El Paso or Texas, but for the country. It's not an exaggeration to say that her vision for creating an inclusive R1 research university, designed to leverage the assets that students bring to college, set the tone for innovative American higher education." 

— Dr. Clifton Tanabe, Dean of College of Education 

"While many in the El Paso community recognize and appreciate the dedication and hard work of President Natalicio in providing a transformational educational experience for so many in the region, her impact upon higher educational transcended the region and should be noted as well.  Her emphasis on the link between educational access and social mobility is very much a topic of national discussion for those in higher education and public policy circles." 

— Dr. James E. Payne, Dean of the College of Business Administration 

"Dr. Natalicio worked tirelessly to expand educational opportunities and ensure access to higher education.  She transformed lives.  She loved UTEP and more importantly, she loved UTEP students.  I am incredibly thankful to have worked with Dr. Natalicio for more than 15 years and grateful for the impact she had on my life and so many others.  I will cherish the time we had together particularly our trips to Bhutan.  We lost a tremendous leader, fierce advocate, champion for student success and a good friend. I am deeply saddened by the passing of Diana Natalicio but am committed to her legacy of access and excellence." 

— Dr. Catie McCory-Andalis, Associate Vice President and Dean of Students 

"Dr. Natalicio was a positive force in education. Her dynamic leadership was instrumental in helping transform UTEP into the R1 university we are today. We are so grateful for the opportunity to learn from her example, and we will continue her mission of access and excellence." 

— Dr. Leslie Robbins, Dean of School of Nursing
Julian Herrera may be reached at [email protected]; jay_at_utep on Instagram. 
See UTEP's webpage "Remembering Diana Natalicio" to learn more about Natalicio's tenure as UTEP President, donate to her memorial fund, and read statements and comments about her from across the UTEP campus and beyond.