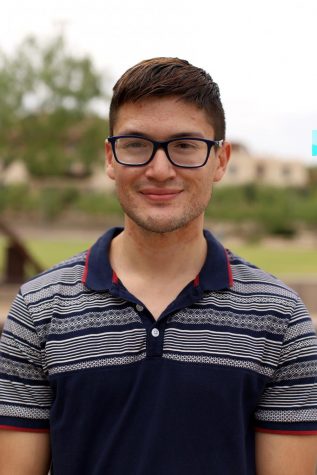 The fight to make UTEP a more sustainable university rage on. One group on campus who is making it their priority to make UTEP green, is the Green Fund committee.  
This environmental conservation organization was established in 2011 and consists of eight voting members and the director of Student Affairs who decide on whether a green project will proceed or not. The committee funds these green projects through the funds allocated from UTEP students' tuition funds; three dollars from every UTEP student goes towards the green fund. This money sums up to $75,000 per semester.  
"The Green Fund committee is a group that is paid for with money from students, and the money is used to pass sustainable projects, fund grants and basically anything you can think of that will have a positive green impact the university," said Ian Valdez, a junior in political science and Chairman of the Green Fund. Some recent projects that the green fund committee has funded include the solar panel charging stations in Leech Grove. This project was one of the most successful projects of the 2020 school year. Other notable green projects include a water conservation project, recycling, food plowing, water stations and so many more.  
The most successful green project in Ramirez's and Valdez's opinion was the water station project. Originally a student's green project proposal submitted to the Green Fund, it was approved as the first water bottle refill station installed in Memorial Gym for the volleyball players. It worked so well that every building had a water station to refill reusable water bottles. 
"Anyone at UTEP can acquire these funds to propose a project that will impact UTEP," said Gilberto Ramirez, a marketing major minoring in commercial real estate and Green Fund marketing representative. "We need the Green Fund and proposals now more than ever due to the world currently facing a crisis of global warming. Unfortunately, we don't have the power to make an impact global wise, but we can do it local wise." 
UTEP is currently considered a sustainable university due to having LED lit buildings, E-Waste, solar panels, greenhouses, bicycles and much more. UTEP is this sustainable due to all of the projects passed by the Green Fund committee, but there still is a lot of work to be done.  The committee wants UTEP students, faculty, and staff to come up with their own green ideas and to work together to make the campus more renewable.  
"We don't require students to be geniuses in environmental science, we just want to promote activism and inform the students that we exist and are here to do great things. We just want to raise awareness," said Valdez.  
"What better way to impact UTEP and leave your legacy than to make a sustainable change here on campus," said Ramirez. 
Currently there are openings for the green ambassador part time position that students can apply for on the website and soon on Job Mine.  
To submit your green idea proposal or to learn more about the green fund committee visit their website https://www.utep.edu/student-affairs/greenfund/ and follow them on Instagram @greenfundutep.  
Alyson Rodriguez may be reached at [email protected]; @alyson_rod1127 on Twitter.