Kraft Hockeyville USA NHL preseason game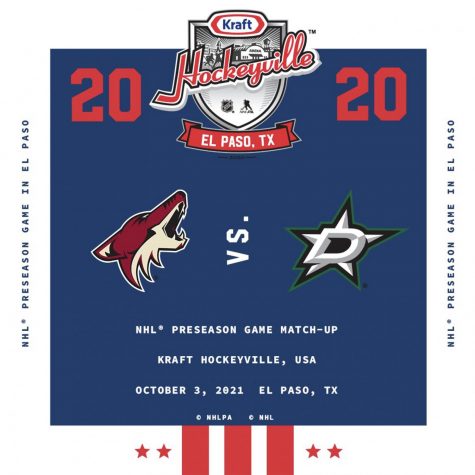 The Arizona Coyotes take on the Dallas Stars at the El Paso County Events Center 7 p.m., Oct. 3for the Kraft Hockeyville USA NHL preseason game. This game was originally supposed to be played in 2020 but was delayed a year due to the pandemic. El Paso was granted the ability to host after being named 2020's most spirited hockey community in America. They achieved this title by getting the most votes in an online forum presented by Kraft Hockeyville USA 2020. El Paso made their presence and pride in their local team known by rallying their votes in order to win the competition.
Other prizes included $150,000 in rink upgrades from Kraft Heinz, and $10,000 worth of new equipment from the NHLPA Goals and Dreams fund. Recent rink upgrades to the El Paso County Events Center include new roofing additions that will help maintain the temperature of the ice better during the hot El Paso seasons.  
Both Arizona and Dallas are a part of the western conference. The Dallas Stars belong to the Discover Central division, and the Arizona Coyotes belong to the Honda West division. As the fourth match into the preseason, both teams have made some recent changes and developments to improve their chance of success. The preseason officially kicks off on Sep. 27 for the National Hockey League.  
Last season, after playing a total of 56 games, the Coyotes managed to finish with a ranking of 22 in the NHL standings, while the Dallas Stars managed to finish at 17 in the NHL standings. Both teams, however, finished in fifth in their respective divisions. One of the key players on the visiting team is Arizona's right-wing Phil Kessel. Kessel led the team last season in goals, points, and was the runner-up in assists. An essential player for the Dallas Stars is center Tyler Seguin as he leads the team in both assists and points scored. 
The Dallas Stars have some essential players coming off injuries that, when healthy, could make the team an even stronger contender in the NHL. These players include center Tyler Seguin, right wing Alexander Radulov, left wing Roope Hintz, and guard Ben Bishop. 
This game is an exciting one for the community of El Paso seeing as it's something El Paso has never seen before. Two top level professional teams are coming to play where the Rhinos, El Paso's own junior ice hockey organization, normally play. 
The Dallas Stars host the Arizona Coyotes at 7 p.m., Oct. 3 at the El Paso County Events Center. Tickets to both the game and practices are available, but of a very limited capacity. However, there is a form on elpasorhinos.com that can be filled out in order to be added to a waitlist. All attendees must be 18 or older to enter. 
All stats for the Arizona Coyotes found on the Arizona Coyotes official website, nhl.com/coyotes  
All stats for the Dallas Stars found on the Dallas Stars official website, nhl.com/stars 
Emily Autumn Velasquez may be reached at [email protected]