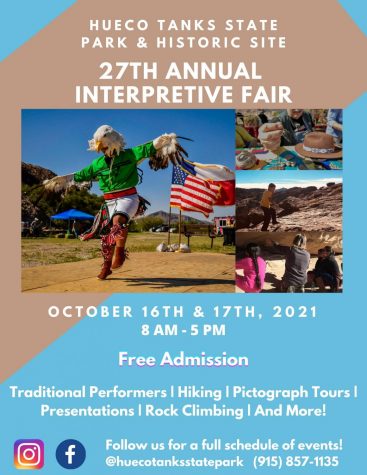 Hueco Tanks State Park will celebrate its 27th Annual Interpretive Fair next month. From 8 a.m. to 5 p.m. on Saturday, Oct. 16 and Sunday, Oct. 17, guests are welcome to attend various events ranging from traditional performances to educational tours around the park to learn more about the region.  
"The Interpretive Fair is a weekend event where we invite the community to come out and experience Hueco Tanks," said Nicole Roque of Texas Parks and Wildlife. "We have exhibitors from all over the region come to share not only the ecological importance of our region, but the cultural and historical importance." 
In the late 1990s, Hueco Tanks State Park was shortly closed to the public due to neglect. New regulations were instated to care for the park; a capacity limit of 70 people in the self-guided area and mandatory orientations were put in place to protect the resources the park had to offer. 
"We really want to show the El Paso community that this place is really important, it's really special and we want them to care about it as much as we do," said Roque.  
The fair became a means to educate the community on the region, the culture, and the history. Roque said that the fair became a way to share the park with everyone whilst protecting the land.  
At the fair, the community can find educational exhibits ranging from the history of the interpretive center as a ranch house for the Escontrias Family, the Ysleta del Sur Pueblo social dancers, various excursions to see some of the 3,000 pictographs in the region, and even do their own self-guided tours. The National Parks Service will designate a National Historical Landmark during the weekend as well.   
Texas Parks and Wildlife highly encourages the community to come out and see what the state park has to offer. Along with the educational tours, Hueco Tanks will be open recreationally and the community is welcome to come for a regular hike with picnic sites available.  
"It is the one weekend out of the year that it is free to come out to Hueco Tanks. There are no capacities… we just invite the community to come out and have a good time," said Roque.  
For more information, guests can check out Hueco Tanks State Park at their website tpwd.texas.gov/state-parks/hueco-tanks, or on Facebook, Instagram, or call (915) 857-1135. 
Kristen Scheaffer can be reached at [email protected]