Don't siesta, come to the fitness fiesta! Calling all Miners, runners, and fitness enthusiasts to the 11th annual Miner Dash and Family Fitness Fiesta. On Sunday, Sept. 26, UTEP will be hosting the first Miner Dash since the beginning of the pandemic. 
This in-person race will be held at UTEP's own Centennial Plaza, and the race is open to the entire community. It consists of a 5k run and a 3k walk through the beautiful architecture of the university. This year's event also showcase a wheelchair division as well. All proceeds made from the event will benefit various programs at UTEP's College of Health Sciences Programs and the Wellness Program.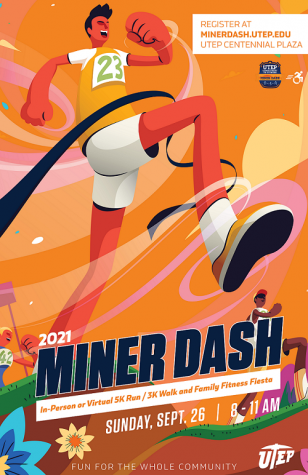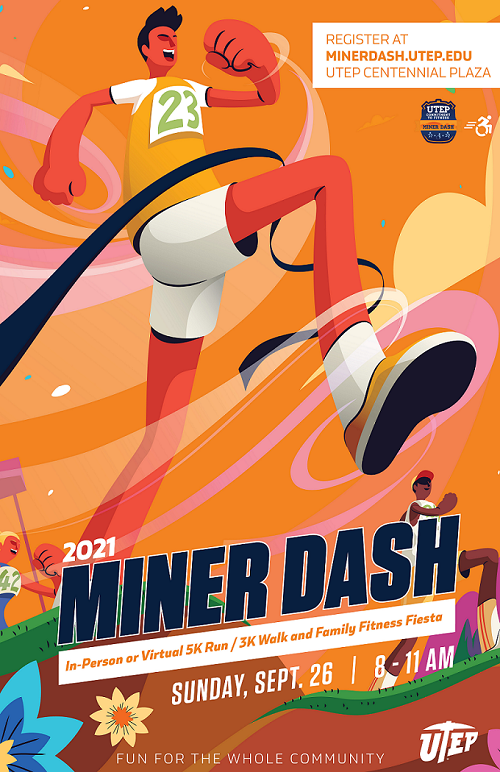 Besides the 5k run and 3k walk, there will also be jumping balloons, inflatable obstacle courses, Zumba and Yoga, plus more fun activities for people of all ages to participate in.  
All packages for the race start at $25 plus a $2.45 sign-up fee, but prices will go up on Sept. 14 to $30. There are various packages available which include the In-Person 5k Run and Family Fiesta and In-Person 5k Wheelchair and Family Fitness Fiesta. There is also a virtual 3k Walk/ 5k run as well. After you register, you may pick up your packet on Saturday, Sept.25 in the lobby area of the Memorial Gymnasium located at 101 W. Robinson Ave from 10 a.m. to 2 p.m.  
The race starts at 8 a.m. in Centennial Plaza and finishes there as well. Participants can park off of Sun Bowl Drive in the Parking Garage and in parking area SB3.  
Students and faculty are looking forward to the annual Miner Dash, such as Derrick Castillo, a Junior at UTEP majoring in Mechanical engineering. 
"I'm so happy that they're having the Miner Dash again this year. I have done this race since I was a freshman and have been training for this event all summer, and I can't wait to race against my friends," said Castillo.  
UTEP sophomore Jose Talamas said he is excited to be participating in Miner Dash for the first time. 
"I had never heard about the Miner Dash until this year and I'm looking forward to participating in this year's race," said Talamas.  
So come out and support your campus and bring your friends and family to participate in the Miner Dash. 
To register for the event visit www.utep.edu/chs/minerdash.   
Alyson Rodriguez may be reached at [email protected]; @alyson_rod1127 on Twitter.