UTEP alumni selected for prestigious NIH fellowship
 A University of Texas at El Paso graduate found herself in the security office of the National Institute of Health (NIH) waiting for a criminal screening. It was her first day at a fellowship for the Intramural National Institute of Allergy and Infectious Diseases Research Opportunity (INRO) program in Bethesda, Maryland.  
Luisa Dominguez was born in El Paso, Texas and attended school in both El Paso and Cuidad Juárez, Chihuahua. Her desire to work as a doctor began when she was a child. Her mother was a nurse and would take her to the hospital that she worked at. Since then, Dominguez has been striving to work in the medical sector, attending Silva Health Magnet High School. There she became pharmacy tech certified and took a Biotech course that set her down the path to work in a laboratory. Through the opportunities provided to her and many others at UTEP, her hard work has earned her the privilege of gaining experience at one of the most renowned institutions in the world. 
Dominguez graduated with a degree in cellular and molecular chemistry in 2021 and was awarded a prestigious fellowship with the NIH.  
At UTEP, Dominguez joined the BUILDing Scholars program with the 2017 cohort, crediting the program with putting her in a position to obtain the fellowship. The BUILDing Scholars program works to prepare students for a career in biomedical research.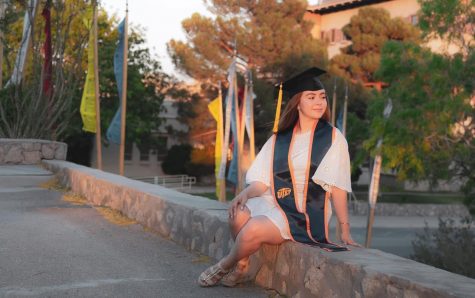 "UTEP prepared me by giving me the opportunity to network and to show myself in other institutions," Dominguez said.  
 In 2019, the BUILDing Scholars program was awarded a 15.2-million-dollar grant by the NIH, "to train the next generation of biomedical researchers in the U.S. Southwest and to enhance the diversity of the biomedical research workforce," according to a news release from UTEP. 
  "I was surprised, I kind of hoped I had a chance," Dominguez said. "It makes your day, I mean it made my whole year."  
 At the NIH INRO department Dominguez works in the Laboratory of Allergic Diseases Mast Cell Biology Section. She is conducting a detailed genetic analysis with familial mitosis to see what common or new mutations occur.  She is working side-by-side with some of the top scientists in the country.  
The process of getting inside of the laboratory is a grueling one. She must undergo a Corona Virus screening daily and without credentials she must go through a criminal screening with NIH security. Fortunately for her, she received her identification card, and the process is much smoother than her first time. 
The fellowship is for one to two years. She will stay for the first year and if she does not go to graduate school she will stay for another year.  
"I always had in mind to be a doctor. I also liked the public health side," Dominguez said.  
She is still undecided, but with a minor in medical anthropology, she has the option to explore multiple fields.