Latin favorites headline the Don Haskins concert series
The Don Haskins Center, 151 Glory Road, welcomes a lively slate of musical artists for its 2021 concert series. Tickets for each of the concerts are available at Ticketmaster, ticketmaster.com or www.utep.edu/utep-ticket-center. All tickets for shows purchased prior to postponement will be honored.
Thrash and groove metal icons Megadeth and Lamb of God join forces on the co-headlined "Metal Tour of the Year" at 6 p.m., Aug. 24at the Don Haskins Center. With Megadeth front man Dave Mustaine recently recovered from throat cancer and Lamb of God coming off a critically successful album in 2020, both artists are prepared to bring their revitalized shows to the stage. Tickets $22- $350.
Kane Brown brings his country-pop hybrid sound to the stage at 7 p.m., Sept. 11, on the "Worldwide Beautiful Tour." The winner of multiple ACM and CMT awards, Brown is the first artist to have simultaneous number ones on all five main Billboard country charts. Limited tickets remain from $63 – $347.
Alejandro Fernández unites fans of traditional Mexican folk and pop music on his "Hecho En México Tour 2021" at 8 p.m., Sept. 18. The son of Vincente Fernández, Alejandro is one of the best-selling Latino music artists and is known for his success branching out into a multitude of musical styles. Tickets start at$13 and VIP packages run $293.
Latin pop singer-songwriter Maluma continues his "Papi Juancho Tour" at 8 p.m., Sept. 24. With over 18 million records sold, Maluma is one of the best-selling Latin music artists and has collaborated with the likes of Shakira and The Weeknd. Tickets: $80 – $401.
Christan hip-hop artist TobyMac on his "Hits Deep 2020" tour will perform 7 p.m., Oct. 11. The multi-Grammy award winning artist has found great success in spreading his message over a 34-year-long career and has sold more than 10 million albums. Tickets range from $8 – $30.
The multi-faceted Banda MS returns at 8 p.m., Oct. 23. Founded in 2003, the band has maintained an extensive list of members that contribute to their experimentation and a myriad style that has garnered international success. Tickets start at $39 and limited platinum tickets from $419 are available.
Alejandro Sanz's "La Gira 2021" hits the Don Haskins Center stage at 8 p.m., Oct. 26. Three-time Latin Grammy winner for Album of the Year, Sanz diversified his sound and branched into rock and ballads in addition to his Latin pop and flamenco to great success worldwide. Tickets start at $20 and VIP packages start at $229.
Kings of Latin pop Enrique Iglesias and Ricky Martin unite on stage at 7:30 p.m., Nov. 10. Iglesias's crossover bilingual appeal and Martin's influence bringing Latin pop to the U.S. mainstream has resulted in international celebration and earned them both the title of kings of the genre by the public. Tickets from $23 and VIP packages from $399.
Stand-up sensation Gabriel "Fluffy" Iglesias returns to El Paso with "Beyond the Fluffy World Tour: Go Big or Go Home" at 8 p.m., Nov. 12. Iglesias's comedic appeal to all ages and appearances in both children and adult media has earned him a massive following, especially in El Paso, where he was awarded the key to the city among several other awards. Tickets are available for $40 – $75.
Christian Nodal hits the Don Haskins Center stage on his "Botella Tres Botella Tour" with special guest Guera MX at 9 p.m., Dec. 18. Nodal struck a chord with lovers of traditional and Regional Mexican music, garnering critical acclaim for his debut album and remaining on an upward trajectory with every release in his career of only a few years. Tickets start at $32 and VIP packages start at $347.
For information on the concert series or other events at the Don Haskins Center, visit the UTEP Ticket Center, available by phone at 915-747-5234 or email at [email protected]
About the Writer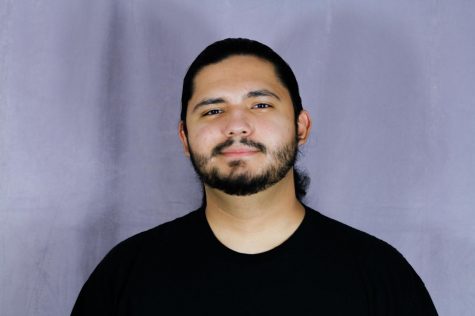 Julian Herrera











Julian A. Herrera is a senior majoring in Digital Media Production at The University of Texas at El Paso. He is proudly working as...