A look at UTEP's top senior athletes of 2020 through 2021
With the end of the university school year at hand, many of UTEP's top athletes will depart the programs that saw the fruits of their efforts over the years. Below is a profile on many to some of the standouts for the Miners over the past season.
Cheyenne Jones- Volleyball (International Business)
Jones was a four-year starter for the volleyball team and made all-conference both her junior and senior seasons for the Miners and all academic all four of her seasons at UTEP. She was the first Miner to make the all-conference first team since the 2013 season. Finishing second on the team with kills this season with a 152, Jones was a big part of the C-USA semifinalist Miners run in volleyball this season with her leadership. The Missoula Montana native had a career-high .325 attack hit percentage for the Miners this season and has logged 774 total kills in her career.
Michelle Pruitt- Basketball (Business Administration)
Pruitt was the second-leading scorer and leading rebounder for the Miners this past season. The team went 17-8 overall before falling in the semifinals to NCAA tournament bound Western Kentucky. Improving in every category from her junior season, Pruitt averaged 9.3 points and 6.7 rebounds as a senior after averaging 5.6 points and 2.9 rebounds as a junior. Pruitt increased her playing time from 12 minutes to 21 minutes a game. Currently, Pruitt, a Chicago native, is in the transfer portal as a graduate transfer.
Dejanae Roebuck-Basketball (Criminal Justice)
After only playing about seven minutes a game for the Miners as a junior, Roebuck emerged as a starter her senior season and started all 25 games for UTEP. Roebuck averaged 7.3 points and 3.4 rebounds a game and became one of the Miners' best 3-point shooters this season with .364%. In the C-USA tournament. Scoring a team-leading 17 points, Roebuck led the Miners to a 74-67 comeback victory over Florida Atlantic in the conference tournament. Roebuck also made the commissioners honor roll for the season.
Bryson Williams-Basketball (Multi-disciplinary Studies)
Over the past two seasons, Williams has started every one of the Miners' 56 games and was the first Miner since Vince Hunter to make all-conference two seasons in a row. Over two seasons with the Miners, Williams averaged 16.7 points and 7.3 rebounds a game while shooting 53% from the field. Both seasons with the Miners, Williams made the commissioner's academic honor roll for C-USA as well as the District 11 all NABC team. Williams has entered the portal as a graduate transfer and has multiple Power Five offers, including Texas, USC, Texas Tech and Oklahoma.
Sean Bailey- Track and Field (Multi-disciplinary Studies)
Bailey was the first UTEP Miner 400m runner since Bert Cameron in 1983 to be named to an NCAA All-American team in the distance in 2019. Winning a C-USA title in both the indoor and outdoor 400m,Bailey ran the third-fastest time in UTEP history at 400m during the 2020 indoor track season with a time of 46.42 seconds. A C-USA all-conference athlete in the 200 m, 400m and 400m relay, Baily currently has two first-place finishes on the season and has C-USA's top time this season in the 400m with 45.46. He is the favorite in the upcoming C-USA Championships and has made the C-USA commissioners academic list two years in a row.
Carolyne Chepkosegei-Track and Field (BioMedical)
Over the past three indoor seasons, Chepkosegei has made All conference in the indoor 800m. In total, Chepkosegei has made all-conference eight times in all events and was a member of the 2018 conference champion cross-country team. At the C-USA championships, Chepkosegei won gold in the 800m and a bronze in the mile. Her indoor 800m time of 20.09.50 was the best UTEP time in the event since 2008. Currently, Chepkosgei has the second-fastest time in the 800m at 2:08.81 and should be a strong challenger for a gold medal in the C-USA Championships. Chepkosegei is a three-time academic commissioner's list recipient.
Stephen Forrester- Football (Leadership Studies)
As a senior linebacker, Forrester led the Miners team in tackles with 62 total and five for loss, along with a fumble recovery. After becoming a starter in the final three games of the 2019 season, Forester made the most of his opportunity making 24 tackles in those contests and earned a starting assignment his senior season. Forrester made all-conference academic honor roll all four of his seasons.
Illena Santos-Softball (Kinesiology)
Santos is a four-year starter currently second on the team with a .300 batting average and has eight runs batted in on the year. Overall, Santos has started 123 games in her career for the Miners and has 52 total runs batted in with a .272 average. During the 2020 season, Santos led the team in home runs with eight and runs batted in with 24. Santos is a three-time commissioner's all-academic honor roll recipient.
Bryanna Molina-Softball (PreScience)
Molina is a four-year starter and is the best year of her career with a .299 batting average, three home runs, and 10 runs batted in. An El Paso Born native and graduate of Hanks High School, Molina has started a career-best 29 games this season and has been a defensive stalwart at first base with only three errors on the year. Molina has made the commissioner's all-academic honor roll all four seasons.
Erandi Martinez- Tennis (electrical/computer engineering)
Over her four-year career, Martinez has 47 victories in singles play overall and paced the team with a 7-4 record this season. During her freshman season, Martinez posted a career-best 20-10 record. For the past three seasons, Martinez has made the all-conference academic honor roll.
Shakeem Smith- Track and field (multidisciplinary studies)
Smith made all-conference every year he has been with the Miners track team including two straight first team selections. He was a member of the first-place 400m relay team that won the 2020 conference indoor championships and also won gold in the 400m individual event in 2019. During the 2020 indoor track season Smith set an all-time UTEP record in the 60m hurdles with a 7.89 that had stood since 2000. Smith is  two-time C-USA academic honor roll recipient.
A Miner salute to these athletes as well as the numerous too many to name that gave valiant efforts in on the field, on the court and in the classroom this past year.
Michael Cuviello may be reached at [email protected]; @dlockz on Twitter
About the Contributor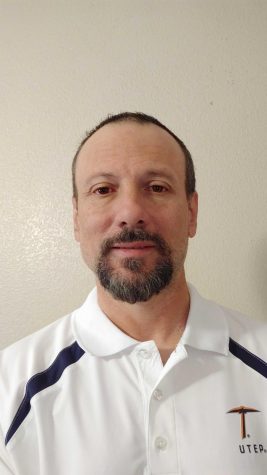 Michael Cuviello
Michael Cuviello is a multimedia journalism student at UTEP. He currently serves The Prospector at Sports Editor and reporter. During the summer 2020,...