UTEP administers more than 10k COVID-19 vaccines before summer
As UTEP prepares to begin welcoming students back to in-person learning, the university's vaccination clinic opened itself to a greater portion of the students and faculty population administering, 12,225 doses as of March 25. 
After priority groups within the university received the vaccine, including student nurses, medical professionals and at-risk faculty and staff, UTEP opened its vaccine clinic to a greater portion of the student and faculty population on April 2. This includes students living in campus housing, student athletes, and student employees. 
"The University receives approximately 1,000 to 1,2000 first doses of the COVID-19 vaccine each week," report UTEP officials. 
Each day the clinic is in operation, an average of 1,000 vaccines are administered. Still, some  Miners have reported a fluctuating wait time at  the Interdisciplinary Research Building, where the clinic operates.  
"My appointment was at 11 a.m. I got there at 10:50, then there was an outside line where we waited for a bit," said Corrine Boudreaux, a lecturer in the communication department at UTEP, who described her vaccine appointment experience at the university. "I actually got the shot at about 30 mins after I first arrived." 
Despite the delay, Boudreaux said she had an overall pleasant experience. 
"No discomfort, it was a relatively unpainful shot," Boudreaux said. "The registration was easy, and once I was in the eligible group, I got in within a few days after registering. It seems they had everything organized." 
As the University's clinic turns to serving the general public outside of the immediate student population, such as students and staff household members, concerns were raised as to how UTEP is choosing to prioritize who will receive a vaccine.  
"UTEP adheres to the guidelines set by the Texas Department of State Health Services," UTEP officials said. "In the coming weeks, we will provide opportunities for all students to be vaccinated." 
According to a news release sent by the President Office, UTEP will give priority for vaccination to current students, faculty and staff, but if additional vaccines are available, they will be offered to household members. 
Jaleen Avila, a graduate MPH student and program coordinator at UTEP, expressed her satisfaction and gratitude towards the professionals working in the university's vaccine clinic.  
"I had a great experience receiving the COVID-19 vaccine at UTEP. I was surprised by how organized and efficient the process was, from registering for the appointment to receiving the vaccine," Avila said.  
Despite the high number of people waiting in line to be vaccinated, Avila said all safety protocols were still followed, and unlike Boudreaux, she only waited 10 to 15 minutes in line.  
"It was comforting to know someone with extensive experience from within our community was providing the vaccine," Avila said. "One area where I believe the program is especially efficient is that your second vaccination is scheduled as you are receiving your first dose. This really does help to ensure that you receive your final dose on time so that you may have the full protection of the vaccine against COVID-19." 
The last opportunity to receive the first dose of the vaccine at UTEP is the week of April 19. 
To get a vaccine at UTEP one must register at utep.edu/vaccineregistration , despite having previously completed the vaccination questionnaire and consent at vaccinequesionnaire.utep.edu. 
Those who have already received a vaccine somewhere else, can email [email protected] to ensure the appointment is given to someone who needs it. 
According to UTEP's COVID-19 dashboard, the university reported 5 proactive testing positive cases and 5 self-reported positive cases, with 4 individuals who reported to have been on campus in the 14 days prior to diagnosis.  
UTEP officials are set to  disseminate information on the availability of vaccines and the process of scheduling an appointment as more information becomes available. 
Julian Herrera may be reached at [email protected] 
About the Writer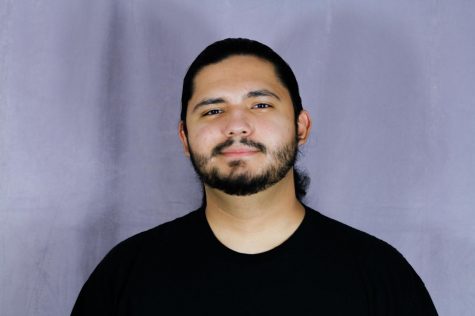 Julian Herrera











Julian A. Herrera is a senior majoring in Digital Media Production at The University of Texas at El Paso. He is proudly working as...