Rodney Terry gives up on UTEP basketball
Within a span of a day, the UTEP Miners Basketball program lost its lone championship distinction and its head coach, as Rodney Terry resigns from his position.
Rodney Terry has resigned as UTEP men's basketball coach to pursue another professional opportunity, UTEP Athletic Director Jim Senter confirmed in a press release today.   
"We would like to thank Coach Terry and his staff for the work they have put in to build our program over the last three years," Senter said. "We wish him the best in his future endeavors."  
Terry put out a statement about his decision to resign and take an assistant job on Chris Beard's staff at the University of Texas at Austin, a competing Division 1 school. He joins former University of Texas at Arlington's basketball coach Chris Ogden and Texas Tech assistant coach Ulric Maligi as assistant basketball coaches for Beard.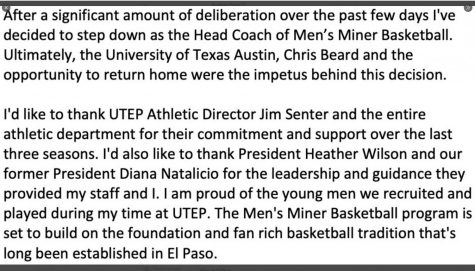 This will be Terry's second stint as an assistant at Texas after previously serving as an assistant under Rick Barnes from 2002-2011. Terry left that position to take a head coaching job with Fresno State in 2011, where he took over a 14-17 program.  By his third season, Terry had turned Fresno State into a 20-win team. 
Coaching seven seasons at Fresno State, Terry was coming off three consecutive 20-win seasons and had led his team to one NCAA Tournament appearance in his tenure. Overall, Terry was 126-108 as Fresno State's coach. 
Terry came to UTEP as its first hire of a Division 1 head coach from another program in its history and was looked upon as a strong candidate to bring UTEP basketball back to relevance. He took over a team returning only three scholarship players that had went 11-20 in its second consecutive losing season. 
Three years later, after a disappointing 12-12 season which left him 37-48 overall at UTEP, Terry now leaves UTEP with multiple questions going forward and players left contemplating their futures with the program.    
"We will begin a national search for our next basketball coach," Senter said. "Plans to utilize a search firm have not been determined. In order to preserve the integrity of the search, we will not be making any additional comments until we have hired a new coach. We look forward to beginning a new chapter in our basketball program's storied legacy." 
 Michael Cuviello may be reached at [email protected]
About the Writer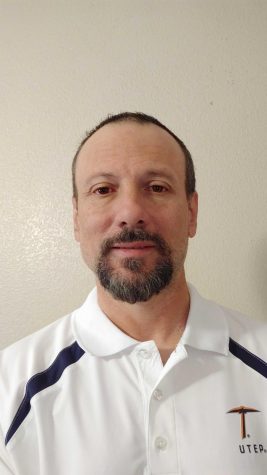 Michael Cuviello
Michael Cuviello is a multimedia journalism student at UTEP. He currently serves The Prospector at Sports Editor and reporter. During the summer 2020,...