The growing number of individuals in the U.S. becoming vegan is reflected in the expanding choices and support for healthier food alternatives in the borderland. 
Ipsos Retail Performance, an  analytics and insight company, conducted a study that tracked Google search trends over a 15-year period to observe which states showed interest or adopted plant-based diets. From 2004 to 2019, the number of Americans choosing plant-based diets has grown from around 290,000 to over 9.7 million, a nearly 300% increase and around 3% of the U.S. population. 
There are many reasons people choose to become vegan, ranging from activism against animal cruelty and environmental concerns to overall interest in human health.  
According to the American Academy of Nutrition and Dietetics, vegetarian and vegan diets have been shown to lower blood pressure and cholesterol, as well as lower rates of heart disease and type 2 diabetes. The treatment of animals in meat and dairy farms has long been a concern for individuals promoting a plant-based diet. A statement by The Vegan Society maintains that understanding the environmental impact of unsustainable water and land usage for feed, the mass amounts of waste produced by both humans and animals, and the necessitated harm and death of animals are reasons to become vegan.  
However, while the benefits of veganism are seemingly apparent, it is important not to forgo the necessary nutritional consultation when considering a change in diet. 
Maria Duarte-Gardea, Ph.D., a registered and licensed dietician, spoke on important factors to consider when pursuing the switch to a vegan diet. Gardea notes that while the absence of meat and other protein rich animal products may result in less iron absorption and a lack of energy, animal products are only a small part of the suggested dinner plate and there are several ways to compensate for those nutrients.  
"A well-balanced diet can strengthen the immune system and, as we know, a healthy immune system aids in the healing process and shortens the recovery time of certain diseases," Gardea said.  
Gardea stated that a plant-based diet can reduce heart disease, reduce inflammatory responses that underly most diseases, and can help prevent some chronic diseases and reduce body weight, but emphasized that those benefits only occur when the diet is properly balanced.  
"These diets can be recommended for therapeutic purposes, but they need to be well designed and need to be prescribed by a nutrition professional to avoid deficiencies," Gardea said. 
Plant-based options and meat alternatives to cook at home have been available in El Paso grocery stores for some time, but recent years have seen the emergence of vegan-based food curators and restaurants that offer either plant-based menu items or serve vegan food exclusively.  
Grown Together, a meal prep service based in Downtown El Paso, provides a weekly menu of fresh and completely vegan meals. Every Friday, a menu is posted with the week's five different meal options which will then be delivered or can be picked up the following Monday.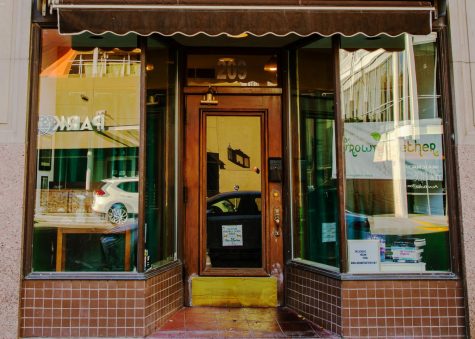 A full list of ingredients, calories, and macros are provided with every meal for those interested in tracking their intake. The site recommends that customers order as soon as possible after the menu is posted, because many options sell out quickly.
The Queen's Table Vegan Cuisine is El Paso's first completely vegan full-service restaurant. Founded in March 2018 by Queen Adalah Aza, The Queen's Table specializes in unChicken, unShrimp, unBeef and unFish dishes. Classic foods such as chicken and waffles, burgers, wings, and even Southern-inspired dishes like Jambalaya are made completely vegan and health-conscious. Though the restaurant is closed indefinitely due to the COVID-19 pandemic, its website offers deals from its market to purchase all the ingredients necessary to cook its vegan meals at home. 
One of the most resourceful and reflective sites for the vegan community in El Paso is the El Paso Vegan Official Instagram page. The page shares a variety of vegan restaurants, organizations, products, and recipes that can be replicated at home. More importantly, they share informative cards with suggestions on how to curate a properly balanced diet and ensure that each individual obtains the necessary nutritional and vitamin values.  
Interactive and impactful, vegan activism and lifestyles are well on the rise in the El Paso community.  
Julian Herrera may be contacted at pr[email protected].