Rocketbuster Boots takes the boot capital of the world by storm
Rocketbuster Boots is a locally owned business that has been selling custom handmade boots around the world for 31 years.  
The shop is located in a 100-year-old building that used to be a fur trappers' warehouse next to the El Paso downtown train station at 115 Anthony St. It takes pride in being in El Paso, who gained the title of the 'Boot Capital of the World,' due to its long history with cowboys, boots and ranches that dates to the 1800s.  
"There were more boot companies in this town than any other town, and that goes way far back," Nevena Christi, who also refers to herself as the "boss lady" and owner of the Rocketbuster Boots, said. "We have a rich history in the making of the American cowboy boot, as far as more companies." 
Christi is not originally from El Paso. She studied in Europe and New York at École des Beaux-Arts de Paris and The New School. She had 15 years of experience working as an artist, graphic designer, and fashion designer before moving to El Paso in 1997 with her husband, Marty Snortum, to work together on  the Rocketbuster Boots business.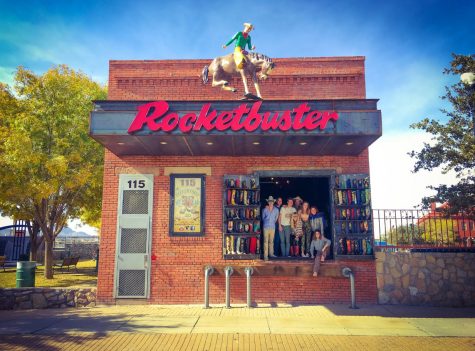 Rocketbuster's is home to the world's largest boots certified by Guinness World Records. It makes boots for all major holidays, including the Fourth of July, Easter, St. Patrick's Day, and even U.S. elections. 
"This year because we knew the election was going to be insane, we did like a vintage fight poster, so Biden had his dukes up in one side and Trump on the other, and it was 'Go out and vote," Christi said. "We did it with Hillary and Trump. It's become something we do now every election." 
El Paso's borderland culture serves as inspiration for everything Rocketbuster Boots creates, from the siestas with the ancient man and lady and people dancing to designs celebrating Day of the Dead.  
"We do have an incredible amount of desertscapes," Christi said. "I love old Mexican pottery, so I have done a bunch of them."
Christmas time for Rocketbuster's starts in June since each pair of its handmade boots can take up six to eight months to complete, with customers ranging from college students to 95-year-old individuals. 
"If someone saw how many steps it takes to make a pair of handmade boots, they would just roll their eyes and say, 'oh my gosh, why do they even bother?" Christi said. 
Rocketbuster Boots has been featured in various fashion shows. According to Christi, artists like Arnold Schwarzenegger, Rascal Flatts, Julia Roberts, Oprah, Taylor Swift, Thalia, Ethan Hawke, among others, have ordered a pair from the business.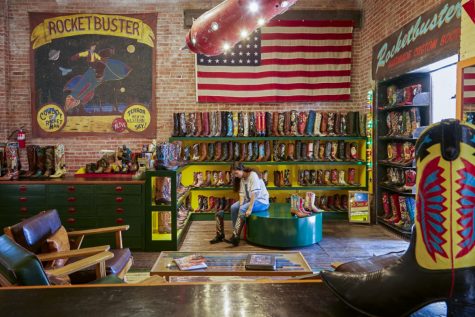 "Traditional cowboy boots just don't waver...Fashion just evolves and revolves, it goes around and comes around," Christi said. "But it's really fun for me personally when high fashion decides to put some boots on the runway because that means we'll get noticed by a larger audience." 
People interested in visiting the shop and getting a tour must first set up an appointment. Rocketbuster Boots also offers summer internships to artistic students. 
"It's a big part of what we are doing to try to keep the art of boot making alive and to train people because it doesn't have to be someone who is into footwear," Christi said. "I mean, I studied fine arts, and I graduated in fashion. It doesn't matter as long as you like to make stuff, and you're good with your hands." 
People can learn more about Rocketbuster Boots and their designs on Instagram at @rocketbusterboots. 
Victoria Rivas may be reached at [email protected]; @VicRivas_18 on Twitter.