Handmade face masks: The business behind the art and craft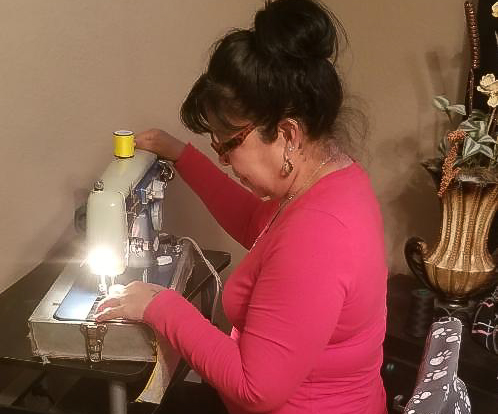 Wherever there's demand, there will always be supply, at least that's what local experienced seamsters found to be true as homemade mask businesses boomed amid the COVID-19 pandemic.  
Throughout the past year, the Centers for Disease Control and Prevention (CDC) has recommended people wear a face covering to prevent the spread of COVID-19. Seamsters like Maria Teresa Morado, 53, who works in housekeeping at El Paso's University Medical Center (UMC), took the opportunity to provide an essential product and make extra cash at the same time.  
Morado began selling homemade masks to her coworkers at the hospital when COVID-19 cases were rapidly increasing in April 2020. 
Before, working at UMC, Morado spent eight years making U.S. Army soldier uniforms. 
"I thought, 'If I can sew a soldier's uniform together, then I can make a mask,'" Morado said. "It's super easy for me." 
Morado makes sure to double up on fabric for extra filtering and protection when creating her masks. Each customer can choose from the diverse patterns Morado offers, from Disney princesses, animal prints, sports teams' logos to solid colors. 
But people are especially drawn to Morado's masks because of her unique design technique.  
"Most masks out there have nose clips," Morado said. "My masks don't need the nose clip because I sew on a piece of fabric that's shaped to completely cover and seal the nose." 
Morado said her 100% cotton fabric masks are more comfortable to wear than conventional masks because they're less bothersome on the nose and they don't leave pressure marks.  
The special nose feature also makes it easier to speak when wearing the mask, according to Morado, it creates some space between the fabric and the lips for unconfined movement. 
"It stays in place," Morado said. "You can talk and talk and talk, and the mask just won't move." 
Aside from her sales at the hospital, Morado sells her masks on Facebook's Marketplace, where users can list products or services for sale and gain access to a local audience. She would sell up to 15 masks per day when the pandemic began at $6 to $7 each. 
Between the months of June and December 2020, when El Paso saw a significant rise in active COVID-19 cases, she'd get about 15 to 20 orders a week, but business has slowed down since then.  
Since Texas Gov. Greg Abbott lifted the statewide mask mandate on March 10, Morado expects demand for masks to decline.  
For 34-year-old Nora Ochoa, who sells her mother's handmade masks on Instagram, a decline in mask sales has already begun for their business. Their business is small and regular customers are the only ones sticking around. 
"This past month we sold about 15 masks," Ochoa said. "Most of our sales are from friends, relatives or friends of friends. A lot of the people that buy the masks are repeat customers." 
Her mother, an elementary school custodian also named Nora, began selling masks amid the pandemic. When cases reached record highs during the Fall, the mother-daughter team went as far as offering free masks to anyone who needed one. 
"At the end of the day, we just want to support people wearing masks and staying safe," Ochoa said. 
Ochoa's mother began sewing as a teenager. Nora would make her own clothes, from bell-bottom pants and blouses with puffy sleeves to dresses. Whenever times are tough, financially, she sews her way out of it. 
Nora also worked a part-time job as a caretaker, but when the pandemic hit El Paso in March and her school shut down, Nora resorted to what she knew best: sewing.  
"(My mom) found herself with a lot of free time and made many masks to pass the time," Ochoa said. "But after a few months, in July, she found herself with too many masks so I offered to post them on my personal Instagram profile to see if they would sell."   
And just like that, the mother-daughter business took off.  
"I try to choose fabrics that I think people will like and wear," Ochoa said. "My mom picks out designs with everyone in mind—kids, men, solids, holiday fabrics."  
Nora has also made evening masks with sequins and fabrics that give off some sparkle. 
"We know people are going to parties," Ochoa said. "Might as well wear a mask that matches your dress and keeps you safer than nothing at all." 
 Business for Ochoa and her mother has slowed down, so they're finding ways to adapt. That includes venturing into the pet-wear industry and are considering selling bandanas for dogs. But the uncertainty of how business will look after the pandemic, remains. 
Andrea Valdez-Rivas may be reached at [email protected]; @AndreaVRNews on Twitter.