Men's basketball: Is the glass half full or empty?
Following its second consecutive first-round conference exit, UTEP Miner basketball has completed its uninspiring third year under Head Coach Rodney Terry with a 12-12 COVID-shortened season.
In year one, Terry had a very young team with no depth but had convinced his top big man at Fresno State, where he coached prior to UTEP, Bryson Williams, to transfer along with 6-11 Eric Vila. Terry also convinced Fresno bound recruits Efe Odijie and Deon Stroud to come to UTEP. Adding to the mix were transfers, Keonte Kennedy from Xavier and Anthony Tarke from the New Jersey Institute of Technology. With the exception of Odijie, all of these players would have to sit out for what would seem like a breakout year two.
On Jan. 25, Terry added one of the top prospects ever to set foot on a UTEP campus in Kaden Archie, a four-star recruit transferring from Texas Christian University. Archie had initially had multiple scholarship offers from basketball powers Kansas, Illinois, Virginia, Texas Tech and Texas.
While Terry's first season ended with the Miners as the worst team in Conference USA (C-USA), the future looked bright with UTEP set up to become a Conference-USA title contender and possible NCAA invitee in his second season. In the conference preseason poll, UTEP was ranked fourth in the conference.
Starting year two, the Miners beat NCAA Championship runner-up Texas Tech 70-60 in a charity game at the Don Haskins Center, which pushed fan expectations to return to previous glory days. The Miners started 8-1, but issues arose with multiple players deciding to leave the team and one current player missing a team flight. After a promising start, the Miners finished the season 9-14 the rest of the way to finish 17-5 on the year culminating with a first-round tournament loss to Marshall.
Even more damaging than its mediocre season, the Miners lost six players to transfer by the end of the season. Stroud, Tarkie, Jordan and Archie, who were all considered key building blocks for UTEP, had already quit the program for various reasons and headed to new college teams. Tarke went on to greener pasters at Coppin State, where he was named MEAC Player of the year averaging 16 points and eight rebounds a game. Stroud went on to average 12 points a game for Fresno State.
UTEP, in its off season, added transfers Jamal Bieniemy from Oklahoma, Kristian Sjolund from Georgia Tech and Christian Agnew from Northern Alabama. Bieniemy and Sjolund were considered the prize transfers coming from Power Five schools and Agnew gave the team more depth at guard.
UTEP returned all-conference candidates Bryson Williams and Souley Boum as its core players. Tydus Verhoeven had earned a starting nod late in the previous season with hard-nosed defense. Kennedy was considered an ascending player to take over as a starter, with Bieniemy as the team's true point guard, which Terry felt the team lacked previously.
So while the Miners had taken a step back in talent, the coach seemed very confident about better team chemistry, especially with a proven floor general like Bieniemy leading the team. Bieniemy was not eligible to play until the Miners' third game this season against St. Mary's.
UTEP started the season with two easy victories over lower-division teams before taking on perennial 20 game winners St. Mary's and Arizona on the road. The Miners lost to St. Mary's 73-61 and played Arizona close before losing 69-61. UTEP followed up with its biggest win of the season to that point over preseason ranked Arizona State 76-63 to move to 3-2 in the season.
Unfortunately, the Miners would be unable to carry the momentum of that win into C-USA play as the team started 2-4 in conference play and found its record sitting at .500 after 12 games. Current NCAA Tourney and C-USA champion North Texas embarrassed the Miners with a 63-33 blowout that was the low point of the season.
From that point on to the rest of the season, the Miners were an up and down team but were able to finish the conference season with four straight wins to salvage a tournament berth. The Miners now sat at 12-10 and were able to work out an extra game with perennial Big 12 powerhouse Kansas on the road. UTEP gave 17th ranked Kansas all the team could handle, leading by 14 points at the half. Leading for 56 minutes of the game, the Miners saw the slipper fall off Cinderella in the final minute of the game as UTEP came up short 67-62. After this game, fans were optimistic that UTEP was much better than its record as it headed into the C-USA Tournament.
Once again, the C-USA tournament showed UTEP's inconsistency as the team lost a hard-fought game to Florida Atlantic 76-70. For the season, the Miners finished 12-12 in another frustrating year for the Miner faithful.
Boum and Williams were the only consistent players for the Miner over the season and often were the Miners only scoring options. Boum finished the year third in C-USA, scoring with 18.8 points a game on 38% shooting from the field, including 68 3-pointers. Williams, who was a preseason all-conference selection, averaged 15 points and seven rebounds a game. Both players were selected third-team all-conference on the season.
Keonte Kennedy showed promise with his play in his first season, averaging 8 points and six rebounds a game. Tydus Verhoeven played well defensively but was a liability on offense outside of the paint.
Bieniemy struggled with his shot all season at point guard, shooting only 37% from the floor and saw his 3-point percentage fall a full 10 percentage points from his previous season at Oklahoma as he shot 31%.
The team's bench underachieved all season, with Agnew, Sjolund and Odigie being the primary components used. Agnew was the team's main spark off the bench once he became eligible for the last 20 games but struggled mightily shooting the ball, especially from the arc where he only hit 20% of his shots. Odigie, who as a freshman, seemed to have a bright future in orange and blue, only was able to play 14 games due to concussion protocol and only averaged 11 minutes in the games he did play. Every season, Odigie has seen his role regress after a freshman year that had him become the first Miner since the 1981 season to average double figures in rebounds and scoring. Sjolund showed promise in his 14 minutes per game, shooting 48% from the field and a team-leading 47% from the 3-point line but at this point is considered a defensive liability.
Outside of the main rotation, the only other Miner to get any significant minutes was Vuk Vulikić, an international freshman from Serbia. Vukilic took 21 total shots. Unlike last season there is only one expected departure from the Miners this offseason. While nothing is official due to players being granted additional eligibility due to COVID-19, Williams, in all probability, will test the professional water at some level as a soon-to-be 23-year old basketball player. Williams has solid size and bulk at 6-8, 230, along with a good midrange game that could give him some opportunities in the G League or overseas.
"We've said purposefully that we weren't going to deal with that until the end of the season," Terry said about Williams. "We wanted to play the season out and concentrate on what's at hand this year. Between he and his family, we will sit down and determine what's best for his career moving forward. He's been terrific for us for two years."
The Miners will likely retain four of its five starters this offseason but losing Williams will be a huge hole to fill. Nobody on the roster has William's all-around game, so the offense would most likely become even more guard-dependent than it already is now.
Boum has shown that he is an elite scorer, especially from the outside and that he can play high amounts of minutes averaging 35 a game this season. Better shot selection and movement of the ball would ideally elevate his game this coming season as the team will be squarely on his back.
After showing much promise in his first season playing for the Miners, Kennedy needs to take a big jump for the team to succeed. An athletically gifted player Kennedy has had some dominant rebounding games with the Miners with three games in double figures this past season. Most likely, Kennedy will be tasked to take up much of the team's scoring if Williams departs.
At point guard, Bieniemy needs to find consistency and improve his shooting if he is to be the floor general that Terry desires to lead this team. Agnew showed hustle and energy but none of that matters if he continues to shoot poorly as UTEP's main reserve guard.
At the forward position, Sjolund is the shooter that the team desperately needs to get more production from but needs to work hard in the offseason to improve his defense. Verhoeven needs to become more of an offensive threat expanding his range from beyond the paint and play fewer minutes overall. Terry needs to find a way to get Odigie more involved in the offense as he has always been a promising inside player but remained an afterthought over the past two seasons.
Rounding out the Miner bench is Vulikić, who played more than expected as a freshman, guards Adam Hess and Cam Claridy. Emanual White, a high school teammate of Sjolund and Bieniemy, had to sit the season out after transferring from junior college.
Canadian high schooler Khalfani Hill signed a letter of intent with the Miners in November. Hill is a forward that averaged 22 points and 10 rebounds at Crawford Academy in Ontario and played with Excel Hoops Prep this past season.
"We are really excited about adding Khalfani to our program," Terry said. "Khalfani is a high character kid who comes from a great family and support system. He is just starting to scratch the surface with how good he can be. Over the past few years, he has grown 6 inches and is now 6'9 with a 7'2 wingspan. His versatility and skill set at his size gives him a high ceiling and an ability to affect the game in a variety of ways."
Also announced March 21 by CBS Sports' Jon Rothstein, Illinois State graduate transfer Keith Fisher III will be coming to UTEP after sitting out the past basketball season. Fisher is a 6'8' forward who averaged 9.6 points and six rebounds the previous season and a former three-star recruit from Los Angeles. Expect Fisher to take Williams' spot in the lineup with a similar build but he is not the scorer or rebounder that Williams is.
Due to forfeiting some of his salary for COVID-19 budget cuts, Terry was extended for a sixth season on his contract, so there is no immediate danger to a coaching change for the next couple of years. Terry's promising team built on transfers has never delivered much more than a slightly above .500 record in his second season and no tournament wins.
The upcoming season will most likely be a make or break season for Terry and his rebuild. Another subpar season will probably hurt his ability to recruit and further disenfranchise Miner fans rabid to see a winner on the court. The team needs to find an offensive identity and not continue to play down to its opponents. With Williams' probable loss, the team will need to shoot much better from the arc and will not win shooting in C-USA's bottom rung.
Time is running out for excuses as to why the Miners cannot be at least an upper-tier team in C-USA. Terry seems confident of where the team is heading and has overcome the turmoil from the past season with no players at this time in the transfer portal, although that could change quickly. In his short time, Terry has brought some tremendous recruits on campus but none of that matters if UTEP continues its struggle in C-USA. At some point, results are what matters and to this point, the Miners have under performed expectations significantly.
Michael Cuviello may be reached at [email protected]; @dlockz on Twitter.
About the Writer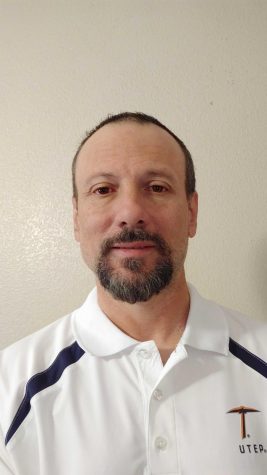 Michael Cuviello
Michael Cuviello is a multimedia journalism student at UTEP. He currently serves The Prospector at Sports Editor and reporter. During the summer 2020,...