La Mujer Obrera continues to support borderland women despite pandemic
La Mujer Obrera, an independent urban development and culturally representative organization in El Paso, attests to the unwavering spirit of the borderland with its continued mission to create communities defined by women despite the obstacles brought by the COVID-19 pandemic.  
Founded in 1981 by Chicana activist garment workers, the organization structured itself upon the principle of employment, education, health, and political liberty as basic human rights for all. At the forefront of their charge for equality were, and still are, the working women of Mexican heritage and the community who sought to amplify the voices of the marginalized and combat the cycle of oppression and exploitation through their charitable and cultural practices. 
La Mujer Obrera was formed as the garment industry in the south–central district of El Paso exploited mechanisms that disregarded labor laws and protected the corporate abuse of Mexican women who were often impoverished and lacked a formal education. This abuse often entailed the denial of decency and human rights, wage theft, and hazardous working conditions. 
In a proactive fight against injustice, La Mujer Obrera assembled to promote educational, economic, and political independence through their literacy, health, and leadership programs. Ultimately, the organization established a system of interrelated programs that taught self-sufficiency while improving infrastructure and strengthening the bond between community and culture. 
Among the most significant of these programs is Café Mayapán, founded in 2001 and dedicated to providing El Paso with authentic traditional Mexican cuisine that creates job opportunities for women.  
Ana Gomez is among the women who were welcomed and trained by La Mujer Obrera. In 1999, she and fellow coworkers were let go from their jobs at American Garment Finishers, where Gomez had provided laundry and garment services for five years. This was part of the 1994 North American Free Trade Agreement, which established a free-trade zone that resulted in manufacturing jobs moving from El Paso to Mexico. 
Gomez recalls directors of La Mujer Obrera had visited the factory to inform the now unemployed workers of the options and support that awaited them at the organization. 
Two years later, Gomez was part of the group who welcomed the public to Café Mayapán.  
"I began as a waitress," Gomez said in Spanish. "Then I began to really enjoy working inside the kitchen and through experience and training I was able to later become a cook for the restaurant." 
Fast forward to today, Gomez has been serving as the manager of Café Mayapán for the past 17 years. Here, she teaches women who just like she once was, are eager to learn and work.  
As a social enterprise, Café Mayapán provides work training and stimulates economic growth through its contracting of local venders and buying local produce for food. According to Gomez, its menu and food preparation is in honor of the borderland's Mexican heritage, which is why all ingredients are fresh. 
"We try to prepare our dishes as ancestral as possible," Gomez said. "Almost everything that we serve is made by hand by us, we rarely use canned goods." 
It's most popular dish, the roasted nopal, is a grilled cactus filled with asadero cheese and mushrooms with chipotle, served with a side of rice.  
"Despite most of us having connections with Mexico, we don't really appreciate the value of our food," Gomez said. "By cooking and eating this type of food, you create a connection that has especially been lost today." 
Through the years, Café Mayapán has become an emblem of the borderland's rich Mexican culture, by hosting events aimed at celebrating traditions and history. Before the COVID-19 pandemic, Gomez recalls the restaurant was home to UTEP students and other members of the community who hosted study sessions and meetings. 
"I've always seen the restaurant as a place for the community," Gomez said. "It's a friendly atmosphere where children can run around, and students can work. It's where people can feel at peace, at least that's how it was before COVID-19." 
Since October 2020, Café Mayapán has had to adjust to the limitations and obstacles brought by the pandemic by only serving carryout and losing customers like the employees of nearby businesses that have closed.  
"It's been difficult because you can't work like you used to, like interacting with your coworkers," Gomez said. "But people have shown us their support by coming in and realizing they are not just eating good food, but they are also supporting an organization that works for the people." 
Gomez said she doesn't know when her journey with La Mujer Obrera will end, as her involvement with the organization has come to mean more than just a job.  
"I've never seen this restaurant as a job," Gomez said. "This restaurant has taught me a lot about how to learn and how to share with others." 
Expanding on the organization's celebration of traditional cultural practices, Proyecto Verde and Tierra es Vida are programs that incorporate a passion for the earth's resources and the ancestral practices of Mexican and Indigenous women with artistic expression and healthy food. Proyecto Verde cherishes the teachings of the Chamizal elders as they integrate language and visual arts into their agricultural customs to further connect with their heritage and with nature.  
La Mujer Obrera's Familias Unidas stands as a beacon of awareness regarding education, racism and public development. Its mission is to provide the necessary resources and avenues for low-income women workers to advocate for themselves, as well as push back against the injustices faced by the children and marginalized members of El Paso. 
Rayito de Sol Daycare and the collaborative textile social enterprise with the national network Niu Matat Napawika epitomize Mujer Obrera's efforts to assist every asset of the underserved population. Rayito del Sol nurtures the social and academic needs of children from primarily Mexican and low-income families and the garment workers displaced and exploited by NAFTA. The program fosters creativity and language skills through a Spanish-immersion curriculum to connect them with their cultural heritage and nature. The organization's fair-trade textile company, Lummetik Trading Co., initiated work to help individuals remain in their chosen communities and not be displaced by NAFTA. The Niu Matat Napawika national network, also launched by La Mujer Obrera, collaborates with ingdigenous women across Mexico, and was founded to assistant women with beginning small businesses. 
To this day, La Mujer Obrera remains an active force in conjuring pride and civil rights activism in the El Paso community with protests, meetings and celebratory events. As La Mujer Obrera believes that for all those that it represents, it is only fair to remain persistent. 
To learn more about La Mujer Obrera, visit http://www.mujerobrera.org/. 
Julian Herrera may be reached at [email protected] 
About the Contributor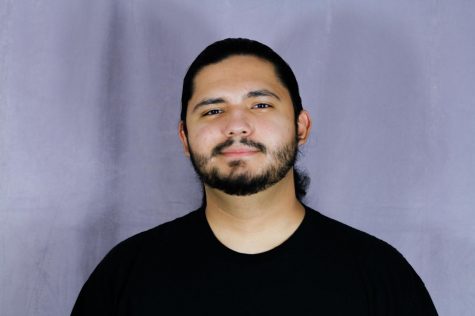 Julian Herrera











Julian A. Herrera is a senior majoring in Digital Media Production at The University of Texas at El Paso. He is proudly working as...