Miners go on the road for crucial series against Blazers
The UTEP Miners (8-8, 4-6) men's basketball team take the stage Friday night for a two-game road matchup against the Conference USA's West Division leader, the University of Alabama at Birmingham (UAB) (14-2, 7-1) Blazers.
Currently, on a four-game win streak after last weekend's sweep of Middle Tennessee State, the Blazers now have the best winning percentage in C-USA. UAB's only loss was a 70-55 loss at the University of Charlotte at North Carolina.
Rice and Southern Mississippi are the only common opponents the teams have faced and UTEP split its games with both teams while UAB went undefeated in those matchups with three of the games won by double digits.
UAB is currently the top-rated defensive team in C-USA, allowing only 57 points a game while holding teams to 38% shooting from the field. The Blazers are a  disciplined team that does not turn the ball over a lot while forcing the other team to make mistakes. UAB has a plus-six turnover ratio to its opponents, almost twice as any other conference team.
Leading the way for the Blazers are guards Tavin Love 13.2 ppg, Michael Ertel 12.5 ppg and Jalen Benjamin with 11.5 ppg., Jalen Benjamin 11.9 and Tyreek Scott-Grayson with 10 points per game.
Lovan is shooting a blistering 56% from the field with his dangerous mid-range game. While not a threat from the 3-point line Lovan is a constant scoring threat and Has been an excellent defender with 1.3 steals a game.
Graduate transfer guard Quan Jackson who previously played at Georgia Southern, has been a great all-around addition with his contributions in all areas off the bench. Defensively he has been among the best at creating turnovers in the conference with 2.4 steals per game, second overall.  Jackson averages 10 points a game and is an excellent rebounder with 6.3 per game.
Manning, the middle for the Blazers, is seven-footer Trey Jamison, who is second in the conference in blocks with 2.4 per game and leads the team in rebounds with 7.3 per game. Jamison is coming off a dominant game defensively where he played a season-high 36 minutes and had five blocks to go along with 10 points and six rebounds.  Manning will provide a massive mismatch for the Miners and be the best big man the team has faced all season and can genuinely alter shots.
Overall the Blazers are not a very good 3-point shooting team but their ability to score in transition will be a challenge for the Miners.  The Blazers have won its last three games against UTEP and are undefeated against the Terry led Miners. UAB's previous home defeat to the Miners was in 2014, losing 63-61.
These are must-win games for the Miners to keep pace with the fourth place Rice Owls, who beat Southern Miss earlier Thursday 88-62.  The turnover battle will be a critical part of the matchup, as when the Miners won its home game against UTSA last week, the team was able to create turnovers.
The Miners have been a different team on the road, only winning two of eight games. Leading the Miners will be junior guard Souley Boum, who is fifth in C-USA scoring with 17.6 points per game and is a solid defender with 1.4 steals per game. Boum has to be more selective with his shots as he is only shooting 37%  from the floor but has proven dangerous from the arc with 39%.
Senior Bryson Williams is 10th in C-USA in scoring with 15.3 points per game and leads the team with 6.8 rebounds a game. Williams staying out of foul trouble will be a key to be able to match up on the boards with UAB. Junior Tyson Verhoeven will also be called upon to make his presence known in the middle. Verhoeven has been a tough-nosed defender and has continued to do things that are not seen in the stat sheet.
With a team like the Blazers that can force turnovers in bunches, the pressure will be on junior Oklahoma transfer Jamal Bienemy who has the fourth-best assist to runover ratio in the conference.
The Miners bench has not that effective as of late but one could expect to see transfer guard Christian Agnew to come off the bench. Matchup wise the Miners may be forced to use its bench more against UAB, which uses seven different players for starter like minutes.
This week's game will be a crucial barometer of where the Miners stand in relation to the better teams in the conference and the team cannot afford to get swept on the road.
"They (UAB) defend very well and are one of the most physical teams we will have played this season," UTEP head coach Rodney Terry said. "We will have our hands full defending these guys and when the shot goes up we have to finish possessions. When we finish possessions we go to another level defensively."
The Miners take on UAB at 5:30 p.m. Friday and 3 p.m. Saturday in Birmingham, Alabama. Both games will be televised on ESPN+.
Michael Cuviello may be reached at [email protected]
About the Contributor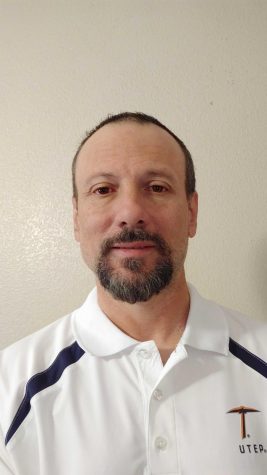 Michael Cuviello,
Michael Cuviello is a multimedia journalism student at UTEP. He currently serves The Prospector at Sports Editor and reporter. During the summer 2020,...