UTEP Football goes on the road to face Rice Owls
The UTEP Miner football team (3-4) will go on the road to face the Rice Owls (1-2) in Houston Saturday in a matchup of perennial Conference USA (C-USA) bottom dwellers. Neither team has finished with a winning record in conference since 2014when both teams finished above .500. 
After jumping out to a 3-1 start including two wins over NCAA sub division schools the Miners have lost their last three games along with four games either being postponed or canceled. In its last game the Miners started out playing close for a half with the University of Texas at San Antonio (UTSA) before getting blown out in the second half en route to a 52-21 loss. 
With seven games canceled and postponed Rice has had a tumultuous season which has only resulted in them playing three games. Rice's first five games were canceled due to COVID-19 and weather concerns. The Owls did not play its first game until Oct. 24 against Middle Tennessee State which resulted in an overtime loss.  
Rice will play only its second home game this season this weekend against UTEP. Its only win of the season was on the road at Southern Mississippi in which Rice won 30-6. The Owls are coming off a 27-17 loss to the North Texas Mean Green on the road. 
For Rice the key will be getting its passing game going versus the Miners and controlling UTEP's running game.  
Senior Mike Collins has played almost turnover free football for the Owls with 10 touchdown passes and only one interception. The TCU transfer has completed 56% of his passes for 1059 yards. Collins has gone two games without a turnover. Although mobile Collins has not offered much in the run game this season. 
The main target for Collins in the passing game has been senior wide receiver Austin Trammel who leads the team with 15 receptions for 335 yards with six touchdowns. Before the season Trammel only had seven touchdowns in his college career, having averaged 61 catches a season the past two years. 
With last year's top receiver Bradly Rozier opting out due to surgery concerns, Rice has used a committee approach for its second receiver with sophomore Jake Baily stepping up with nine receptions and two touchdowns. Tight end Jordan Meyers has taken on an increased role in the passing game with 14 catches in three games which is already at his average for the three previous full seasons. 
Gaining yardage on the ground has been an issue all season for the owls with its worst rushing per attempt since the 2009 season with 3.1 per carry. The one bright spot has been sophomore Juma Otoviano who did not play versus North Texas but was dressed on sidelines. In two games Octoviano has 194 yards on the ground with a solid 4.3 average. Freshman Khalen Griffin has struggled with consistency this season averaging 3.9 yards per carry. 
Overall, the offensive line has struggled protecting the passer giving up 10 sacks in three games. The lack of punch in the run game has also been a downfall of the line. 
Coming into the season Rice was considered to have one of the best defenses in the conference finishing 52nd in the NCAA in scoring defense while holding the top teams in conference to 20 points or under in its matchups. So far this season it has been a mixed bag. One game the defense held Southern Miss to a touchdown but in the other matchups the team gave up 27 and 40 points respectively. 
Defensively the team is led by senior linebacker Blaze Aldridge who paces the team with 32 tackles and one sack. Last season Aldridge had over 100 tackles and four sacks and made all conference first team. Aldridge was second overall in the NCAA last season with 26.5 tackles for loss. Antonio Montero and Treshawn Chamberlin complete a solid core of linebackers that are among the most talented in conference. 
On the defensive line the Owls have struggled against the run and have not gotten pressure on opposing quarterbacks. The defensive line has only two sacks in three games. Sophomore defensive end Ikeena Enechukwu was supposed to be a standout this season after a strong offseason but is still struggling to make an impact in the pass rush.  
"I worked on a lot of moves and I know what my bread and butter is and at this point, I know exactly how I can get (to the backfield)," Enechukwu said in an article for SB Nation. "My teammates can get more sacks too if I draw more attention to myself." 
In the secondary the Owls have been without a pair of hard-hitting safeties in George Nyakwoi and Naeem Smith who were fourth and fifth on the team in tackles last season. Freshman safety Chike Anigbogu has been forced to step into a much bigger role than expected and has shown some promise. Junior Cornerback Miles McCord has the only interception for the Owls this season. 
Last season Rice came to El Paso and won 30-16. Rice is 15-8 all time versus UTEP including seven out the last 10 games. 
Through five of its first six games UTEP's defense had shown significant improvement. The only bump in the road was against Big-12 powerhouse the University of Texas 59-3. In its last game versus UTSA the Miners defense was only able to force one punt while giving up 600 total yards. The defense was not effective versus the run or the pass. 
Offensively in its last matchup the Miners only managed 246 yards of total offense. Sophomore quarterback Gavin Hardison has been inconsistent this season completing 54% of his passes with five touchdowns and five interceptions.  
On the ground the Miners have been led by freshman Deion Hankins who has led the team with 493 yards rushing and seven touchdowns in seven games.  Hankins and junior Ronald Awatt should be an effective one two punch against the rice defensive front. 
Sophomore Jacob Cowing leads the Miners in receiving yards with 573 yards and caught his first touchdown last game. Both Cowing and senior Justin Garret have 36 receptions on the season. 
Defensively the improved pass rush was not able to make an impact against UTSA. Sophomore Praise Amawhule is currently ranked fifth in sacks nationally with seven total. Senior linebacker Stephen Forrester leads the team in tackles and transfer sophomore Tyrice Knight is second on the team in with 23 tackles. 
The keys to the game for UTEP will be establishing the run to set up the pass. If Hankins can get positive yardage early and the Miners can dictate the pace of the game putting less pressure on the passing game. UTEP still struggles to get the running backs and tight ends involved but this would be a good week to improve on that.  
Defensively the Miners need to get quarterback pressure up front while disguising blitzes. Collins does not make many bad throws so turnovers could be at a premium for the Miners. 
Overall, the Miners have the advantage of being able to have played 7 games while Rice is only on its fourth game of the year. If the Miners can minimize mistakes UTEP should produce a victory. 
Prediction: UTEP 27 Rice 24 
UTEP's kickoff versus Rice 11. a.m. Saturday Nov. 28. In Houston and will be televised on ESPN3. 
Michael Cuviello may be reached at [email protected],edu 
About the Contributor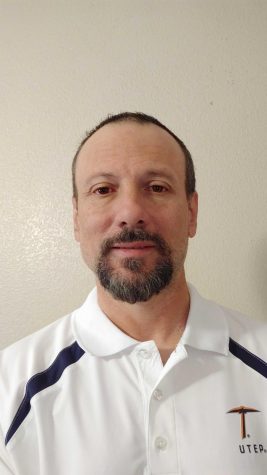 Michael Cuviello
Michael Cuviello is a multimedia journalism student at UTEP. He currently serves The Prospector at Sports Editor and reporter. During the summer 2020,...