UTEP football loses third game in a row in a blowout loss to UTSA
The UTEP Miners played a close first half  Saturday against the University of Texas at San Antonio  Roadrunners but fell apart in the second half in a 52-21 rout on the road.  
Defensively the Miners could not produce an answer to the Roadrunners as UTSA racked up 600 yards total offense and were only forced to punt the ball one time all day.  
"It got away from us right there at the end of the first half," UTEP coach Dana Dimel said of two quick UTSA scores in the final 1:35 of the first half that set the tone. "We were playing good football; it was a battle, then it got away from us. 
"The defense got shook; it broke our momentum. We got rattled and we did not respond very well. Some of it was missing the physicality of playing football. UTSA has played a couple of more games than us and a couple more recently than we have and we got out of rhythm." 
Driving down the field on its first drive UTSA was held to a 49-yard field goal after a sack on a blitz by junior safety Justin Prince. Unfortunately for the Miners, it would be the only time that it would effectively get to UTSA quarterback Frank Harris.  
On UTEP's first play from scrimmage, freshman running back Deion Hankins burst through the line for a 15-yard gain. UTEP followed up with a second consecutive first down with a pass from sophomore Gavin Hardison to senior Justin Garret for 10 yards. After the drive's initial success, UTEP fizzled out at its own 44–yard line and was forced to punt. 
Taking over at its own 10–yard line UTSA then picked up where it left off on the previous drive and proceeded to drive on the UTEP defense. In what could have been the game's critical play, UTEP senior cornerback Duron Lowe chased down UTSA receiver Zakhari Franklin on a 45–yard reception after he celebrated a yard too early to cause a fumble and prevent a touchdown. 
Seizing on the momentum from the enormous defensive play UTEP scored on its next drive with a spectacular pass from Hardison to sophomore wide receiver Jacob Cowling for a 52–yard touchdown capping off a six–play 80–yard scoring drive to take the lead 7-3. 
On the very first play of the next UTSA drive, UTEP recovered a fumble at the Roadrunners 23-yard line. Playing it a little too safe, UTEP stayed on the ground for three straight plays that gained a total of three yards. Junior kicker Gavin Baechle then proceeded to miss a 25–yard field goal but was given a reprieve after UTSA was called for roughing the kicker. On the next attempt of 21 yards, Baechle's kick once again went wide right. This was the first kick under 29 yards that Baechele has officially missed in a game. Baechele has struggled this season and has made five out of nine attempts. 
After one quarter, UTEP led 7-3 but would change two minutes into the second quarter on a 3–yard touchdown pass from Harris to wide receiver Brennon Dingle that put UTSA up 10-7. 
Following both teams trading punts, the Miners took over at their own 26 and went on its most impressive offensive drive of the day on 10 plays and 74 yards, resulting in a 1-yard score on a sneak by backup quarterback Calvin Brownholtz to put UTEP back on top by a score of 14-10. 
A short–lived lead it would be as UTSA would score after back to back completions from Harris to Franklin culminating in a 35–yard touchdown catch that would put the Roadrunners back in the lead at 17-14 a minute and a half remaining in the half. 
On the kickoff, Senior Walter Dawn had a 95–yard kickoff return in place of Lowe, who had been ejected from the game earlier for a personal foul. Junior Ronald Awatt, on the very next play, ran for four yards but fumbled the ball out of bounds. Closing out the scoring drive, Hankins took it into the end zone for a 1–yard touchdown to take the lead 21-17 with only 58 seconds left to play. Unfortunately, this would be the last time that UTEP would put any points on the scoreboard. 
UTSA would only need three plays to respond to the UTEP score. Harris converted with his receivers on two straight pass plays spanning 35 yards to get the Roadrunners to the UTEP 35-yard line. The UTSA quarterback on the very next play would take the ball 35 yards right up the middle to put the Roadrunners back in the lead a mere 39 seconds after UTEP's score. UTSA led a close game over the Miners at the half even though it had doubled the team in total offense. 
UTEP received the ball to start the second half and, after making two consecutive first downs, were driving near midfield. On the very next play, Hardison lost three–yards on a fumble that he recovered. The 27–yard drive fizzled at midfield and UTEP was forced to punt. This would be the longest offensive drive for UTEP in the second half. 
The Roadrunners offense then featured Harris and running back Brendon Brady as they took turns making play after play as UTSA scored on a 15-yard touchdown pass from Harris to extend its lead to 31-21. 
Brady was starting for Conference USA's (C-USA) leading rusher Sincere McCormick who came into the game second in the entire nation in rushing with 921 yards. McCormick missed the game due to the birth of his child. 
The Miners' next drive was derailed after a 20–yard pass reception by Dawn that resulted in a fumble at the Miner 44-yard line. UTSA took over in Miner territory on a defense it had dominated all day long. 
UTSA drove the ball downfield on Brady and Harris's legs, gaining all but six yards on the ground. Harris then punched the ball in from four yards out to put UTSA up 38-21. 
Struggling once again offensively, the Miners ended up losing three yards for their next drive that was ended on a 12–yard sack on Hardison. The drive started favorably with a 10– yard run by Hankins. For Hardison, the drive was a cue of mistakes that resulted in another UTEP punt. UTEP had 48 total yards for the quarter. 
To start the fourth quarter, the Roadrunners took the ball back downfield on an 8–yard scoring drive. UTSA finished out the drive on four straight runs from third–string running back Kaedric Cobbs, which ended with a 1–yard touchdown stretching the Roadrunner lead to 45-21 with 11 minutes left in the game. 
Hardison's struggles continued the very first play of the next drive as he was sacked and fumbled for a second time only to be saved by his lineman with a recovery to save an easy touchdown for UTSA. UTEP would only gain 1 yard on the drive before being forced to punt. 
With nine minutes left in the game, UTSA inserted its backups, including fourth–string running back  B.J. Daniels. Daniels ran the ball eight times, including six straight carries to lead the Roadrunners to another touchdown. The drive ended with Daniels' five-yard touchdown to put UTSA up 52-21 with three minutes left in the game. 
For its final offensive drive of the day, Brownholtz took over at quarterback and immediately continued the bad habit of fumbles by the quarterback that had plagued UTEP all game. UTEP was not fortunate enough to recover on a quarterback fumble as UTSA recovered the ball on the Miner 22-yard line to close out the game. 
"We lost some juice with our football team," Dimel said. "Our defense started to lose their focus a little bit, got rattled a little bit." 
"We didn't have any game edge to us today. It is really disappointing because we have come so far. We've got to get better from it, we've got to learn from it and we will." 
As bad offensively as the Miners were in the third quarter, the team was worse in the final quarter only gaining 13 total offensive yards. For the game, the Miners were dominated in every offensive category. 
UTSA had 322 yards passing and 288 yards rushing while UTEP managed only 177 yards in the air and 77 on the ground. The Roadrunners had 29 first downs compared to UTEP's 13. Fumbles plagued UTEP all day with five although they only lost two of them. 
UTEP's lone offensive standout was Hankins who gained 77 yards on 14 carries and a touchdown. Cowing had the long touchdown but after that was quiet. Most of UTEP's offensive production was in the first half as it only had 61 total yards in the second half. 
On the Day UTSA's Harris was a force in the air and on the ground going 22-26 passing for 312 yards along with 43 yards on the ground.  Harris threw for three touchdowns and ran for two more. Brady paced the Roadrunners in rushing with 124 yards while Franklin had 6 catches for 118 yards with a score.
At this time, UTEP has no game scheduled for the coming week due to the cancellation with the University of Alabama Birmingham that was scheduled to be played in Midland, Texas, due to COVID-19 issues for its opponent. 
The next scheduled game for UTEP (3-4) is 11 a.m. 28 Nov. in Houston versus the University of Rice Owls. Rice (1-1) has only played two games this season due to COVID-19 and weather issues. 
Michael Cuviello may be reached at [email protected]
About the Contributor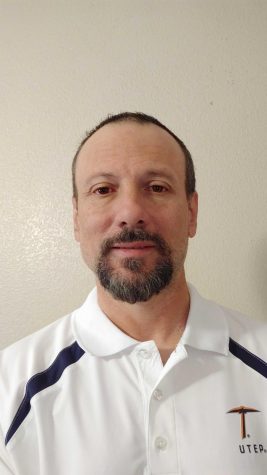 Michael Cuviello
Michael Cuviello is a multimedia journalism student at UTEP. He currently serves The Prospector at Sports Editor and reporter. During the summer 2020,...