UTEP football to take on Charlotte if COVID permits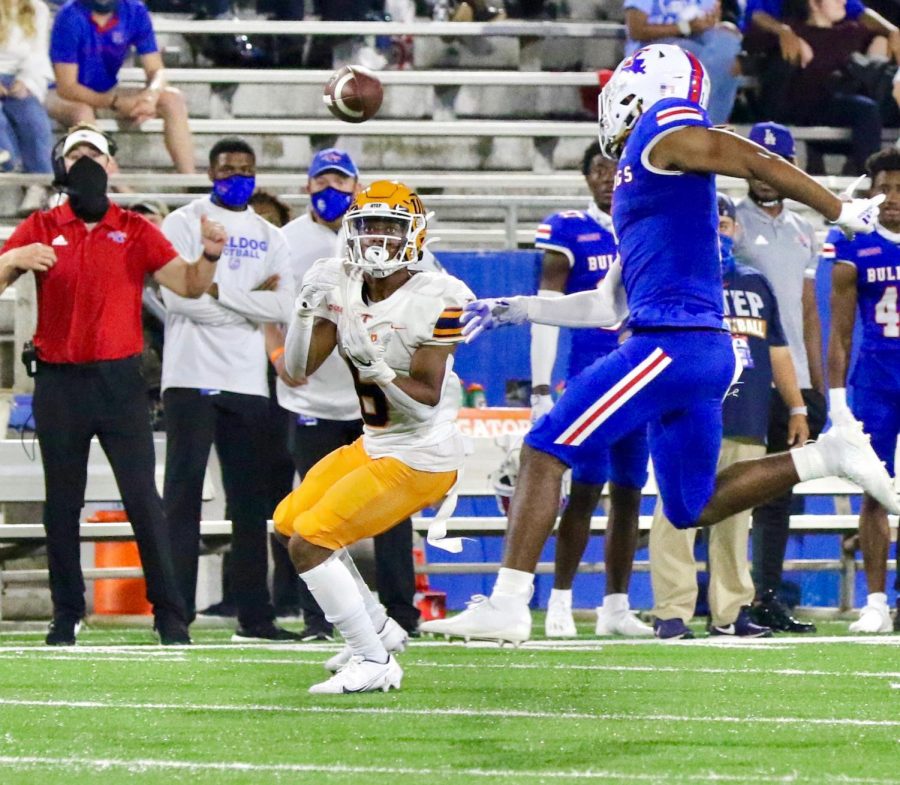 Coming off its first postponement of the season, the UTEP Miners are scheduled to travel to the University of Charlotte at North Carolina to take on the 49ers Saturday, Oct. 24. 
Both teams had its games postponed this past weekend due to COVID-19 concerns. For Charlotte, this was the third game this season that has been delayed or canceled due to COVID-19. Charlotte had its road game against North Carolina on Sept. 19 canceled due to having too many offensive linemen in quarantine. The following week Charlotte's home game against Georgia State University was canceled due to multiple positive tests for their opponent. This past weekend's game was postponed due to multiple positive tests from Florida International University. 
So, while the current situation could change over the week, the Miners are hopeful that they will be able to play football against the 49ers Saturday. 
Charlotte is 1-3 on the season and has yet to play a home game this year. The 49ers are coming off a season that saw the team finish 7-6 with a spot in the Bahamas Bowl. 
Last season Charlotte won a hard-fought game over UTEP at the Sun Bowl 28-21. The Miners led the game 21-7 at halftime but have up 21 unanswered points in the second half for the loss.  
The 49ers are coached by its second-year head coach Will Healy, an 8-8 record as Charlotte's coach. Healy was formerly the coach at Austin Peay State University, where he was named FBS coach of the year in 2017.  
Leading the offense for the 49ers is redshirt junior quarterback Chris Reynolds who was responsible for 448 yards of total offense in last year's game. For the season, Reynolds has struggled to run the ball as effectively as he did last season when he finished with over 700 yards rushing. He has completed 59% of his passes on the season with three touchdowns and two interceptions. Reynolds is coming off his best game of the season versus North Texas, where he was 15 of 22 for 290 yards in the air with two passing touchdowns. 
A pair of talented seniors anchored the running game with Tre Harbison and Aaron McAllister, taking over for departed all-conference back Benny Lemay. McAlister had 145 yards on the ground versus North Texas. The team as a whole ran all over North Texas for 311 yards. 
Victor Tucker and Micaleous Elder are the top receivers for Charlotte. Tucker leads the team in receptions with 13 for 177 yards and Elder has 11 catches for 135 yards. In last year's game, sophomore Cameron Dollar dominated the Miner secondary for nine catches for 157 yards. For the season, Dollar has seven catches for 121 yards and a touchdown. 
On the offensive line, the 49ers only return two starters from last season in senior Kaelin Fisher, making the line calls at center and junior D'Mitri Emmanuel at the key left tackle position. Manny right tackle is heralded four-star freshman Ty'Kieast Crawford a four-star recruit out of Carthage, Texas. Crawford turned down multiple Power Five schools to play for Charlotte. 
Defensively it has been a transition year for the 49ers after losing the best pass rusher in the conference in Alex Highsmith, who had 14 sacks and 21.5 tackles for loss. Junior Markess Watts, who had 9.5 sacks last season, returns but overall, Charlotte has struggled to get a consistent pass rush. As a team, Charlotte only has two sacks total on the season, with senior Romeo McKnight leading the team with 1.5. senior Tyriq Harris returns to the team after missing the entire 2019 season due to injury. 
The linebacking corps lost its top two playmakers from last season in Jeff Gemmell and Henry Segura, who made the game sealing interception versus UTEP last year. Taking over as the leader of the linebackers is junior Troy University transfer Tyler Murray, built similarly to Segura. Murray currently leads the team in tackles with 31, including an interception. 
At safety, Charlotte returns its top two players with seniors Ben DeLuca and Ja'Cione Fugate. Both players make a multitude of tackles downfield and support the run very well. Duke transfer Antone Williams has moved in as a key component of the secondary. 
New starters at the corners have struggled to contain the passing game. Sophomore Lance McMillon and senior Nafees Lyon man the corners for the 49ers. 
UTEP will seek to build on its excellent defensive performance against Louisiana Tech and disrupt Reynolds who beat the Miners with his arm and legs and arm last season. So far this season, Reynolds has struggled to make anything happen in the run game, so containment for the Miners will be a key to the game. With two outstanding backs to keep UTEP honest, the Miners will need to play with fewer blitzes but have the talent on the line to keep Charlotte offense honest. 
Sophomores Praise Amaewhule and Keenan Stewart both showed they were tough to handle one-on-one against Louisiana Tech and may have success against a lesser experienced offensive line that does have some talent.  
Last season the secondary failed to make big plays against Charlotte, but retain a very experienced secondary that is gaining confidence. 
Offensively the strength of the Miners is its run game. Freshman Deion Hankins and senior josh Fields need to find holes to keep the offense on the field. Last game, the Miners found a tough time running the ball averaging only 2.2 yards per carry. Appalachian State ran all over the Charlotte defense in week one for over 330 yards. 
Head Coach Dana Dimel needs to get sophomore quarterback Gavin Hardison some confidence-building plays across the middle and use the backs and tight ends more. Through five games, not one back or end has over two receptions. High percentage passing plays and success running the ball  would keep the defense well rested and keep constant pressure. 
While UTEP has a lot of room to improve, an upset on Charlotte's road is not out of the question. 
Prediction UTEP 24 Charlotte 21 
The Miners will play 10 p.m. Oct. 24 at Jerry Richardson Stadium in Charlotte, North Carolina. ESPN+ will  broadcast the game. 
Michael Cuviello may be reached at [email protected]