Dr. Jill Biden, the wife of Joe Biden, the Democratic candidate for U.S. president, made a campaign appearance Tuesday, Oct. 13 at UTEP's Undergraduate Learning Center, as early voting begins in Texas. The former second lady was joined by U.S. Rep. Veronica Escobar (D-El Paso) and former Congressman Beto O'Rourke.

"When Joe is president, you won't read the news shaking your head with tense shoulders," Biden said. "Because he's going to be someone who brings out the best in us. Someone our kids can look up to. Wouldn't that be nice for a change?"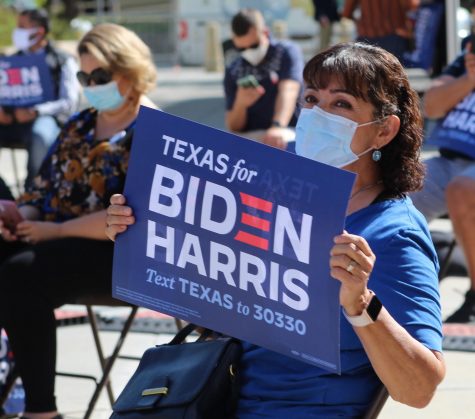 Biden was welcomed by a crowd of about 60 attendees, who all sat six feet away from each other and were required to wear masks as the world still battles the COVID-19 pandemic. The event featured live mariachi, folk dancers and a large sign that read "Vota Ahora."

"For the first time in a long time, winning Texas is possible," Biden said. "I know you're busy, but this election is too important not to do every single thing we can." 
According to the Texas Secretary of State website, as of September there were 16,617,436 registered voters in Texas, a new state record — a 1.5 million increase from 2016.  
"This is a city that believes that you and your husband can win the 38 electoral college votes of the state of Texas," O'Rourke told Biden and the crowd. "It will turn the page on Donald Trump and 'Trumpism' and allow us to begin the next necessary new chapter in a country led by Joe Biden."

Less than a mile away, at UTEP's Student Union Building East, voters like Alexus Padrón, 21, and Armand Avila, 22, were ready to cast their ballots.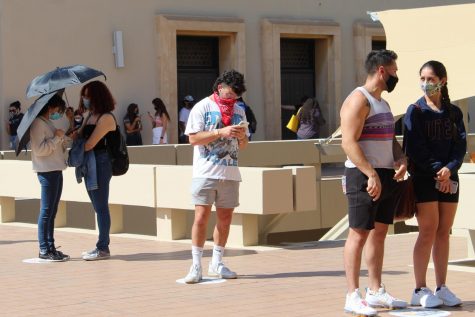 "I'm voting this time specifically because I believe we need a leader who is actually for people in the United States," said Padrón, a political science student at UTEP who is voting in her first presidential election. "I want more than anything for all people in this country to feel safe." 
Unlike Padrón, this is Avila's second time voting in a presidential election. He hopes his vote will help the country move toward a better four years.
"Winning this election won't solve all the problems, but it will be a step to the right direction," said Avila, a political science and electrical engineering major at UTEP. "Instead of sliding back decades like we have for the past four years." 
Avila and Padrón want to see issues like climate change, gun violence, police reform, immigration and the pandemic be discussed and resolved in the upcoming years. However, they both agree that in order for this to occur, young people must vote.  
"As generations come in, I think we become more open to change and caring about others more than just ourselves," Avila said. "I think my generation is going to be the generation that changes things and that could possibly make Texas blue." 
An early voting station will be held at UTEP's Student Union until Oct. 30. Each voter will receive a bag with a finger cot, sanitizing pads, a cotton swab and an "I voted" sticker. 
"To see change, you need voting power and activism power," Avila said. "Generation Z, we've grown up with the world constantly in crisis… the climate, gun violence. Seeing stuff like that change, it doesn't end at the ballot box, but it definitely starts there."  
For more information regarding early voting at UTEP, please visit https://www.utep.edu/cce/voter-engagement/.  
Anahy Diaz may be reached at [email protected]; @by_anahydiaz on Twitter.