Locomotive continue unbeaten streak with home draw versus United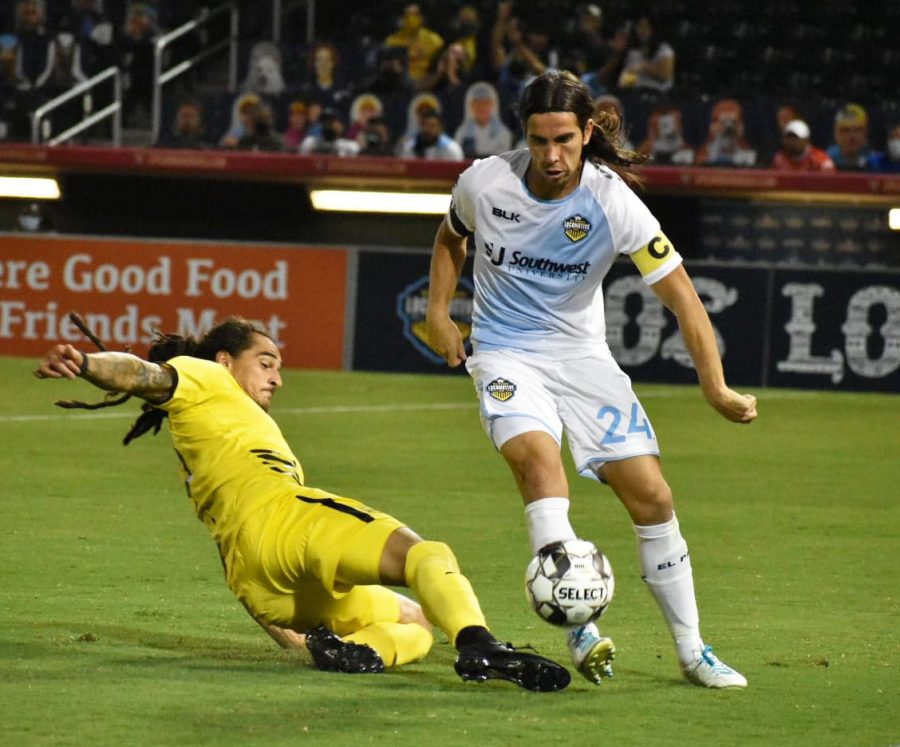 The El Paso Locomotive played New Mexico United Saturday night in its last home match of the regular season to a scoreless draw. The Locos had a very close match with a couple of chances but still could not find the opponent's goal.
The first half was sloppy for both teams, with a total of 34 fouls (El Paso 13, New Mexico 21). Challenging physical play from both teams made scoring opportunities rare.
At the very first minute of the game, forward Omar Salgado was close to scoring with a shot from outside the box that hit the crossbar.
One minute later, the Locomotive missed out on a score when defender Jerome Mechack took a powerful freekick that brushed the post.
At the fifth minute of the game, midfielder Macauley King with an excellent cross found defender Byram Rebellon hit the post again. After this action, former FC Juarez and current Locomotive defender  Eder Borelli re-centered the ball and now it was forward Aaron Gomez whose header was blocked by the visitors' goalkeeper.
It was not until the 24-minute game when midfielder Dylan Mares, with a good shot from outside the box, also found New Mexico goalkeeper Cody Mizell.
EP Locomotive had another chance before the halftime at the 33-minute point, then again, Gomez's shot was blocked by New Mexico's goalkeeper.
An unfortunate injury to El Paso's Salgado caused his substitution and gave entry to former FC Juarez's player forward Leandro Carrijo at the 18th-minute of the game.
Overall, the Locomotive had more chances than the United with a total of 11 shots and two on target. The United had eight shots and two on target.
"I don't know how happy I am yet; I'm proud though," said Head Coach, Mark Lowry. "I'm proud of the work. I can't fault the guys tonight at all. I thought the heart and their spirit was just superb. I don't want to sound happy with a point. I'm not. I'm not happy we didn't score. We had chances, particularly in the first four or five minutes of the game but we will take the point and I just hope the injury list doesn't get long."
Southwest University Park reached its highest attendance of the season once again, after having 1,669 people inside of the stadium with social distancing.
The Locomotive continued its nine-game unbeaten streak after yesterday's tie, seven games won and two draws. El Paso keeps the first place of Group C with a four-point lead over New Mexico.
The Locomotive next game will be 7.pm Wednesday, Sept. 30, when El Paso will go on the road against Colorado Springs Switchbacks FC. If the Locos win this Wednesday's match against Colorado, they will secure the first place of the conference Group.
Heriberto Perez may be reached at prospector.utep.edu