UTEP football dominates Warhawks on the road to improve to 3-1
In the most impressive win of the Dana Dimel era, the UTEP Miners outplayed the University of Louisiana at Monroe in every facet of the game today with a 31-6 road victory. 
For the first time since 2010, the Miners are 3-1 to start a season. That season the Miners went on to finish 6-7 with a loss to Brigham Young University in the New Mexico Bowl. 
Sophomore quarterback Gavin Hardison started out on the first drive with a 38–yard completion to junior wide receiver Justin Garret which set up a 51–yard field goal attempt by junior Gavin Baechle that missed. 
Defense then took over for the Miners forcing a three an out that continued to be a theme for much of the day.  
Hardison then connected with sophomore phenom receiver Jacob Cowing for an 82-yard gain to put the Miners at the Warhawk 2-yard line. On the very next play, freshman sensation Deion Hankins punched it in the endzone for a 2-yard score. 
The Warhawks responded quickly with its own big play with a 49-yard gain on a Colby Suits to Jevin Frett to get deep in miner territory. With the drive stalling on third and 8 yards to go Suits threw an interception that ended up in the capable hands of senior cornerback Duron Lowe of the Miners.  
The Miners started off the second quarter with a 37-yard run by Hankins which set up a short touchdown run for his second score of the game for UTEP.  
With another three-play stand that forced a ULM punt, UTEP would again start a  nine play 73-yard scoring drive. Hankins would go on to score his third touchdown of the day with a 8-yard run to put UTEP in front 21-0. 
UTEP's defense shut down the Warhawks following the touchdown and forced another punt. The Miners quickly drove downfield and scored on a  42-yard Baechle field goal to end the half with a 24-0 lead. ULM was held to two first downs for the entire half. 
Leading in total yards at halftime 330-74 and first downs 12-2, the Miners dominated the first half. 
Starting out its first two drives with three and outs and unable to gain a first down, ULM  was able to breathe a sigh of relief when the Miners drove 13 plays for 61 yards and had a rare short miss by Baechle. 
Sophomore quarterback Calvin Brownholtz then saw his first action of the game with a 24-point lead in the third quarter. On the very next play following three straight runs by Brownholtz, he turned the ball over in the backfield for UTEP's first turnover of the day. 
Four plays later, the Warhawks scored a touchdown on a 35-yard touchdown pass by Suits to wide receiver Jaquan Bloomfield followed by a missed extra point to narrow the Miners lead to 24-6. 
Junior running back Ronald Awatt scampered into the end zone for a 23-yard touchdown to close out scoring for the Miners and clinch the 31-6 victory for  UTEP. 
Offensively UTEP dominated the ULM defense with 512 yards of total offense to 193 for the Warhawks. By far the Miners biggest offensive output of the season and the most yards since last season's game at New Mexico State. UTEP had 21 first downs to Ulm's 6 and dominated time of possession by almost a 2-1 margin at 39 minutes to 21 for ULM. 
Hardison ended the game 13 of 25 passing with 312 yards averaging over 12 yards an attempt. His top targets were Garret with 7 catches for 120 yards and Cowing with 3 catches for 102 yards. Big pass plays by Hardsion kept the Miners in ULM territory all day. Cowing and Garret are the first UTEP  receiving duo to gain 100 yards a piece receiving in a game since 2012. 
The UTEP running game was led by Hankins who ended the day with 118 yards on 22 carries to go with his three scores. Hankins had his first three touchdown game of his career and has 265 yards in the three games he has played. Hankins also became the first UTEP freshman runninback since 1985 to score three touchdowns in a game joining John Harvey with that feat. 
"This feels awesome, crazy," said Hankins. "I missed a couple of practices this week, but I came out strong. This is awesome. This makes me teary-eyed. I've been praying for stuff like this, to live out my dream is awesome." 
For the fourth game in a  row, UTEP kept turnovers at minimum on offense. Converting 11 out of 17 third down attempts, the UTEP offense was its most effective it has been this season. The UTEP defense did not allow a third down conversion the whole game to ULM, going 0-11 on third down. 
You don't lose many games when the defense posts an 0-of-11 (on third down)," coach Dana Dimel said. "I don't know if that's ever happened. We were 11-of-17 (on third down) that was good. This is how we win football games. 
"What a incredible job by the defense, we were able to pressure with three- and four-man rushes," Dimel said. "I didn't feel like anybody was open. They didn't have much at all." 
UTEP's defense completely shut down ULM running back Josh Johnson, holding the preseason All–Sunbelt Conference selection to 19 yards on nine carries. Overall, the Miners held the Warhawks to 6 yards on the ground. 
"We came out and played with a lot of emotion, really physical football," Dimel said. "We were balanced in what we did. We stopped the run, we defended the pass, we ran the ball well and we passed the ball well. This was a well-rounded effort from our football team." 
UTEP now goes into a bye week before starting with Conference USA play versus Louisiana Tech on the road Oct. 10. 
 Michael Cuviello may be reached at [email protected]
About the Writer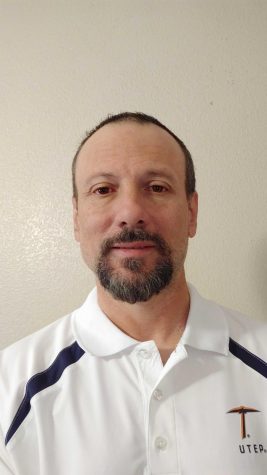 Michael Cuviello
Michael Cuviello is a multimedia journalism student at UTEP. He currently serves The Prospector at Sports Editor and reporter. During the summer 2020,...