UTEP football looks to rebound at home versus FBS opponent Abilene Christian
On Saturday, the Miners (1-1) will play its third game of the season against Football Championship Subdivision (FBS) opponent the  Abilene Christian Wildcats.  
Playing its first game of the season on the road, Abilene Christian will be looking to upset the Miners in its first matchup with UTEP since its 1959 win  20-14. The Wildcats hold a  lifetime 3-2 series advantage over UTEP. 
Looking to get back on track after its devastating 59-3 loss to the Texas Longhorns, the Miners should have a much more favorable matchup versus the FBS opponent playing its first game. 
Turnovers have not been a crucial factor in either of the Miners games on offense or defense. Sophomore quarterback Gavin Hardison has completed 52% of his passes for one touchdown and two interceptions. For the Miners to have an effective offense, Hardison will have to increase his accuracy and put better touch on his passes. 
"Offensively, I think we need to execute at a higher level," Head Coach Dana Dimel said at Monday's news conference. "We need to be precise in our assignments." 
Considering the abbreviated offseason, the Miners' receivers have acquitted themselves quite well. Sophomore Jacob Cowing leads the team with 11 receptions for 165 yards while senior Justin Garret has the lone receiving touchdown with nine receptions and 100 yards. Senior Walter Dawn has also emerged with five catches and 48 yards. 
So far, the Miners have failed to be able to utilize its tight ends or running backs in the passing game with only two passes being completed to either position group. For a ball control offense to have any consistency, these positions need to be used more. 
With the loss of senior Quadraiz Wadley for the season, the running game will very much be in the feet of freshman running back Deion Hankins. Hankins was impressive in the opening game versus Stephen F. Austin with a 113-yard performance but struggled to find success against Texas with only 37 yards on the ground. Hankins should be able to see much more daylight versus the lower division Wildcats. 
Complicating matters, Hankins seemed to sustain a leg injury at Tuesday's practice. Hankins missed practice Wednesday and was limited Thursday. Now considered a game time decision on playing Saturday, Hankins could be spelled by senior Joshua Fields, who has struggled so far this season with 14 carries for 25 yards. If Hankins does not play, the UTEP ground game will receive quite a downgrade. 
Overall, the offensive line has stayed healthy and protected the quarterback even against a massively more talented Texas defense. Through two games, the line has given up only one sack. 
Defensively after acquitting itself well versus its initial opponent, UTEP's defense was torched early and often versus the Longhorns giving up over 600 yards of offense. UTEP will attempt to get its pass rush on track versus the Wildcats, which could create much needed turnovers. 
The Wildcats will have a new quarterback since it lost two-year starter Luke Anthony to the transfer portal. Junior Sema'J Davis takes over at quarterback and will provide a unique test for UTEP linebackers with his dual threat ability. Davis played in 12 games last season for the wildcats completing 59 % of his passes but shined as a runner finishing second on the team with 683 yards rushing and four touchdowns. 
Junior running back Tyrese White will take over as the starter after averaging 5.6 yards a carry last season. White will be looking at an expanded role in the passing game with more playing time. 
Returning as its most dangerous weapon will be junior receiver Kobe Clark, who set a school record for receptions last season with 87 to go along with 777 receiving yards and three touchdowns. Regularly able to get open, Clark will pose a challenge to UTEP's secondary with his underneath routes. 
Senior Brandon Hohenstein proved an effective downfield target for the Wildcats and has excellent size for the position at 6-5, 233 pounds. Hohenstein had 27 catches for 330 yards. 
Returning a very experienced offensive line which is led by senior guard Kade Parmelly the Wildcats will look to get its running game on track early versus the Miners. 
On defense, the Wildcats will be missing its two best players from last season in all conference linebacker Jerimiah Chambers due to graduation and its best pass rusher Kameron Hill opting out due to COVID-19 concerns. Leading the defense should be senior linebacker Jack Gibbens, who had 104 tackles last season, including 8.5 for loss. 
Last season the Wildcats and UTEP had two common opponents in Houston Baptist and North Texas. The Wildcats beat Houston Baptist 45-20 while UTEP squeaked out a 36-34 victory against the very same team. Both teams lost lopsided games to  North Texas, giving up over 50 points apiece. Abilene Christian did lose by a slightly lower margin of 20 points compared to 26 points for UTEP. 
The matchup with Abilene Christian presents UTEP with an opponent that has more questions than answers with many new transfers on the roster and still yet to play a game this season.  Playing tough against Conference-USA opponent North Texas as well as its handling of a solid Houston Baptist team last season, should make the Miners take the Wildcats as a serious opponent. If Hankins does not play, it makes the game a lot tougher for Miners.  
Overall, I think the Miners will struggle with the Wildcats' quarterback due to his running ability but still be able to hold on for the victory. The key is not turning the ball over and controlling big plays. 
Prediction: UTEP 31 Abilene Christian 21 
UTEP and the Wildcats will kick off 7 p.m. Saturday at the Sun Bowl and will be televised on ESPN3. 
Tickets are still available at Ticketmaster or free for students at UTEP student Ticketmaster. 
Michael Cuviello may be reached at [email protected]
About the Contributor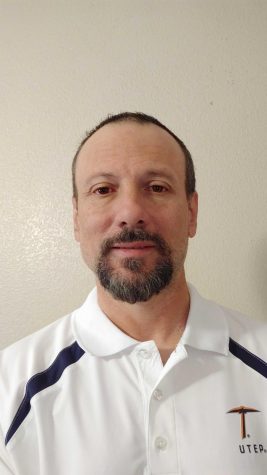 Michael Cuviello
Michael Cuviello is a multimedia journalism student at UTEP. He currently serves The Prospector at Sports Editor and reporter. During the summer 2020,...