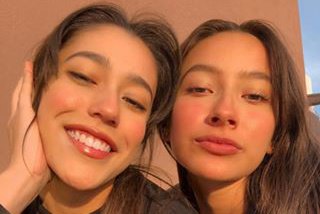 Ever since the COVID-19 pandemic struck the country, thousands of businesses  lost revenue and filed for bankruptcy. Even large retail corporations closed their doors.  
However, the ones who have suffered the most during these hard and unexpected times are small businesses. Despite the adversities, two brave young ladies are determined to succeed despite COVID-19. 
Best friends, Anette Baca a junior majoring in advertising at the University of Texas at Austin and Ana Montiel a junior majoring in marketing at UTEP, combined their last names this summer to create Moba, their own clothing business. They have a passion for fashion and decided to utilize their sewing skills to make clothes at affordable prices.  
The duo sells their creations on their Instagram page @moba.clothing where they showcase their various designs. 
Sleek, trendy, and stylish are some of the words that may come to mind when you look at Moba Clothing's Instagram page. Moba Clothing makes handmade sustainable clothing for all sizes. 
What makes Moba Clothing stand out is that they don't waste fabric.  
"We promote 'consume less, create more' as an alternative to purchasing from fast fashion," Baca said.  
Fast fashion is inexpensive clothing often produced rapidly by mass-market retailers in response to the latest trends. According to the Business Insider –the clothing industry is the second- highest polluter of clean water, produces 10% of the world's carbon emissions, and it also pollutes various natural water sources with microplastics. Producers of fast fashion dump their toxic chemicals into clean water supplies, and this is because clothing production is a land and water concentrated business. The fashion industry can reduce their pollution by using sustainable fabrics which are made from ecofriendly resources and by not wasting any of their materials.  
Moba Clothing uses dead stock fabric from fabric stores, which is the material that stores over produce.  
The fashion boutique is trying to reduce waste   by only purchasing the necessary fabric that will be used and making scrunchies out of the remaining fabric. The scrunchies are then included with each order as a special surprise. On Moba Clothing, there is a wide selection to choose from. The selection includes  styles of blouses, skirts, tank tops, and other items of clothing.   
The business' Instagram page features many unique outfits which range from charming red and beige plaid skirts that reach mid-thigh length, to darling crop tank tops made in different colors such as blue and red.  
Montiel says their clothing line does not have a particular style and  can make any article of clothing personalized to the customer. The product the creators are most proud of is their nude colored back–less tank top with a draw string tied at the bottom.  
Moba Clothing is accommodating to everyone's budget. Prices range from $10 to $20 depending on the item.  
Baca and Montiel would like to expand their boutique by opening a store in El Paso and other parts of Texas. 
"We would like to expand our boutique and one day open a store in Austin," Montiel said.  
With a goal of spreading awareness on how fast fashion is destroying the ecosystem, and persuading customers to buy more eco–friendly clothing, Moba Clothing wants to make the world a greener place one clothing item at a time. 
To find out more about Moba Clothing or to check out their clothing designs, visit their Instagram page at @moba.clothing. 
Alyson Rodriguez may be reached at prospector@utep.edu.