Miners travel to Austin as big underdogs to Longhorns
The UTEP Miners coming off a season-opening win over Stephen F. Austin University, will go on the road to play the University of Texas Longhorns Saturday Sept. 12, for the first time since 2016. 
Hoping to improve on the result of the last matchup that resulted in a 41-7 win for the Longhorns, the Miners have a monumental task at hand with the Big 12 opponent. This game will be the first time the Miners will play a Tom Herman coached Longhorn team. Herman has a record of 25-15 at Texas with four bowl wins. 
Texas finished the 2019 college football season at 8-5 with a victory over Utah in the Alamo Bowl that left the team as 25th ranked in The Associated Press (the AP) year-end poll. Currently, the Longhorns are ranked 14th in the AP poll. 
Offensively the Longhorns will have some new wrinkles with newly hired offensive coordinator Mike Yurcich. Previously the passing game coordinator for a one season at Ohio State and offensive coordinator at Oklahoma State for five years Yurcich's offense is considered a good fit for the Longhorns and its power spread offense hoping to improve getting players open in space. 
Leading the Longhorns at quarterback will be fourth-year starter Sam Ehlinger, who finished as an honorable mention All-Big 12 Conference selection last season. Ehlinger is currently second all-time on the Longhorn passing list with 8870 yards and 68 touchdowns. Proficient as a runner, Ehlinger has over 1500 yards rushing in his college career and has improved each season in passing and running. 
Finishing last season with over 3600 yards passing with 32 touchdowns and only 10 interceptions, Ehlinger will be the primary weapon for Texas that UTEP will have to focus on. Devin DuVernay has departed to play in the NFL, leaving a massive hole at wide receiver with his 106 receptions for 1386 yards and nine touchdowns no longer a Longhorn. Texas also lost its second-leading receiver, Colin Johnson. 
Junior Brennan Eagles is the top returning receiver for Texas with 32 receptions with 522 yards receiving and six touchdowns. Sophomores Joshua Moore and Jake Smith move into prominent roles for the Longhorns. Both players were ranked in the top 200 players of its recruiting class. 
Returning its top two running backs from last season, the Longhorns have a wealth of talent and experience at the position. Leading rusher junior Keaontay Ingram rushed for 853 yards on 144 carries last season, averaging 5.9 yards a carry. Ingram is also a good receiver out of the backfield with 29 receptions for 242 yards and scored 10 total touchdowns last year. Named a third-team preseason All- Big-12 selection, Ingram is expected to have a big year. At 6-0, 222 pounds, Ingram will provide quite a challenge for the UTEP defense with his versatility. 
Backup running back, Rochon Johnson is also quite adept at catching passes out of the backfield and had 23 receptions last season. Johnson was third on the team in rushing with 665 yards and seven touchdowns last season.  
Adding to the depth at running back is five-star recruit Bijan Robinson, who was the 14th ranked recruit nationally after three consecutive high school seasons of over 2000 yards. Robinson is the all-time leading rusher in Arizona history with 7036 yards and, like the other backs, is an outstanding all-around player. 
On the offensive line, the Longhorns are led by NFL first-round draft prospect Samuel Cosmi at left tackle. Cosmi has started 26 games over his career and was named second team All-Big 12 in 2019 in his first year at left tackle. 
Senior Derek Kerstetter anchors the line at center with the most experience of all starters. Kerstetter has started 28 games for the Longhorns and was the highest-ranked pass blocker of all Power Five offensive linemen as ranked by Pro Football Focus in 2019. Like his left tackle teammate, Kerstetter is considered an NFL prospect. 
The rest of the line is a talented but inexperienced group that has a significant size advantage over UTEP's linemen. 
UTEP will need to limit Texas's big-play ability with its defense. Even getting pressure on Ehlinger will be a challenging proposition due to his ability to make plays with his legs. Both of Texas's running backs are dangerous as receivers coming out into the flats, which will test the Miner linebackers and safeties. 
Due to its experience and talent in the secondary, the Miners may be able to give Texas's young receiving corps a better challenge than expected in its first game. In Ehlinger, the Miners are facing a very accurate quarterback that does not make many mistakes running a very potent offense that has put up points on top college teams. Lacking its top receivers may change much of that scoring early in the season. 
The Miners will need to limit  defensive mistakes if the team does not want to get ran out of the stadium due to the talent of the Longhorns. Texas has the speed to make minor errors turn into major scores. 
On defense for Texas, new defensive coordinator Chris Ash will be employing a new scheme, moving from a 4-3 alignment from the previous year's 3-4 system. Ash, who was previously a head coach at Rutgers compiling an 8-32-win loss record, has worked with Tom Herman while both were at Ohio State, winning a national championship in 2014 with Urban Meyer. 
The defensive line will be a position of strength for Texas with experience and talent to man the trenches. Seniors Marquez Bimage and Taquon Graham both bring excellent athleticism to the line at the end and defensive tackle position. Junior Joseph Ossai is the standup defensive end and will be the star of the line. 
Ossai had nine tackles with six for loss and three sacks in the Texas 38-10 bowl victory upset over the University of Utah last season. With that performance, Ossai caught the eye of NFL scouts and could be in line for a tremendous season. Leading the team in tackles with 90, including 13.5 for loss along with five sacks and two interceptions, Ossai will be a crucial player for the Miner's offensive line to stop in the upcoming game. Playing on the line in a new scheme could be a learning experience for Ossai. 
With the scheme and coaching change, Texas will rely much less on blitzing and have a very inexperienced linebacking corps that would make it the weakest of the Texas defensive units. But with the scheme change, the mindset is to get pressure up front from four down linemen, especially with Ossai at the jack position of the defense. 
In the secondary, the cornerbacks will be led by junior D'Shawn Jamison, who led the team in interceptions last season with three. Junior Jalen green started seven games last season but missed multiple games with injuries. Junior  Josh Thompson, sophomore Chris Adimora and freshman Kenyatta Watson II all received significant playing time last season 
The strength of the secondary is the safety group, which is loaded with possible NFL prospects. Junior Caden Stearns has started 21 of 22 games in his career. He is on multiple preseason All-American lists as well as the Chuck Bednarik Award watch list awarded annually for defensive player of the year. Joining him at safety is junior B.J. Foster, who has played 22 games in his career while starting 14.  
For the Miners to be effective against the Texas defense, the running game will be the key to set up short passes against a somewhat raw group of linebackers. Freshman running back Deion Hankins was very effective against Stephen F. Austin, averaging 6.6 yards per carry. If the Miners can make the defense concentrate on Hankins, it will open up underneath passing routes to exploit versus Texas. Senior Quadraiz Wadley will not be available for the upcoming game due to a recurring injury issue. 
Sophomore quarterback Gavin Hardison will need to take advantage of his quick release due to the size difference of the offensive versus defensive lines. UTEP may be able to take advantage of a team learning a new scheme that has yet to implement it into a regular-season game condition. 
Overall, the Miners receivers acquitted themselves quite well last weekend with both sophomore Jacob Cowing and senior Justin Garret making impressive plays. The tight ends and backs will both need to be used more in the passing game versus Texas to move the chains. 
Much like on defense, not being forced into offensive errors will be the key to playing Texas. This challenge should show what precisely the UTEP Miners are made of as a team and give them an idea of where they are at in terms of progression from last season. 
With a tall challenge like playing a top-ranked Power Five team with a limited offseason, the Miners are currently not being given much love from Las Vegas as 43-point underdogs to the Longhorns. 
If the Miners can stay disciplined, they can stay under that point differential but, in the end, I expect a loss by at least four touchdowns. It is tough to overcome the talent discrepancy no matter how well-coached a team is and the lines on both sides have monumental tasks to take on. 
Final Prediction: Longhorns 42 Miners 14 
Michael Cuviello may be reached at [email protected] 
About the Contributor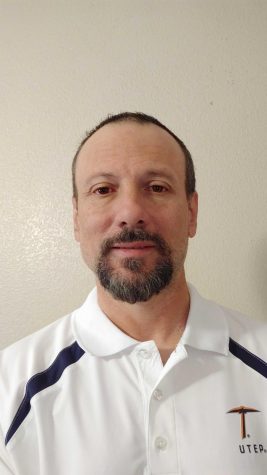 Michael Cuviello
Michael Cuviello is a multimedia journalism student at UTEP. He currently serves The Prospector at Sports Editor and reporter. During the summer 2020,...