'Ayúdame, Por Favor' by UTEP student filmmaker to be shown at 2020 Independent Shorts Awards in Los Angeles
When UTEP digital media major Sergio Muñoz started writing the script for his short film "Ayúdame, Por Favor", he dreamed of the best-case scenario: it would be well-received and win awards. When he finished filming, his dream came true.  
"I was in my hometown and I was trying to see what I could do with what I had. From there I started writing," Muñoz said. 
The short film is an 80's inspired thriller written, shot and directed entirely by Muñoz in his hometown of Delicias, Mexico. In 14 minutes and 12 seconds, the short film takes audience members alongside the young main character as roams around town, looking for adventure. When he stumbles upon a house with its front door open, he decides to explore what's inside.  
Muñoz didn't plan for the film to be a thriller, but films such as "The Goonies", "Stand by me" and "The Lost Boys" inspired his writing.  
The final cut of the film is up to Muñoz's standard, but there were minor hiccups that occurred along the way, starting with the lead actor in the film, Santiago Muñoz. Santiago, Muñoz's younger brother, was inexperienced and needed a lot of direction. 
"I told him what to do, in which manner, which kind of face to put; whether to smile or be scared. It's actually unprofessional to say, 'can you do this face or scream in this way?" Muñoz said. "I think that's the fact that he was very obedient, and he paid attention to every instruction I gave him. That's how he learned how to act and get directed." 
Lighting was a different type of hurdle.  
"Every time I watch the film, I wish I had some better lighting in the scene. I just had my camera, and I didn't have my cinematographer, so I had to be my own director of photography," Muñoz said, "I know what I'm doing but I'm not an expert."   
Even though Muñoz didn't have the equipment he would have preferred, "Ayúdame, Por Favor" is a success. 
It was chosen to be showcased at the 2020 Independent Shorts Awards in Los Angeles, California and the El Paso Film Festival. 
Santiago went on to receive the gold award for Best Young Actor.  
"This was his first time acting, he told me previously that he wanted to act but he was kind of scared," Muñoz said.  "It was big news and I'm happy for him."  
Muñoz has always wanted to make films, but it wasn't until Spring 2020   that he took the plunge.  
"I started a short film with my roommates because one roommate wanted to be an actor and I have a friend who always wanted to be a cinematographer," Muñoz said. "We filmed a short film that's running now at a festival, but we did that short film just to do something." 
Over a period of three months, Munoz shot his first short film, "Josefina." Despite being his first short film, it was selected as a semi-finalist at the New York Latino Film Festival and will be featured at the Indie Short Fest in LA. 
Muñoz is off to a strong start in his career. While in El Paso, he interned at PBS as the editor of the show "High Q" and a production assistant at Double Scope Films. Last semester, he interned in New York with ABC News and The Walt Disney Company.  
Following the success of his past two short films, Muñoz said that he'll work "to improve little by little." Currently, he's working on a short film called "Another Day at the End of the World." The film follows a man and captures what he does in his apartment one day before the end of the world.  
Muñoz hopes to continue pre-production work with the film company Saeta in Mexico, once the COVID-19 pandemic improves. He also would like to go back to ABC News  to focus on documentaries. 
"Two years ago, I was a volunteer at the (El Paso) film festival and right now, they've selected my film," Muñoz said with a chuckle as he reflected on his hard work. "I feel like I've accomplished something." 
Exodis Ward may be reached at propsector@utep.edu; @alexodislee on Twitter.
About the Writer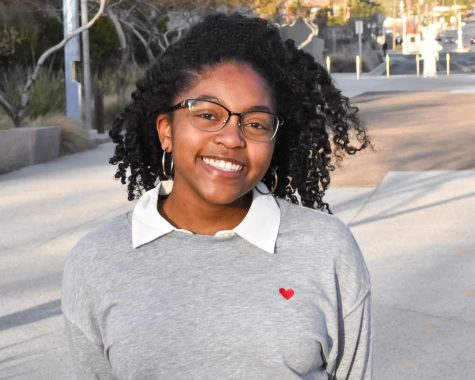 Exodis Ward
Exodis Ward is a Multimedia Journalism major, English Rhetoric minor at the University of Texas at El Paso. She is Entertainment editor at The Prospector,...