Memorial held for Walmart shooting victims at Ponder Park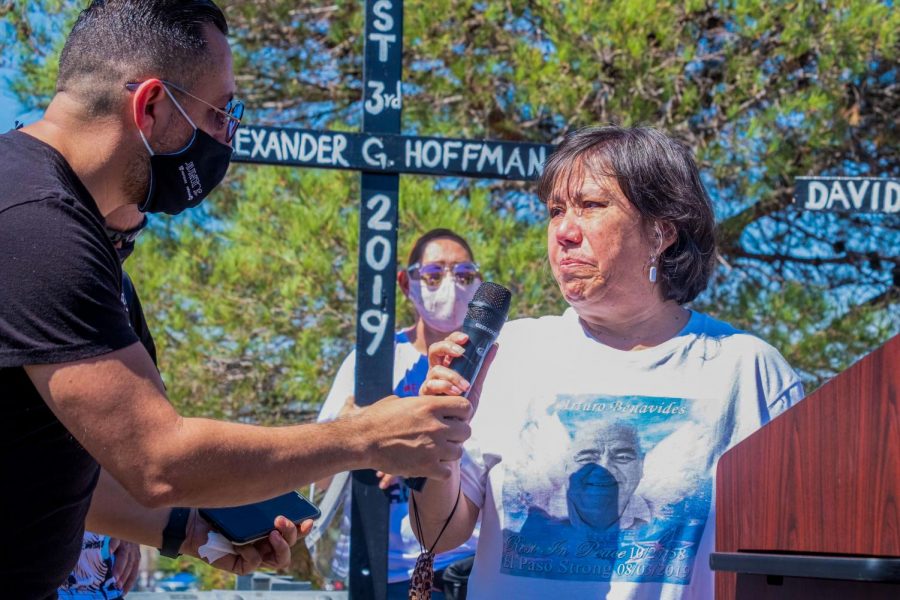 On the anniversary of the tragic El Paso Walmart shooting, El Pasoans marched from Ponder Park with 23 crosses bearing the names of those that lost their lives one year ago today. 
From the park El Paso Firme and Border Network for Human Rights marched down Sunmount Drive with the crosses bearing the names of the fallen to the original location of the makeshift memorial behind the ill–fated Walmart. 
 A short memorial was held with all 23 victims' names being read off and then 23 white doves were released in honor of the fallen. This was followed by a rendition  of the renowned Juan Gabriel ballad "Amor Eterno" sung by Selena Nevarez.  
"A very special group of people have come together this weekend," said Bishop Mark Seitz. "It is a community that was created on that awful day, people of various nations and races and faiths and ages now all united, welded together  by our suffering. He came to cause warfare we stand here in peace." 
Family members of lost loved ones took turns speaking about their loss. Antonio Basco lost his wife Margie Reckard on that fateful day. He spoke about the inaction of our nation's leaders on gun control. 
"When Trump did not come through with the gun laws it just encouraged people to do more, said Basco. I am just praying that the next generation will have a way to grow up and  have a way stop all of this killing. They did not deserve that. Nobody deserves that. 
Patricia Benavides who lost her husband Arturo also spoke to the crowd impassioned as she held back tears speaking of her loss. 
U.S Congresswoman Veronica Escbobar came out to show her support to the families and loved ones of the victims. She later addressed the crowd saying that much of the hate that caused this incident is still quite prevalent and is being stoked by many of our country's leaders 
"We are here today because of racism, hate and division that our country is still grappling with right now said.," said Escobar. "We are here today because some of the highest leaders in this land have fueled hatred for communities of color and have used language to describe immigrants that rips them from their humanity. We will not have reconciliation until we confront that hate and that racism until we reject it. Until we remove the power that it has." 
Michael Cuviello  may  be reached at [email protected]