El Pasoans unite to 'back the blue'
About 50 people gathered at Officer David Ortiz Recreational Park Thursday, July 23 in support of local law enforcement as a response to multiple protests about police misconduct in the aftermath of George Floyd's death at the knee of an officer. 
The event organized by the El Paso Police Wives and Family Support Organization was billed as an opportunity to show unity with the community and the police that serve it. Cars lined the park with flags and signs in support of law enforcement as they gathered in the parking lot to give speeches in support of the El Paso Police Department before driving as a group to the central police station at 911 Raynor. 
Melissa Baily president of the support organization felt that most of the issues that have been protested about in El Paso and across the nation are not present with  the local law enforcement but did acknowledge that other departments throughout the country have problems that need to be addressed.  
A multitude of ongoing protests throughout the nation have been brought on by the death of  Floyd  in Minneapolis. This event has sparked outrage at the perceived disparity of how law enforcement and the judicial system treats people of color.  
While Baily felt that law enforcement was utterly wrong in the Floyd incident and that race does have something to do with it, she said that El Paso police work well with the community and are not racist. She applauded the current El Paso Police Chief Greg Allen for his diligence in holding his department accountable. 
Allen has been under fire by some in the community accusing his department of excessive force and lack of accountability. In 2016 Allen also made controversial comments about Black Lives Matter being a terrorist organization. 
The Republican nominees for U.S. House District 16 Irene Armendariz Jackson and State Senate District 29 Bethany Hatch  both spoke to the crowd denouncing attacks on law enforcement. 
"Back East, they have had a lot of problems with racism and their police departments," said Bailey. " It's evident from the history and of course they need change. We need to come together and at least have a discussion." 
"In order to make anything better, it takes a whole community," said James Jackson.  
Present at the event was Herlinda Ortiz the mother of the officer the park is named after. Her son was a motorcycle officer who was a victim of an alleged gang member that purposely hit him with vehicle resulting in his death in March of 2016. 
"There are a lot of officers being killed just for wearing the uniform, " said Ortiz. "They go in and do the work that others will not do. They take the obligation and the sacrifice for others that will not do. "  
"It wasn't but a year ago we dealt with hate when it came here and we lost 23 lives, Bailey said. "We know what hate does. We want to be together like we were then. We are El Paso Strong." 
Michael Cuviello may be reached at [email protected] 
About the Contributors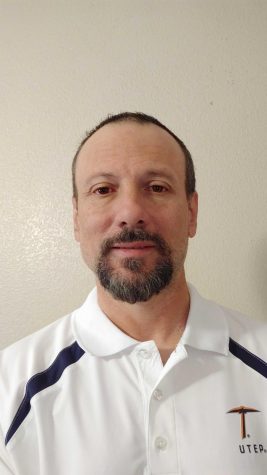 Michael Cuviello
Michael Cuviello is a multimedia journalism student at UTEP. He currently serves The Prospector at Sports Editor and reporter. During the summer 2020,...