Coffee House of Hel ready to scare up business in El Paso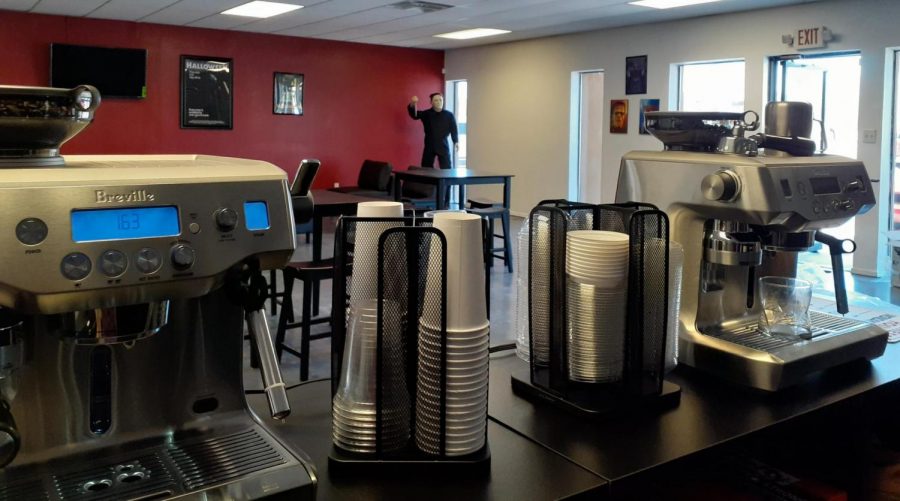 Coffee House of Hel is serving up frighteningly frothy concoctions in an atmosphere bone chilling enough to make any day of the year feel like Halloween. Owners Helen and Robert Hinojos have conjured up a one-of-a-kind local spot in East El Paso where coffee and horror fanatics alike can convene and indulge in a sinister merger of these two curiously compatible passions.  
The couple set out to commit to their first business venture after having discussed their dreams together for several years. Before opening Coffee House of Hel, Helen worked at a call center for 20 years, while Robert worked landscaping, often operating under arduous outdoor conditions. 
"Both of us decided it was time to do something. We had always talked about this so we started saying, 'all we're doing is talking if we don't do this now, we're never going to do it,'" Helen said. "I didn't want to have to go to work every day and answer to anybody. I wanted to be my own boss. When you're doing something, you love it's not even a job anymore, it becomes fun." 
The couple credits a substantial portion of the coffee shop's concept to the horror comedy film "Burying the Ex," a personal favorite of theirs, with the plotline being a serendipitously romantic representation of what they managed to achieve together with Coffee House of Hel. "In the movie the main guy works at a horror shop and the girl he falls in love with owns an ice cream shop, with the ice creams named after horror themes," Robert said. "At the end, they come together and open a shop together. That was a lot of the inspiration behind it." 
Coffee House of Hel opened its doors June 5, 2020 and while kick-starting a business during the COVID-19 pandemic may have seemed ambitious, the two have managed to achieve their dreams despite facing some inevitable challenges.  
One challenge has been obtaining merchandise. Aside from its ever-expanding menu, the coffee house also intends on selling horror merchandise, ranging from T-shirts, lanyards and figures to intricate horror masks and more. However, many of the items they ordered back in April have yet to arrive due to the delay in shipping many online consumers are experiencing as a result of COVID-19.  
Despite the pause in merchandise sales, their menu remains in full effect, featuring an array of blood-curdling beverages inspired by prominent horror icons that are sure to lure visitors in. Helen and Robert have experimented with countless ingredients and methods to perfect their final products. Such as incorporating Cap'n Crunch Cereal in the "Captain Spaulding Frappe," a nice touch to tie the components of the drink with Spalding's infamously murderous persona from the Rob Zombie films. 
"The Exorcist" is a newly added menu item that takes on the appearance of the projectile retching Linda Blair enacts in the film but with a flavor pleasantly contradictory to the iconic scene. The frappe assumes the taste of a candied green apple confection drizzled in caramel, sure to possess any palate. 
Another new item on the menu is the "Re-Animator," a refreshment that radiates a glowing neon green hue, modeling itself after the reanimation serum from the classic horror film "Re-Animator," so refreshing it will resuscitate you right back to life. 
Helen's personal favorite item on the menu is "Killer Clown," a watermelon flavored frappe and Robert's is "Bloody Brains," a drink that combines the flavor of caramel apples and chocolate raspberry. To create the illusion of brains in the "Bloody Brains" drink, Helen whips up a raspberry chocolate fusion that's drizzled over a pink whipped cream "brain," making for a mouthwateringly frightful sight. 
The shop is also embellished with all things horror to supplement the experience even further. Red draped windows, a statuesque Michael Myers menacingly stalking in a corner, Chucky and the Bride of Chucky dolls, and a slew of horror movie posters adorn the walls to help set the ominous yet alluring tone. 
Patrons can also delight in their drinks, along with a cinematic treat while relaxing in their comfortable lounge area. Helen and Robert curate a different horror movie each day to loop all day, with two different screens and a projector running, with each playing modern or classic horror films from the 1920s and 30s.      
"Eventually, we want to have movie nights. We want to show classic movies like 'Return of the Living Dead," Helen said. "We're limited with everything going on right now, so we might have to wait on that a little bit. We wanted to do something where people can bring in their own seats and blankets, where they can just come together and enjoy a movie." 
Regardless of encountering these challenges presented during a pandemic, the Hinojos have succeeded in establishing a business together and still have high hopes and plans for its flourishment in the future.      
"We have a lot of ideas and of course we want to grow," Helen said. "We want to get to the point where we can collaborate with others. Maybe have a haunted house or do something with the paranormal." 
And don't let the name spook you, Coffee House of Hel is actually a clever play on Helen's name, so being dragged to Hel in this case means you'll be greeted warmly to an inviting and relaxing space with a unique experience all its own. 
"We want our to customers to enjoy their time here, to enjoy the drinks and atmosphere," Helen said. "We want them to want to come back. We don't want them to have any misconceptions of the theme, but to take it in and enjoy the experience because there's nothing else like it in El Paso."  
Coffee House of Hel is located at 2200 Lee Trevino. For more information or to contact the shop, call (915) 444-8042 or visit their website at coffeehouseofhel.com 
Sasha Minjarez may be reached at [email protected] 
.