In a new executive order released today, Texas Governor Greg Abbott mandated that all bars be closed and that restaurants scale back occupancy rates to 50% from the previous 75% by June 29.  
This order follows a report that shows Texas had its highest spike in new cases since the COVID-19 pandemic began with nearly 6,000 new cases reported on Thursday. Texas was followed by Florida and California who also reported over 5,000 new cases. 
The order states all outdoor gatherings of more than 100 people must now have the approval of local officials. 
Religious services, local government operations and child care services, however, will not be subject to any occupancy limits that are outlined in the new executive order.  
Spikes in COVID-19 cases set records in Texas for three consecutive days this past week.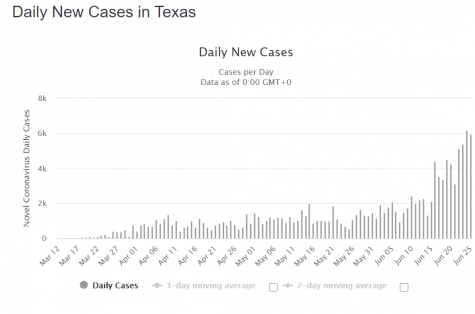 The mandatory wearing of masks is still not addressed in the order from Abbott, but he still encourages the use of face coverings. In El Paso, a directive was issued on June 22 requiring face coverings for all local businesses.  
According to the City of El Paso's COVID-19 Data , the city has surpassed 1500 active cases and has had 5217 cases overall. Currently, about 20% of licensed Intensive Care Unit (ICU) beds are being utilized with 25 patients on ventilators.  
"At this time, it is clear that the rise in cases is largely driven by certain types of activities, including Texans congregating in bars, "Abbott said in a news release. "The actions in this executive order are essential to our mission to swiftly contain this virus and protect public health." 
Rates of positive tests of COVID-19 were approaching 12% as of Wednesday according to Texas State Health Services which prompted Gov. Abbot to take these new measures.  
"As I said from the start, if the positivity rate rose above 10%, the State of Texas would take further action to mitigate the spread of COVID-19," Abbott said. 
Michael Cuviello may be reached at [email protected]