Locals gather for protest to defund police in Armijo Park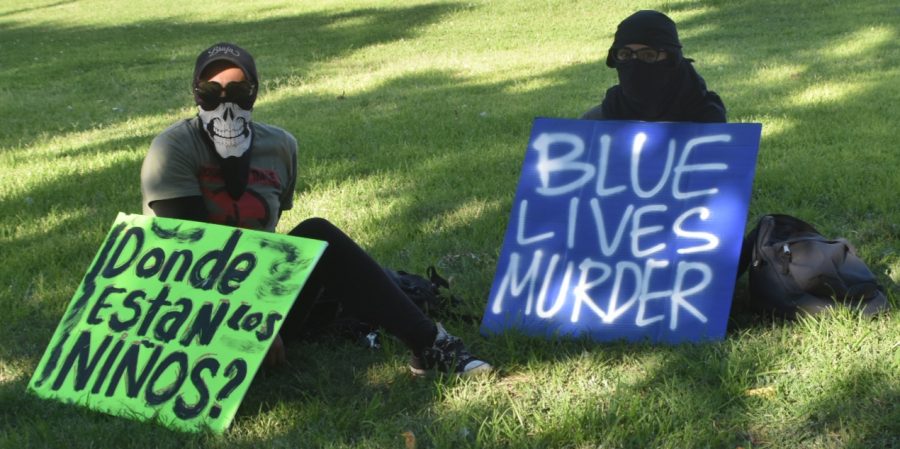 A group of about 30 El Pasoans gathered near Downtown El Paso in Armijo Park to protest police violence on people of color Sunday June 21.  
Originally scheduled as  a march the crowd gathered in a circle and shared their thoughts on issues ranging from defunding the police to the recent spate of violence towards African -Americans. 
"I really wanted to incorporate not just Black Lives Matter but Black women are being raped and brutalized by police at equally high rates as Black men are being brutalized by police," said Amber Bruner organizer of the event for We Are Human. " I also want to keep the momentum in El Paso… just because we feel like we are far removed from the issue, it's still an issue." 
Bruner also expressed disappointment in the El Paso Police Chief Greg Allen for his department's handling of El Paso protests and his previous comments on Black Lives Matter especially with him being a Black man himself. 
On June 8, 2016, Allen attacked Black Lives matter following the shooting of five police officers in Dallas during a news conference. 
"Black Lives Matter, as far as I'm concerned, is a radical hate group," Allen said. "For that purpose alone, I think the leadership of this country needs to look a little bit harder at that particular group. The consequences of what we saw in Dallas is due to their efforts." 
Allen later attributed the comments to the emotions of the moment but did not apologize. 
The group took turns giving their perspectives on defunding the police and sharing their experiences  with each other with many pushing the importance of the power of the vote to implement change. 
"Even though it may be a small protest we are doing something. We are making a difference," said Kierra Lopez Robinson who has been to various protests giving out free books to promote anti-racism with her Read-volutionary library focused on educating kids. "We  need to educate our children for love of others and of self. They have little voices but their voices matter." 
Solidarity was shown to all the various groups that have held protests over the last month due to police violence on people of color. Another protest is scheduled for Friday June 27 at San Jacinto Plaza. 
"I just want to be here to show my support, to protect the next generation," said Deajae Jones. "Hopefully this generation puts a stop so that others do not have to experience this problem. Today is Father's Day and many have lost their fathers to this systematic problem that keeps happening." 
As the event wrapped up the group sat silent and reflected for eight minutes and 46 seconds in honor of the George Floyd death at the hands of police. 
"I am never going to stop fighting for my community," Bruner said. "Keep showing up, lets keep pushing, this is the fight for our lives." 
Michael Cuviello may be reached at [email protected]