The Relevance of Juneteenth and events commemorating it
Juneteenth, also known as "Freedom Day" is celebrated annually to commemorate June 19 1865, the day Texas slaves were informed of their freedom.  
Despite being an essential part of history in the United States, the date does not receive enough recognition. It is often absent from history classes, so many are not aware of the celebration, but it remains an important date in American history.  
Due to its remoteness Texas had become the last vestige of slave owning in the Unites States with many slave owners moving there as other states were emancipated.
Two years after  Abraham Lincoln's Emancipation Proclamation was signed in 1863, Union soldiers led by Major General Gordon Granger arrived in Galveston, Texas to announce all previously enslaved people were free. The state of Texas had yet to recognize Lincoln's federal order and even after this date there were reports of defiance in the state. 
Granger's first order as he arrived in Texas was "General Order No. 3" that said the following:  
"The people of Texas are informed that in accordance with a Proclamation from the Executive of the United States, all slaves are free. This involves an absolute equality of rights and rights of property between former masters and slaves, and the connection heretofore existing between them becomes that between employer and hired laborer."  
After Granger and his troops read the order to the people of Texas, they took control of the state and enforced the Emancipation Proclamation.  
In January 1980, Juneteenth became an official state holiday in Texas, this is also thanks to Al Edwards, a black state legislator who actively spread the observance of Juneteenth in the U.S. Since then, all but four states — Montana, Hawaii, North and South Dakota— recognize Juneteenth as a holiday.  
Juneteenth is a celebration that has gained attention from various organizations that are working to promote and cultivate knowledge and appreciation for African American culture through this holiday. Some essential institutions, such as the Smithsonian and the Henry Ford Museum are celebrating by sponsoring Juneteenth-centered activities.  
Due to the COVID-19 pandemic, many celebratory activities have been canceled across the country. However, people are finding virtual alternatives to celebrate Juneteenth while abiding by social distancing rules.  
Here is a partial list of some Virtual Juneteenth Events  
When: Ongoing until 9 p.m. 18 June 
The Juneteenth Online Music Festival out of Denver featuring a live podcast and musical performances along with a set by DJ Jazzy Jeff starting at 8 p.m. 
When:  All day June 19 – June 20  
The National Museum of African American History presents "Juneteenth a Celebration of Resilience"   a series of online lectures and events regarding the holiday. The Museum also is currently featuring An online tour of Freedom and slavery  exhibition to celebrate Juneteenth narrated by its founding Director Lonnie Bunch III. 
When: 5 p.m. to 7 p.m. June 19  
The Amistad Center for Art & Culture The event, hosted by NBC Connecticut's Leslie Mayes, will feature a performance by saxophonist David Davis and a virtual toast with a signature Junetini cocktail to mark the 155th Juneteenth. Immediately following the gala Ronn P and DJ Dane will host a virtual after-party at Club Amistad.  
When: 8 p.m. 19 June  
Virtual Juneteenth Celebration featuring the Young Masters and the Great Black Music Ensemble. This is a collaboration between the Old Town School of Folk Music, The AACM (Association for the Advancement of Creative Musicians) and Live the Spirit Residency. 
When: 9 p.m. to 1030 p.m. June 19 
 Karamu House in Cleveland Ohio, the oldest African American Theater in the United States hosts " Freedom on Juneteenth" event an original theatrical production and artistic response to the recent murders of Black Americans through music, dance and spoken word. The 90-minute event, which will be taking place on Facebook, YouTube, Vimeo, Fire TV, and ROKU, will feature around 20 artists. 
When: All day 19 June to 20 June  
Fort Worth's annual Juneteenth celebration is going virtual with several events being   streamed online, including a performance of "Juneteenth the Stage Play" and several virtual   entertainment concerts. Ft. Worth  Juneteenth Schedule of Events 
In El Paso, a  peaceful Juneteenth protest is set to be held 5 p.m. to 7 p.m. June 19 Veterans Park in Northeast El Paso to denounce police brutality and in solidarity with Breonna Taylor, a 26-year-old black  woman who was fatally shot in her home by Louisville Metro Police Department officers. 
Heriberto Perez may be reached at [email protected]. 
About the Writer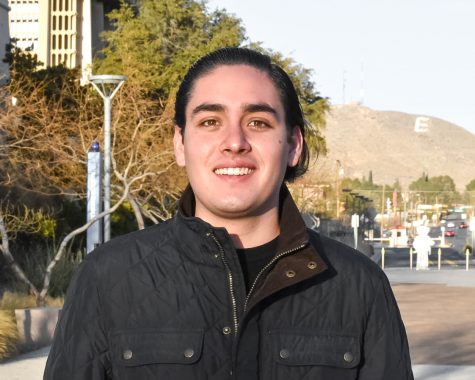 Heriberto Perez
Heriberto Pérez is a senior majoring in multimedia journalism and minoring in marketing at The University of Texas at El Paso. Heriberto has worked for...