UTEP football loses second receiver to transfer portal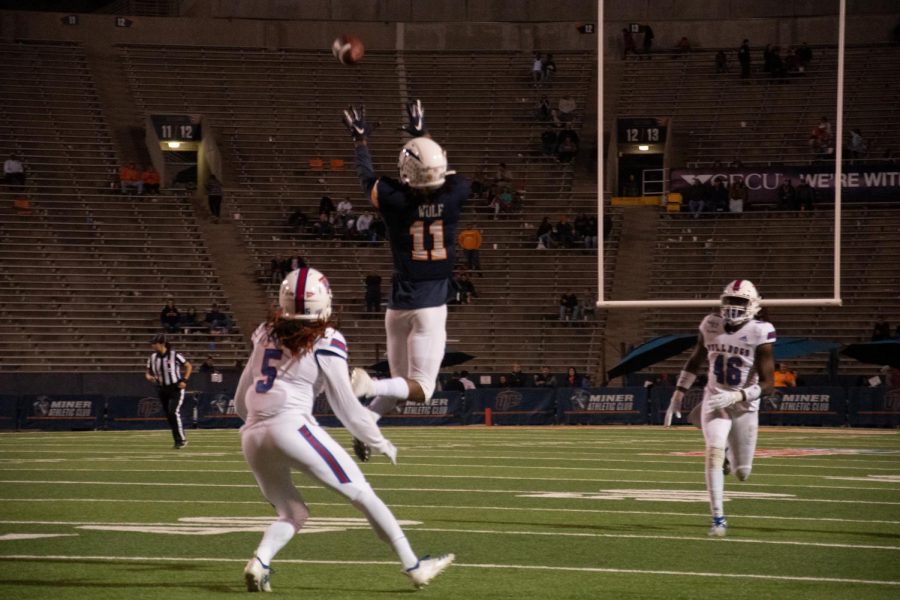 The Miners receiving corps continues to take hits in the offseason as graduate transfer wide receiver Devaughn Cooper has transferred for a second time in his college career. Cooper played in four games last season with 10 receptions for 147 yards before going down with an injury.  
In 2018, the National Collegiate Athletic Association changed its redshirt policy to allow players that did not play more than four games to be granted an exemption for that season of eligibility. 
Cooper transferred to UTEP from the University of Arizona, where he only played 12 games throughout three seasons before being dismissed from the football program in May 2019 for an undisclosed athletic department policy. Projected as a starting receiver until the incident, Cooper was coming off an 18-catch season where he averaged more than 20 yards a reception. During his Arizona career, he had 21 receptions for 395 yards. 
Before signing with Arizona, Cooper was considered a three-star recruit and ranked as 582 in the recruiting class by 24/7.com. As a senior at Narbonne High School, he led the school's football team to a California state championship with 67 catches for 1283 yards and 20 touchdowns. Through 26 games at the college level, Cooper has yet to score a receiving touchdown. 
Seen as adding speed to the Miners receiving group, Cooper was only able to earn one start where he had four receptions for 51 yards versus Southern Mississippi. Unfortunately, Cooper was injured in that game and did not play the rest of the season. 
With Cooper's departure and Tre' Shon Wolfe's transfer to Incarnate Word, UTEP is down to three receivers that caught passes last season. Senior Justin Garret was the leading receiver for the Miners last season with 40 receptions for three touchdowns. Freshman Jacob Cowing led the team in receiving yards last season with 550 on 31 receptions for three touchdowns. The lone returning receiver that caught passes last year was redshirt senior Walter Dawn Jr., who had six catches for 78 yards.  
Wolfe worked hard last spring to earn starting job last season and ended up starting every game producing 34 receptions for 433 yards with two touchdowns. A former walk–on Wolfe continued to improve in his time at UTEP after catching 10 passes in his freshman season.  
Transferring to Division One-A Incarnate Word in San Antonio to be closer to his son, Wolfe is expected to be a starter for that program. Losing talent to lower–division schools is never a sign of an emerging program, especially when that player is a starter. The Air Raid of Incarnate Word will be quite a departure from UTEP's tepid passing attack of last season and Wolfe should benefit. 
The transfers could open opportunities for local product redshirt freshman Quintavious Workman out of Chapin High School. Workman offers something that none of the other receivers offer on the roster and that is a big target at 6 foot 5 inches and 190 pounds. Leading the state of Texas in receiving yards his senior season with 1,709 yards, Workman had 91 receptions and 21 touchdowns for Chapin. 
COVID-19 cut short the spring season, so the quarterback position is unsettled. It would seem to be a battle between redshirt freshman T.J. Goodwin and sophomore Gavin Hardison, who transferred from New Mexico Military Institute last season. Early indications were that Hardison had the advantage to be the starter with coaches raving about his arm on many occasions. Not much has been said about Goodwin but he was a three-star quarterback out of Cypress Falls High school in Houston. 
With schools closed due to COVID-19 and athletes not able to complete spring practices, this puts a one-win team even further behind the eight ball in putting a competitive team on the field this season. Head Coach Dana Dimel is scouring the portal for graduate transfers to add to his talent level. 
Michael Cuviello may be reached at [email protected]