Masks for the deaf community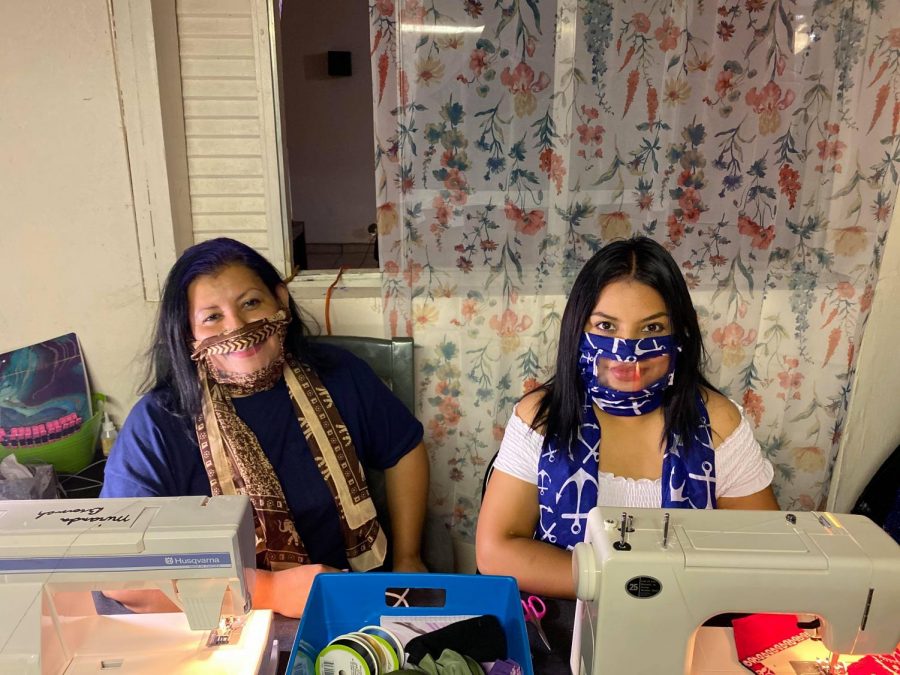 In the wake of COVID-19, people are highly encouraged to use face masks, with many establishments making masks mandatory for patrons. For the deaf community, however, this has posed an unforeseen disadvantage considering they are reliant on reading lips for communication. 
Las Cruces residents Karla Martinez and Lesley Campa have found a way to ensure that face masks are inclusive and effective for everyone, including those who rely on lip-reading. The mother–daughter duo is making custom face masks for the hearing impaired that feature a clear protective face guard surrounding the mouth area, making lip reading possible.    
Campa says the project was set in motion after they saw a woman take to Facebook to inquire about a face mask that might help her better communicate with her hearing-impaired boyfriend. Campa asked her mother, who was already hand crafting masks for friends, if she was up to the task— Martinez did not hesitate to rise to the challenge. 
"She saw that it could help someone and, as long as she's helping people, she will do it," Campa said of the generous nature of her mother.       
"The truth is, I'd never had the fortune of knowing that a specific community exists that needs this type of help, and for me it is an honor to be able to serve them," Martinez said.  "Rarely do we realize we're not all in the same boat, that not all of us have the same capabilities, and there are people with different abilities that have to adapt to normalcy. It's the first time I'm interacting with these wonderful people that are the deaf/mute community."  
("La verdad, nunca había tenido la fortuna de saber que existe una comunidad específica que necesite este tipo de ayuda, y pues para mí es un honor poder servirle a ellos porque rara vez nos damos cuenta que no todos estamos en el mismo barco, que no todos tenemos las mismas habilidades y hay personas que tienen capacidades diferentes y necesitan adaptarse a lo que es la normalidad de una forma diferente. Y es la primera vez que yo estoy conviviendo con ese tipo de seres maravillosos que es la comunidad sordo muda,") 
Little did they know that this fortuitous meeting would launch a fulfilling venture with a much more extensive reach and a remarkably overwhelming demand.   
"I think this is the beginning of something very positive in my life, something that will leave an imprint over my future generations," Martinez said.  "I didn't expect for this to happen on such a grand scale but I'm very grateful to be able to do it."  
("Pienso que es el inicio de algo muy positivo en mi vida, algo que va marcar una huella sobre todo para mis futuras generaciones. No esperaba que sucediera en esta magnitud, pero ahora estoy muy agradecida por poder hacerlo.")  
What originated from the one request, trickled over to a Facebook group for a Las Cruces deaf community and then densely branched out to bulk orders being requested, even from people working at the post office who had seen Martinez make her shipments; to schools, clinics, and people nationwide. 
"People from all over the U.S. started calling my mom and messaging her asking if we were making them to ship. Right now, we have a few for Las Cruces and then a few from El Paso and Albuquerque but we have a lot from Hawaii, New York, Florida, from everywhere now," Campa said.    
Martinez derived the idea from a video on YouTube and began working up a trial run model. Upon realizing the challenge ahead was not as seemingly easy, she worked on the design for the duration of a week, implementing numerous changes to the prototype until achieving the desired results. It now takes her about one hour to produce a quality mask. 
"It was a matter of practice and making many mistakes and going through a lot of material to really have a specific model that would serve everybody," Martinez said.  "People that have already received them have reached out to me and are very happy. They're handmade so they're not perfect, but people have been very happy with the shape and how it adapts to one's face." 
("Fue cuestión de práctica y de cometer muchísimos errores y de echar a perder mucho material para realmente tener un modelo específico que puede servir a todos. Ya las personas que los recibieron ya se comunicaron conmigo y están muy felices. Son echas a mano entonces no son perfectas, pero las personas están muy contentas con la forma y como se adaptan a su rostro,") Martinez said.   
Campa says her mother has been working diligently on the masks for over two weeks now, often starting from 9 in the morning all the way to 11 at night to meet the high demand. Both Campa and her brother help in intervals, working on two sewing machines, one of which was loaned to them by their church. Martinez also manages to make time for her part time job, preparing meals for an organization with a program dedicated to feeding children in the community during the summer.   
Martinez acquires the material used in creating the masks from Mexico, since there is a shortage in Las Cruces and what is being found locally is far too costly, especially considering she and her daughter are funding the making of these masks almost entirely out of pocket.  
She says that donations are welcomed in helping keep the momentum of the operation going but ultimately, she recognizes that many are faced with the inability to afford them and emphasizes her aim in spreading the message that the true value lies in extending empathy to one another.       
"I've already started to tell people that I can sell them and set a price of ten dollars for the people that can afford to pay but, ultimately, my goal is to do it by donation so that people are not afraid of asking for a mask out of lack of economic means," Martinez said. "I want to make it clear that they should not worry about that. If they would like to send a donation to help so that I can continue making more, it's welcomed, but it's not a priority that they worry about the cost."  
("Ya les comencé a decir a las personas que sí puedo venderlas y ponerles un precio de diez dólares para las personas que realmente pueden pagar, pero mi finalidad es hacerlo por donativo y que la gente no tenga miedo de solicitarme una por no tener la manera económica… Sí les dejo bien en claro que no se preocupen por eso. Si ellos desean enviar una donación, si ellos quieren ayudar para que yo pueda seguir haciendo más, es bienvenido, pero no es una prioridad que se preocupen por el costo,") Martinez said.   
Orders can be placed through messenger on Facebook with a PayPal account set up to receive donations. Martinez's son is also working on establishing a website to accommodate the influx of orders. As of now, approximately 50 masks have been completed and  about 250  are still pending. Masks in the local area are delivered to the recipient's homes while orders from other parts of the country are shipped. Martinez also wants to let people know that she's hosting a workshop to teach and showcase her process to others.  
"Right now, we're hosting a sewing workshop in my daughter's garage. Anybody that would like to come and see what we do is welcome," Martinez said. We continue to do this with so much love and we invite people who want to serve others." 
("Nosotros ahorita estamos teniendo un taller de costura improvisado en el garaje de mi hija. Cualquier persona que guste venir y ver lo que hacemos, es bienvenida. Seguimos haciéndolo con mucho amor e invitamos a las personas que quieren servir a otros. ") 
Martinez and her family have truly made it a point to keep kindness, communication, and togetherness alive in the tumultuous age of social distancing.    
"It's about being mindful that we are all not the same, that we all need to help one another and not wait until something unfortunate happens, like what just took place with the young man Floyd, to get up in arms," Martinez said.  "If we're always empathetic with other people, looking out for what our neighbor might need, it will make it so that the world changes in a much more beautiful way, with more peace, and less violence."  
("Es para hacer consiencia de que no todos somos iguales, de que todos necesitamos ayudarnos unos a otros, no esperarnos hasta que pase una desgracia como lo que acaba de pasar con este muchacho Floyd, para poder levantarnos en armas. Si somos empaticos siempre con las demás personas, estar viendo qué necesita nuestro vecino, eso va hacer que el mundo cambie a una forma mucho más bonita, más pacífica, menos violenta,")   
Orders may be placed via Facebook at https://www.facebook.com/profile.php?id=1686565564&fref=search&__tn__=%2Cd%2CP-R&eid=ARCN_yheiG0ESL1bVW3XHD_lEbh6NvPCgnsdfIpoTJOIBXFqThH6FNIN9UbDfo9qSTyUpYqqI3xXx1PA, donations are accepted via PayPal at paypal.me/karlamartinez1  
Sasha Minjarez may be reached at [email protected]