Terry Scholar: Incoming student follows in her sister's steps, joins the 'Terry familia'
This upcoming fall, Diana Guadalupe Lopez-Valdez is coming to the University of Texas at El Paso as an 18-year-old freshman a majoring in computer science and as one of the carefully selected Terry Scholars.  
From Loretto Academy, Diana Guadalupe Lopez-Valdez was involved in a lot of activities during her high school journey. She was part of the swimming team, cross country team, member of National Honor Society, member of Loretto scholars, which is a fundraising program for students to help receive financial aid, the Angels for Life, the Spanish Honor Society and member of Global United Nations.  
"I think my greatest strength is my positivity and being able to understand others. I usually try to help others by asking them what is going on," Diana Guadalupe Lopez-Valdez said. "I also try to see always the positive side of situations such is right now, quarantine, I think is a time for us to see if we can find new skills on ourselves or like to new activities that we were never able to do." 
Loretto, a private school for girls, helped Diana Guadalupe Lopez-Valdez prepare for life and the outside world.  
"Loretto helped me to see what community actually is and so is always helping others trying to see for help or trying to understand each other, and always getting involved," Diana Guadalupe Lopez-Valdez said.  
Her role models are her parents, who sacrificed a lot so she could attend Loretto Academy. They have taught her to be responsible, be active in her community and to give back.  
"After I graduate from UTEP, I want to go to graduate school and obtain a Ph.D. in computer science, I imagine myself working in a research facility, focusing in neurodegenerative diseases such as Alzheimer's and dementia, I want to work with others and come up with ways of how to delay or detect the dementia," Diana Guadalupe Lopez-Valdez said. 
One of the reasons Diana Guadalupe Lopez-Valdez chose UTEP is because of her sister, Nohemi Lopez-Valdez, who graduated this May as part of the Top 10 Seniors of her generation and as a Terry Scholar as well.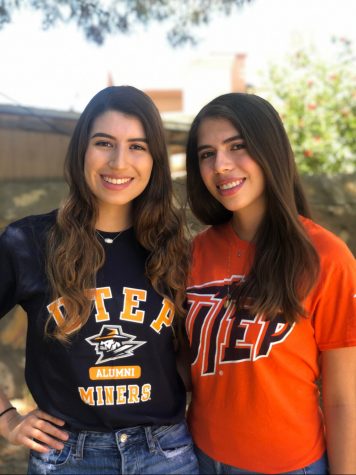 "While I was in high school, I saw her become more responsible and more active in the community and go for the resources that the school offers her," Diana Guadalupe Lopez-Valdez said. "I also saw the research opportunities that UTEP has and that's what mainly attracted me, because of research and also UTEP's bicultural culture." 
Nohemi Lopez-Valdez majored in biology and minored in psychology and Spanish.
"I'm very honored to be awarded with this … I know it's also very competitive accomplishment and I feel honored that UTEP staff and faculty thought that I was very committed to this scholarship, but also my entire family is extremely proud of Lupita," Nohemi Lopez-Valdez said. "She will be part of an awesome organization that will be known to her as her second family. We often call ourselves the 'Terry Familia' and I think that Lupita will have the opportunity to achieve her academic and extracurricular dreams without having the financial burden associated with higher education."  
Receiving the Terry Scholarship was a blessing for Nohemi Lopez-Valdez that gave her the opportunity to pursue both of her academic and extracurricular dreams. The foundation allowed her to focus on her career and have an encouraging support system that inspired her to achieve her goals and cheered her on along the way.  
Nohemi Lopez-Valdez' message to all undergraduate students is to take advantage of all the opportunities and resources UTEP has for them. She urges UTEP students to reach out to their professors, talk to them, let them know what they want to do and see if they have any opportunities available that match their goals or help develop in other subject areas.  
"Professors want to see students secede, and they are most likely to involved in at least one student organization or campus activity that they can direct to you," Nohemi Lopez-Valdez said. "Do not be afraid to ask because this is the first step to build your UTEP Edge and developing into a successful student and leader." 
Diana Guadalupe Lopez-Valdez' message to all students is to always have fun and to always see the positive side of things and, with or without quarantine, always have fun, take care and be responsible. 
Maria Salette Ontiveros may be reached at [email protected]