With a double major in printmaking and painting, Vicente Delgado is a UTEP Visual Arts graduating senior of the 2020 spring semester. Born and raised in El Paso, Delgado decided to pursue the arts as it became a familiar hobby growing up.  
Surrounded by art, the artist grew up inspired by both of his parents. From arranged bullfighting, poster collages to painting on empty bottles and filling them up with colored beans to create linear patterns, his parents would constantly create art from home-bound materials. Delgado was fascinated by the development of all his parent's projects and the capability of turning basic materials into works of art. 
The artist's father was also part of a baseball team and would play in different parts of Ciudad Juarez, from decent, city-built parks to the outskirts, where they would have to come in early and paint the lines. Delgado was always inspired by the environment that surrounded the baseball field and took it as an opportunity to go off and explore, discovering various items and scraps that had been dumped illegally. 
Inspired by the landscape, Delgado became involved in photography as he got older and began exploring the downtown area of El Paso, the neighborhoods as well as the outskirts and illegal dump sites.  

"These places interest me, on the magnitude of items that are thrown out, and how nature is slowly eating it," Delgado said in his artist statement.  
As a printmaker, Delgado's work begins with photographs of the dumpsites and, once gathered, he edits and measures the image to the size of the paper he is using and exposes the images onto a screen for serigraphy, printing done though a silkscreen process. 
The artist plans to attend graduate school at Colorado State University and was offered a teaching assistant position for the school's printmaking program. The artist has kept contact with his Colorado professors who have advised him to register and start searching for housing. Delgado already signed a one-year contract on an apartment.  
"I am going to continue to get myself set up at Fort Collins, Colorado, through video chat and hopefully drive down there before fall begins so I can get myself familiar with the town," said Delgado, who worries that the school's closure due to the pandemic will continue until 2021. "The plan so far is to continue with hope that everything will go back to normal by summer." 
As the pandemic takes its toll economically on workers of different fields, including artists, who many find themselves scrambling to find work as art galleries have been temporarily suspended.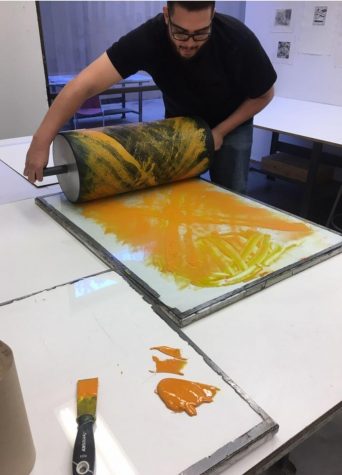 "Artists often struggle to get by in uncertain times, and the current COVID-19 crisis is no exception," said Thalia Field, the BAI's faculty director in News from Brown, as the Brown Arts Institute along with other national institutes have started to provide community grants to help support artists during the pandemic.  
"A profession in the arts has always been discouraged by others, and some people do listen and branch off to other professions and I think if they ever wonder, what if they hadn't listened to everyone else?" said Delgado. 
He doesn't feel the need to feel discouraged by his career of choice in regard to the circumstances. Under the guidance of his professors, growing up and meeting artists, teachers and curators, Delgado feels assured that the arts offer many careers and job opportunities.  
"I believe I am making the right choice and I'll make sure to motivate others to avoid those who are discouraging and surround themselves with people who are making it happen," said Delgado who hopes to continue his education and eventually become a printmaking professor and exhibitionist artist. 
Jaqueline Martinez may be reached at [email protected]