Pets can provide pet owners with positive health benefits and coping mechanisms, as adoption cases boost during COVID-19 pandemic. At the El Paso Animal Services, 450 pets have recently been adopted. 
For those who are considering adopting or fostering a pet, this would be the perfect time to do so, with so many families staying home after city and county officials directed a stay at home order and social distancing protocols. 
"We are extremely grateful for the El Paso community and how they responded to our call for emergency fosters and adopters," said Michele Anderson, the public affairs coordinator for the El Paso Animal Services.  
El Paso Animal Services and rescue partners, El Paso Humane Society, temporarily closed their facilities to the public March 19 due to the pandemic, with Animal Protection Officers responding only to high-priority calls.  
The El Paso Animal Services has then been operating the pet adoption and fostering programs, lost pet reclaims and the pet food bank through virtual and contactless delivery services. On March 24, the organization announced an emergency call on social media in hope of finding fosters and adopters for the countless animals that were under custody. 
"We received over 400 new applications of those wanting to foster, and we've since sent out 450 animals out to fosters or forever homes as lost pet reclaims and transfers to rescue partners," said Anderson. "We now have over 1,200 animals out in foster care, which is amazing. We currently still have about 350 pets in our care at the shelter and are still welcoming new applications to adopt or foster." 
Pamela Vigo Sanchez, 26, was amongst the El Paso Animal Services foster applicants. The UTEP alumna and her mother decided to foster an 11-month-old husky named Halo, who was rescued by West Texas Tails from being euthanized. The dog was considered a cruelty case after his previous owners did not treat the dog's injured and infected leg, resulting in an amputation after his owners voluntarily surrendered him to Animal Services.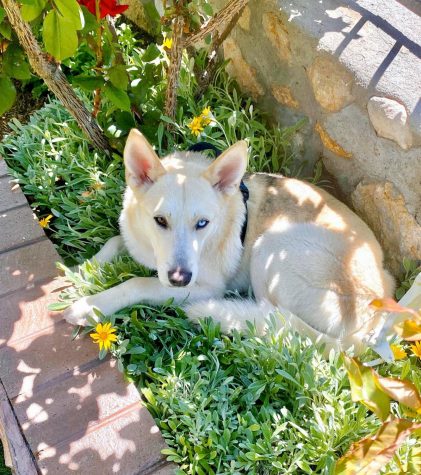 "My mom wanted to help pets be spared from a hard life in the shelter, thus why all of our pets, past and present, are rescues. Not until this year did fostering come into play," said Sanchez. "We couldn't say no to his sad, wounded face, so here we are three weeks later." 
According to ESA Doctors, animals can have a monumental impact on the health and well-being of people, especially those who have health conditions or mental disorders. Studies on human and animal interaction have shown many positive benefits, which include exercise, cardiovascular health and decreased stress levels, stating that "While pets do not mend conditions that are present, the support they provide can be used as a coping mechanism to help with difficult life situations." 
The foster applicant described how these furry friends have made social distancing easier during the COVID-19 pandemic.  
"While we can't see our friends, we get to be with our pets all day. It's never a dull moment here in the Vigo Sanchez household. Whether it's Bella and Mishu chasing each other, Oreo using Halo as a bodyguard or everyone still trying to figure out why the new guy is missing a leg, something is always happening," said Sanchez as the family's rescue pets have kept them active through daily walks and play that has helped them step away from the nonstop COVID-19 coverage.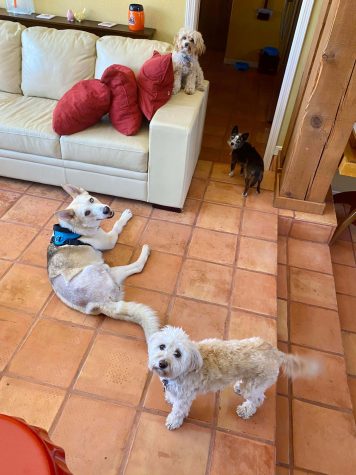 "In addition, all pets coming to greet my mom, who has long days of seeing patients or doing hospital rounds, it helps her destress from the chaos immediately," said Sanchez, who highly encourages people to consider fostering or adopting an animal from the shelter. "Fostering and adoption can save a life and help a pet start a new, happy life." 
El Pasoan Alba Dominguez, 29, made her first adoption four years ago and recently applied to foster a pitbull named Lulu. Dominguez, who is currently working as a nurse, and her boyfriend decided to adopt Lulu after getting attached to her and resulted to be of great company to their eldest rescue dog, Gunther.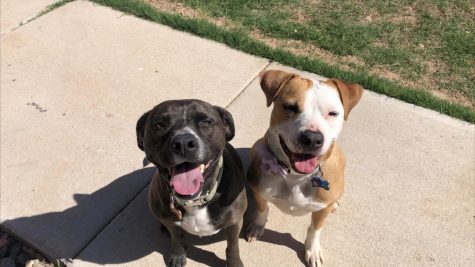 "I definitely feel like my dogs are a huge part of why I feel sane during the quarantine. They've got so much love to give and they're not afraid to show it, Lulu especially since she just got here; she's already picked up on some of my work-related stress and anxiety and will come to cuddle me and let me hug her for as long as I need to," Dominguez said. "It's a very healing relationship and we are both taking care of each other."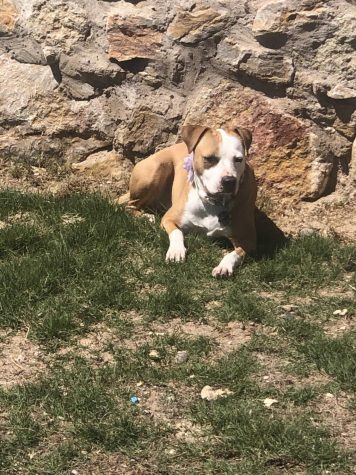 "No one should social distance alone. I think it's a great opportunity for those that had to transition working from home or taking online classes to have some company still while they are self-isolating," Anderson said. 
Animal Services is currently welcoming online adoption and foster applications and are offering virtual counseling. For more information, visit ElPasoAnimalServices.org/foster. 
Jaqueline Martinez may be reached at [email protected]