UTEP football players looking to earn a shot in the NFL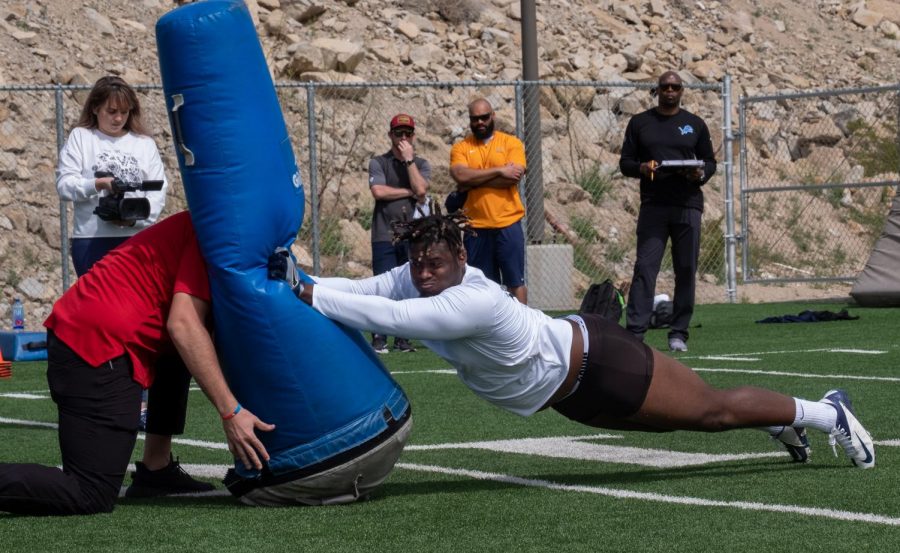 It is that time of year when young athletes around the nation are hoping to hear their name called in the upcoming National Football League draft. Players at UTEP are no exception. Currently, seven UTEP alumni are playing in the league. Of the seven, only Aaron Jones and Will Hernandez got their names called on draft day. In 2019, cornerback Nik Needham, who signed as a free agent with the Miami Dolphins, was the only Miner to latch on with a team.
This year's draft will likely not have any Miners having their name called, but there is potential to get a free agent opportunity for some players. Needham's success at moving from a fringe roster player to starting 11 games this season serves as inspiration in knowing that hard work can pay off.
The two most likely players to get a chance to hook on with an NFL team are both defensive linemen. Defensive tackles Denzel Chukwukelu and Chris Richardson both have good size for their position.
Chukwukelu, a team captain, stands at 6'4, 290 pounds and can play inside or outside on the defensive line. His size suits him more at defensive end, but his timed speed seems to make him more of a tackle. Chukwukelu's lack of straight-line timed-speed will be a big reason that he will have to go the free agent path to make a team.
Playing in a midlevel conference for one of the worst teams in college football is also a factor in not being able to stand out to scouts. Leading the team with three sacks, Chukwukelu is a high motor guy that will need to work on his technique to make it to the next level. UTEP's three-man front did little to help highlight the pass rush ability of any of its players last season and the defense was quite porous overall.
"Being able to play multiple positions on the defensive line will definitely give me more chances to get looks with NFL teams," Chukwukelu said at his pro day.
Richardson is purely an inside guy at 6-3, 298 pounds that is not known for his pass rushing. Not as versatile as Chukwukelu, Richardson must focus on getting much stronger inside. Much like his teammate, Richardson does not possess great straight-line speed but also shows an excellent motor.
Perhaps the most athletically gifted player for UTEP that is eligible for the draft will be much-maligned quarterback Kai Locksley. Standing 6'4, 210 pounds and possessing 4.6 40-yard speed, Locksley seems a man without a position for the NFL. As a quarterback, his erratic decision making and play combined with his lack of touch on his passes make him the longest of shots to get a look at that position. His overall athletic ability could intrigue a team, but nothing he did on or off the field in his college career stands out. His offseason arrest is not something that will endear him to many general managers, especially with his less than stellar career.
"He is such a great athlete that I am sure some team will take him as a quarterback. Head Coach Dana Dimel said.  and "If he doesn't work there, they will try him at another position."
Overall, the COVID-19 pandemic will be a detriment for many college athletes that are trying to impress NFL scouts, especially the ones from schools from less publicized conferences. With less than a week to go for the NFL draft, the route of former UTEP player Needham will be motivation for caring on the NFL dream for these athletes.
Michael Cuviello may be reached at [email protected]