During quarantine, UTEP students live, work online
The COVID-19 pandemic has disrupted everyday life in the borderland.  
El Paso Mayor Dee Margo and the City of El Paso have enacted many changes in hopes to slow the spread, resulting in a lot of shutdowns and minimizing community movement.  
On March 29, the City of El Paso found the first signs of community spread. According to the Centers for Disease Control and Prevention, community spread means that the source of infection is unknown in positive cases. There were 19 positive cases of COVID-19 in the borderland. This resulted in an extension of the Stay Home, Work Safe directive put in effect March 24.  
On April 1, there were 68 positive cases. The city of El Paso updated the emergency directive, closing all parks and recreational areas. Gatherings of any amount of people became prohibited. By April 2 the number increased to 78. 
With movement restricted, UTEP students found they could still be connected by living online.  
Hands on experience through a keyboard 
"It definitely showed me the duty that nurses have to their patients despite the exposure they may face. It made me feel proud to be in a profession that serves others when they are at their worst," said Faith Munoz, a senior nursing major. 
As a nursing major, it is important to do clinicals for hands-on experience. With the coronavirus shutting hospitals off to nursing students, work is now done online. Virtual work is notthe same as hands-on experience, but Munoz is looking at the positives of the situation.  
"It has taught me a few things that I didn't know before. Yesterday, I saw a video on how to do a focused assessment on a person with a recent MI," Munoz said. "Virtual clinicals also include reading nursing articles and writing a two-page summary. This will help me in my writing skills as well."  
Munoz stays atop her schoolwork by checking Blackboard announcements and her WhatsApp group chat made up of other students often. 
"Create a game plan on what to study so you don't get behind. Have an accountability group that you can call to see if everyone is keeping up with assignments and studying," Munoz said. "They will sometimes let you know about things that you had no idea were assigned."  
Her daily routine isn't as disciplined as she would like, but her schedule is filled with Bible study, schoolwork and watching movies with her family. She enjoys going on Instagram to see what's going on in her community; Facebook to see what's going on in the world; YouTube for fun. 
"Do everything without complaining and give it your all. Your future patients are counting on you to study hard. They will trust you with their lives," Munoz said. "I really like this verse, 'Whatever you do, do it all for the glory of God, 1 Corinthians 10:31." 
Adapting to working from home 
"I was glad our city was taking action to protect its people from this pandemic, but I was also anxious how it was going to affect the lives of people from school, work and family," said Mariana Sigala, a junior electrical engineering major. "I didn't know what it would mean for us moving forward as a UTEP student employee. I was going to be let go."  
Sigala works at UTEP's College of Engineering as an engineering ambassador. She takes care of the K-12 outreach at the college, organizing tours, visits, robotics competitions and summer camps. With social distancing in effect, UTEP made many accommodations for students by helping set up networks, passing out grants for computers and allowing students to use hotspots.  
"I've been fortunate to work from home," Sigala said. "It was challenging at first, as I had to get connected to the VPN, but various tools the university has provided have allowed me to keep working." 
Working from home has been challenging because of Sigala's arthritis. Sitting for long periods of time tends to make her joints hurt. When she's on campus, she walks a lot. However, in just the short amount of time she has beenworking at home, she has found ways to help herself. Taking little breaks to walk around the house or the neighborhood helps her a great deal. 
"My parents definitely get a laugh about it," she said. 
In her free time, she uses Twitter to keep up with the news, YouTube to watch late night shows, Netflix for watching Golden Girls and Hulu to watch her other favorite shows.  
"To keep sane in your houses, reach out to friends and family. We are all in this together, going through similar situations. There's still virtual ways to hang out," Sigala said. "We've got to make the best of what we have. I know this is not what we signed up for at the beginning of the semester and some are impatiently waiting for graduation, but know our health is very important."  
Focusing on what can be controlled 
 "I felt a little scared," said Kimberly Garcia, a senior anthropology major. "I planned on staying home as much as possible anyways, but having the city tell me to stay home suddenly made it too real." 
Garcia works as a server at Red Lobster and was put on furlough until May 31. She doesn't pay a mortgage or a car note, but she helps with the bills in her home. Though Garcia can't work, she focuses on what she can control: her education. Garcia uses Google Drive for her class assignments and to share her younger brother's schoolwork with his teachers.  
"My family sends a thumbs-up emoji, but I'm not sure they have ever clicked on the work," Garcia said. "They just like to know things are getting done." 
When she's not working, Garcia uses Instagram, Netflix, Hulu and Disney Plus, but mostly, her days are filled with family time.  
"I'm a little scared for the immediate future because I feel it's going to get worse before it gets better, but I'm excited for the long-term results. I feel we will have more conversations about how diseases affect people in various economic positions, life stages and backgrounds," Garcia said. "For other students in my position, I would remind them that this is not permanent, and we are extremely privileged to have parental and scholarly support." 
UTEP students can tell how they're handling work or school from home by sending their pitch to [email protected], The Prospector's email solely focusing on how Miners are living while quarantined.  
Exodis Ward may be reached at [email protected] 
About the Writer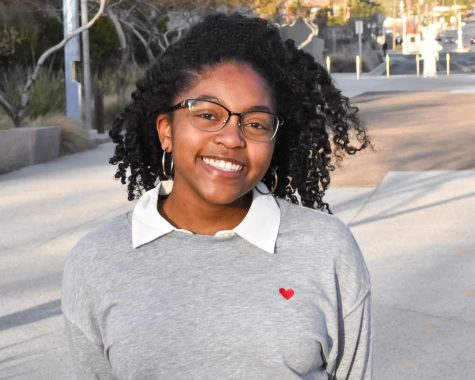 Exodis Ward
Exodis Ward is a Multimedia Journalism major, English Rhetoric minor at the University of Texas at El Paso. She is Entertainment editor at The Prospector,...