Texas governor waives STAAR test requirements amid COVID-19 outbreak
For more coverage on COVID-19 and its impact on UTEP, El Paso, the state and the nation, visit The Prospector's Coronavirus page.
Gov. Greg Abbott announced Monday that the State of Texas Assessments for Academic Readiness (STAAR) testing for the 2019-2020 academic year is now waived in an effort to combat the spread of COVID-19, or coronavirus, through a news release. 
"Your health and safety are top priorities, and the State of Texas will give school districts flexibility to protect and ensure the health of students, faculty, and their families," Abbott said in the release. "We will empower schools to make the best decisions to protect their communities from COVID-19." 
STAAR testing was developed by the Texas Education Agency (TEA) and the Texas Higher Education Coordinating Board in 2012 as an assessment program designed to measure the extent to which students "have learned and are able to apply the knowledge and skills defined in the state-mandated curriculum standards, the Texas Essential Knowledge and Skills," according to the TEA's website. 
Abbott announced the decision through a tweet early Monday morning. 
I have eliminated the STAAR testing requirements for this school year.

We must empower schools to focus on the health of their students, teachers and families. https://t.co/8HHIjmY3hD

— Greg Abbott (@GregAbbott_TX) March 16, 2020
Additionally, Abbott is requesting that the Department of Education waive federal testing requirements for the 2019-2020 school year, according to his release. 
The El Paso Department of Public Health released a guidance and directive to school districts in El Paso Saturday in response to the first positive cases in the area. The release included instruction as to how the districts will collaborate in the containment and mitigation of COVID-19. 
As of March 16, schools will have all students, with the exception of those with special care needs, return from spring break on April 6. Students with special care needs will not be returning for the rest of the school year.  
Any students and staff who present a travel history of less than 14 days before April 6 will have to self-quarantine for 14 more days and can only return to school if they are asymptomatic. If a student is to present any influenza-like symptoms, they will be sent home and will be allowed to return 24 hours after their symptoms have disappeared, according to the release.  
The release also dictates that all schools will be required to cancel mass gathering events, stagger school lunches, promote and implement effective hygiene practices and collect information on a daily basis of all absences related to influenza-like illnesses. 
Marisol Chávez may be reached at [email protected] 
About the Contributor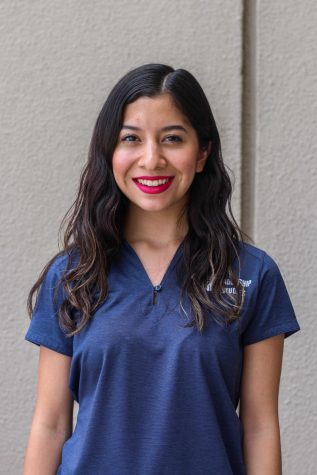 Marisol Chávez, Web Editor
Marisol Chávez is a senior majoring in multimedia journalism with a minor in legal reasoning at The University of Texas at El Paso. She is The Prospector's...