Gender-wage gap decreases as women become more educated
A study found that the gender-wage gap is decreasing as employers hire more women to fill the need for skilled workers.  
The Pew Research Center (PRC) studied women's careers from 1980 to 2018 and found that the average hourly wage has gone from $15 to $22, almost a 50 percent increase from what it was about 40 years ago.   
"There's more access to information and more self-awareness. People understand more and can see disparities and discrepancies in society," said Melissa Ortega, instructor for the women's and gender studies department at UTEP. "I think that self-awareness is causing women in particular to see where those deficiencies are happening, so they're taking opportunities."  
In 2018, women made up 47 percent of the total workforce, according to the U.S. Department of Labor.   
The increase is most visible in community and legal professions with an increase of 25 percent, business and financial operations with an increase of 18 percent and scientific and technical careers with an increase of 10 percent.   
As men flock to mechanical careers that require less education, women are becoming increasingly educated.  
In 1980, 16 percent of employed women aged 16 and older had completed at least a four-year college program, compared to 20 percent of men, according to the PRC. In 2018, 40 percent had completed at least a four-year college program, compared to 35 percent of men.  
The increase in education is impactful in the lives of young girls, according to Ortega.   
"Having women in leadership roles can raise aspiration and educational attainment in young girls," Ortega said. "They have more role models and they might represent more opportunities for young girls to see what they look like in those positions."   
Although education is leveling the playing field, there are still barriers present. While researchers could measure education levels and financial correlations, they could not measure other aspects like work environment, gender stereotypes, discrimination and the effect of motherhood on women in the workplace.  
Ortega thinks the most important thing is to build a support system.  
"They're not alone. I was a single mom finishing my doctorate with three little girls and it was definitely challenging, but you find people who are like you," Ortega said. "I think it's about reaching out, knowing who to talk to and networking themselves. Really getting out there and not worrying about what other people think about them. There's always support out there."   
Ortega is optimistic about the future of gender equality in the workplace.   
"I like the idea that empowered women empower women. These women in leadership roles are going to help other people and other women reach their level. In the end, we're trying to grow each other and we're trying to create capacity within ourselves," Ortega said. "If you consider even a hundred years ago to now, the kinds of steps towards that progression we've experienced, I think with access to technology and people understanding their roles, it'll continue to change exponentially."   
UTEP offers a variety of services for students' wellbeing. Counseling and Psychological Services (CAPS) are in Union West room 202. The center for accommodations and support services (CASS) aids students with in-class accommodations and is in Union East, room 106. Food is available for students at the food pantry located at Memorial Gym, room 105.   
Exodis Ward may be reached at [email protected] 
About the Contributor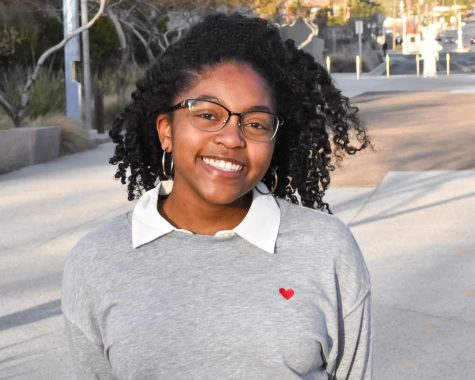 Exodis Ward
Exodis Ward is a Multimedia Journalism major, English Rhetoric minor at the University of Texas at El Paso. She is Entertainment editor at The Prospector,...