Miner softball goes craps in Vegas losing all five games at Boyd Classic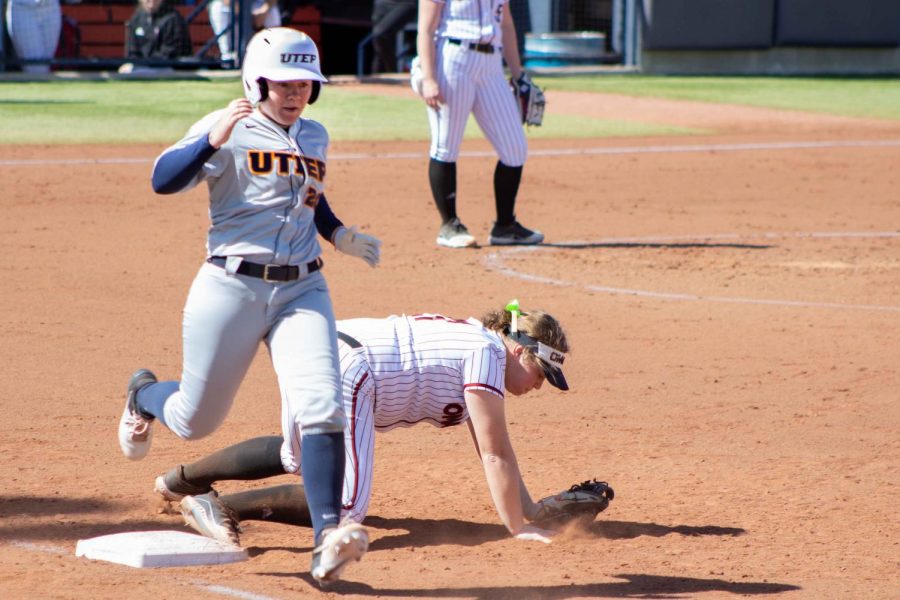 If UTEP softball had rolled snake eyes in dice, that would be more runs than the team scored in five games in Las Vegas since the team only scored once. 
Shut out in four out of five games and only scoring one run in the other, the Miners lost every contest at the Boyd Rebel Gaming Classic. 
Day one of the tournament started off badly with the Miners dropping a 14-0 game to the Houston Cougars. Walking batters, which was a problem all last season for the Miners, was a major problem versus the Cougars.  
UTEP walked 10 batters while not getting one base on balls as a team. The Miners also struck out seven times while not recording a strikeout and only getting two hits. 
In the second game of the day, UTEP played a very competitive game versus the University of Las Vegas (UNLV) Rebels (13-4). Freshman Isabella Kelly pitched a very strong game, giving up no walks, seven hits and three runs in a 3-1 loss. 
On Saturday, the Miners played I-10 rival New Mexico State University (NMSU) (10-5) in the early game losing 8-0. Starting pitching was solid for the second game in a row for the Miners with three walks, all coming from the relief pitcher.  
Defense was the major issue in the matchup with NMSU with five errors, three coming from sophomore shortstop Pate Cathey. Cathey has struggled in the field since moving to shortstop from second base last year. Only having four errors last year, Cathey now has 10 in her new position. 
UTEP played Houston again in the late game Saturday with similar results to the previous day losing 11-0. Once again, getting no walks versus Houston as well as only getting two hits, the Miners could generate no offense.  
In the Sunday finale to the Boyd Classic, the Miners once again faced UNLV. Through four innings the Miners only trailed by three runs but a three run sixth inning ended the team's last chance for a victory that weekend. 
Kelly, who pitched admirably versus UNLV just a couple of days prior, gave up 16 hits on the day, which is three less than the Miners had all weekend. 
Falling to 4-15 on the season, the Miners are struggling to get on base in any fashion. An average of fewer than two walks and six hits per game is not a formula for the Miners' success. Giving up an average of eight runs while scoring less than three runs a game, the Miners are constantly playing from behind. 
Pitching has been better overall as far as not giving up walks with less than four a game, but strikeouts are way down. Teams are getting twice as many hits as the Miners off its pitching staff. 
Miners' first–year coach T.J. Hubbard seems to have his work cut out for him as the team continues to struggle with the bat. 
The Miners start conference play versus Lousiana Tech (5-15) a team with similar struggles in a three-game series starting 6 p.m. Friday, March 6. Tech is hitting only .199 as a team and has a similar walk total to the Miners who are hitting .255. 
 UTEP plays at 4 p.m. Saturday, March 7, and 11:30 Sunday, March 8. 
Michael Cuviello may be reached at [email protected]