El movimiento contra el feminicidio impacta en las redes sociales
To read this article in English, click here. 
Para el 18 de febrero, tres grupos privados de Facebook que pretenden apoyar y proteger a las mujeres ante desapariciones y feminicidios en Ciudad Juárez, México, ya habían sido creados.
Los grupos "Mujeres cuidando Mujeres – Cd. Juárez, Chih.," "Stronger Together" y "Ni una menos" son exclusivos para usuarios del sexo femenino y buscan generar vínculos de sororidad y amistad.
"Este grupo se trata de unirnos y cuidarnos entre todas", se puede leer en la descripción del grupo Stronger Together.
A pesar de tener tan solo dos semanas de haber sido creados, el grupo más pequeño, Ni una menos, cuenta con más de 23,000 miembros. Este es seguido por Mujeres cuidando Mujeres – Cd Juárez, que cuenta con más de 27,000 miembros. El grupo más grande, Stronger Together, cuenta con más de 46,000 miembros.
"La verdad no esperaba que hubiera tanto crecimiento, creímos que iban a ser pocas", dijo Nohemi Miranda, administradora del grupo Ni una menos.
La creación de los grupos llega como respuesta a la inseguridad que enfrentan las mujeres en México. Según el Secretariado Ejecutivo del Sistema Nacional de Seguridad Pública (SESNSP), en el 2019 se registraron un total de 980 feminicidios en el país y 72 en el mes de enero del presente año.
El artículo 325 del Código Penal Federal tipifica como feminicidio todo aquel que "prive de la vida a una mujer por razones de género". Las razones de género deben concurrir con algunos signos de violencia sexual, amenazas, acoso, entre otras.  
"Siempre que me metía a Facebook lo único que me aparecía eran muertes de chicas, muchas desaparecidas, 'violaron a tal chica' y me harté," dijo Ali Cervantes, creadora y administradora de Stronger Together.
La red de apoyo fomenta las conexiones entre mujeres no solo en un nivel personal, sino también para la obtención de servicios, como el de transporte compartido.
Cervantes comenta que en el grupo se encuentran muchas mujeres que trabajan para compañías como Uber y que hacen disponibles sus servicios para todas aquellas que no se sienten en confianza con los conductores hombres.
Las reglas varían dependiendo del grupo, pero las más generales incluyen el respeto, no tomar capturas de pantalla de las publicaciones y la conservación de la anonimidad de aquellas que deciden dar su testimonio con respecto a agresiones, maltratos o violaciones.
"Así las chicas pueden desahogarse, aunque sea en un anónimo", dijo Miranda.
El impacto de estos grupos busca ir más allá de un grupo de Facebook o del internet, al invitar a sus integrantes a ser aliadas de la causa en la vida real también, cuando miembros del grupo se sientan o encuentren en peligro al estar en las calles de la ciudad.
"Usamos listón morado por si alguna chica del grupo está en peligro y ve a otra chica con un listón morado, con confianza (pueda) tomarla de la mano", dijo Cervantes.
Marisol Chávez puede ser contactada a través de [email protected]
About the Contributor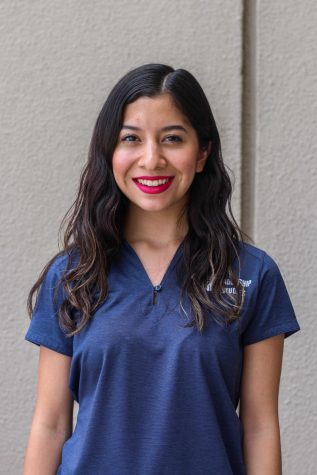 Marisol Chávez, Web Editor
Marisol Chávez is a senior majoring in multimedia journalism with a minor in legal reasoning at The University of Texas at El Paso. She is The Prospector's...