OPINION: 1966 NCAA Championship shaped UTEP's Legacy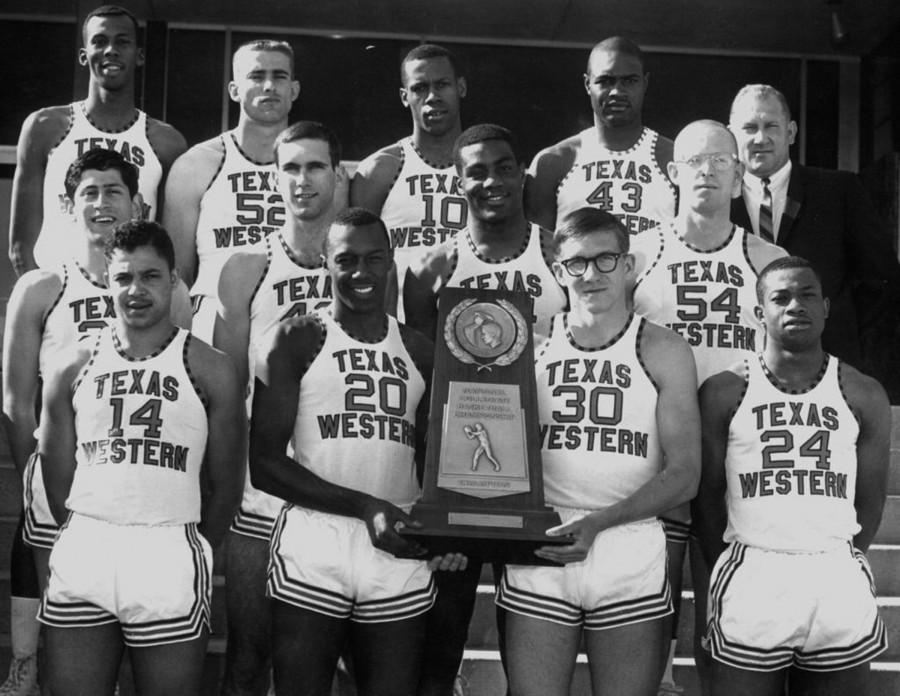 As Black History Month rolls into its final week, UTEP students should be aware of the legacy that their University has on college basketball.   
On March 19, 1966, the Miners became the first NCAA team to have a starting lineup consisting of all African Americans to play in a championship game.   
UTEP also became the first team with an all-black starting five to win a championship as they beat a segregated all-white Kentucky team. There was a grand total of seven African American athletes on the team. The coach of the team was Don Haskins, who went on to coach the university for a total of 38 years with 719 wins.  
The championship was  immortalized by the 2006 film "Glory Road," which explores the discrimination and racism the team had to overcome to make history and forever change the landscape of college basketball.   
When asked what he felt UTEP students should know about the championship team, Willie Cager replied: "They should do their due diligence and learn about it."   
Cager emphasized that the film on the matter was pure Hollywood, that there was much more to the story than just a glorified depiction. Cager, a member of the championship team, can be seen courtside at almost every Miner basketball game and has for years talked about a book he has written that tells the true story of the championship team.  
Coach Don Haskins wrote in his book, "I certainly did not expect to be some racial pioneer or change the world."  
Up until 1947, even having a black athlete on a college team was a rarity. The first African American college basketball player to be recognized as an All-American in 1931 was George Gregory Jr. from Columbia University.  
Most major athletic conferences did not allow African American athletes to compete on their teams and even when they did they had stringent rules of how many black players could start at a time.   
One of the most notable  early African American college players was Jackie Robinson from UCLA. Robinson played at UCLA from 1939 to 1941, leading the team in scoring twice. In 1947, Robinson would go on to break the color barrier in Major League Baseball.  
During the 1960s, the unwritten rule that no more than three black players could be on the court at a time was finally broken by Loyola University and its coach George Ireland frequently having four African American players on the court. In 1963, Loyola won the national championship, starting four black players in a game that featured seven starters of color.  
All these events led up to the inevitability of the UTEP achievement. There may be no event in college basketball that emphasizes a team accomplishment in the same way. In 2007, the Miners became the first college team inducted into the basketball hall of fame for its achievement.   
"It took a long time to absorb the impact of that game," said Nevil Shed at the 50th-anniversary event in College Park, Maryland. Shed was one of the five starters for UTEP on the championship team.  
""Glory Road" was so loose with the facts that it trivializes the long road that it took to integrate the game and turns it into a fairy tale," Chicago Sun-Times columnist Ron Rapoport told NPR in 2006.  
Regardless of what the complete story of Texas Western's championship is, its impact on the rest of college basketball was immense. Conferences such as the ACC and SEC started integrating black players onto teams and the landscape was affected forever.   
In any movement, there are gradual steps that lead up to a defining point, so to ignore the impact of UTEP or Loyola winning championships with majority black starters is a pointless endeavor.   
Seven years after Don Haskins retired, UTEP named its first African American basketball coach in Tony Barbee. Barbee went on to an 82-52 record before taking a job with Auburn University.  
Even with the impact and the time that has passed for all the progress, there are still deficiencies. Today more than 54% of Division 1 male college basketball players are African American. There are only 29% of Division 1 college coaches that are black and, if you break it down to just the major conferences (the Power Five), then only about 14% are coaches of color.  
So obviously, there are still barriers that need to be broken down in the realm of college basketball. UTEP has played a significant part in the history of integration in college basketball and hopefully will add to the team's legacy.  
Michael Cuviello may be reached at [email protected]