Rubin Center hosts biennial faculty exhibition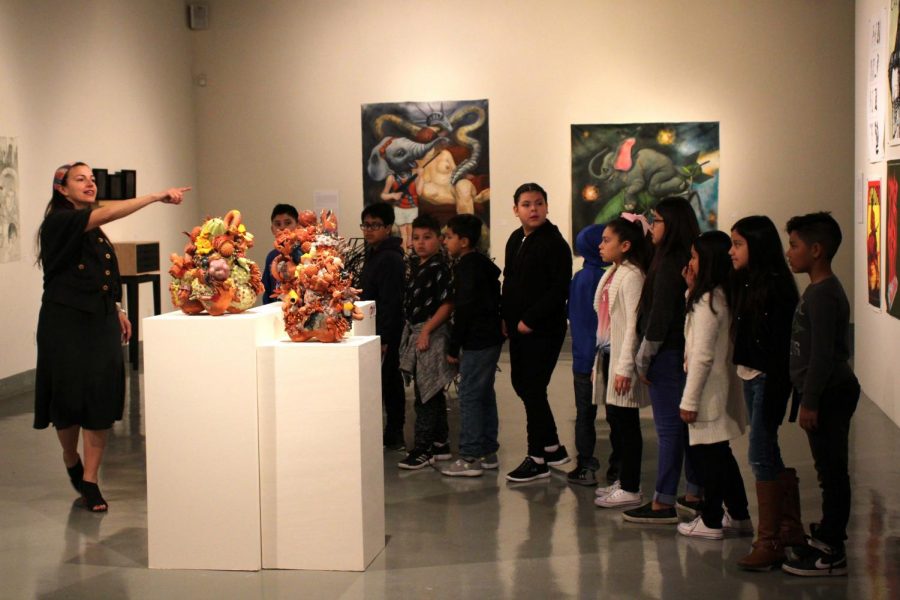 The Stanlee and Gerald Rubin Center for the Visual Arts hosted the opening reception for the 2020 UTEP Department of Art biennial faculty exhibition, featuring works from faculty, on Jan. 30.   
The exhibit displays a wide range of artistic media including graphic design posters, ceramic sculptures, steel, geometric sculptures, intricate metalsmithing, large canvas paintings, photography and mixed media drawings.  
The students from the department often recognize the artists behind these pieces as established artists, their professors and mentors, with whom they spend hours in the studio with, exchanging ideas and learning from their craft.  
The Rubin Center dedicates itself to sharing its space not only to visiting artists and student artwork, but it allows faculty members to exhibit artwork every two years.  
The Rubin Center has had more than 75 exhibits since the original building was renovated in 2004. Before that, the Fox Fine Arts hosted the exhibitions in an art gallery on the third floor, which is now a graphic design studio and computer lab. 
The El Paso Museum of Art has also featured faculty work throughout the years such as "60 Years of Collecting," currently on exhibit in the Woody and Gayle Hunt Family Gallery. It runs until May 10 and features sculptures, paintings and prints that signify the El Paso Museum of Arts' history, with some tackling politics and border-related controversies. Faculty members were notified the previous semester of their deadline to submit their work, pieces that may require years to conduct research and develop a solid concept.  
"With this series, each letter of the alphabet contains a certain number of words based on how many insults Trump had used that start with that letter," said advanced drawing professor and student advisor, Therese Bauer, whose piece consisted of a magnetic board with a series of26 attached drawings, equal to the number of alphabet letters.  
When describing the letter "S" drawing, Trump had 11 insults that started with that letter, and the artist took each one of these images where she produced as many visuals as there were insults for that letter.  
"For that one there were 11, so I thought about football because there are 11 players on offense and 11 players on the defense, and I was thinking about how Trump is insulting, basically, black players who wouldn't take a knee at the national anthem," Bauer said.  
When placing black figures in this specific piece, the artist also reflects on police shootings and Trump's "pro-police" perspective.  
"The figures I choose to depict look like they're laying down and there's a lot of aspect of Trump's verbal violence and his want-to-be physical violence that he inflicts on people who are not like himself and that is all embedded on that image and what I was trying to reflect on." 
Alejandra Carillo created an installation piece of a steel ladder placed against the wall leading to a wallpaper of clouds. The installation includes a chain of smaller ladders that connect to each other and a televised video of a performance that takes place in the border bridge between El Paso and Ciudad Juárez.  The artist's approach explores the concept of migration, communication and connection.  
UTEP sculpture professor Angel Cabrales is known for borderland-related works. In his installation, the artist takes on the concept of an un–colonized world, or a "world that could have been," with a touch of science fiction. This year, the faculty exhibition included participation by students in the art department. The advertisement and invitations were designed by graphic design student Sara Isasi, while the original text was provided through a collaboration of art history students Karen Lizbeth Chavez, Jorge Hernandez and Sarah Ostrowidzi under the guidance of art history professor Melissa Warak.  
Warak then contacted the faculty to discuss the idea of providing different workshops and seminars to students and the public throughout the exhibition's time frame.  
The workshops will include D.I.Y. wood framing by woodshop and glass gallery technician Nicholas Gialanella; an open drawing session with drawing professor Hector Romero; ephemeral printing with printmaking professor Kim Bauer; as well as seminars by the department's art history professors and informative lectures that include research on where ideas come from, effective ways to engage in the community and framing precarity in art education. 
All workshops will be given by the faculty members throughout April at the Rubin Center, except for the D.Y.I. wood framing workshop which will be held at the Fox Fine Arts Woodshop. For information on the dates and times, visit www.utep.edu/rubin/news/index.html.  
The exhibition will be on display at the Rubin Center until Friday, April 17. 
Jaqueline Martinez may be reached at [email protected]