'Monsters We Create': A play co-produced by students focuses on border, climate change, mental illness
"Monsters We Create" is a new play about political chaos and one girl's tale of resilience written by playwright Georgina Escobar in collaboration with student playwrights.  
It's set to premiere at 7:30 p.m. Feb. 12 at the Studio Theatre in the Fox Fine Arts Center.  
The play is a once-in-a-lifetime event for theatre students because it falls under the new work development genre where writers are engaged throughout the development of the play from the beginning of production meetings to the rehearsal process.  
"Having the writer in the room allows for us to manipulate the text to fit the actual circumstances that we have, which is a rare opportunity that students rarely get unless they have a playwright in-house," said Escobar, who is also a playwright visiting professor of practice. "The writer is not creating in a void, but taking ideas from designers, being influenced by the cast and taking those to the surface of the story therefore, making the play a uniquely UTEP production. It can't ever be replicated in this exact way because it was crafted and shaped to, for and by UTEP students."   
The play takes place in a dystopian borderland, 10 years into the future, overrun with refugees due to climatic disasters. The government, dealing with the refugees, becomes a police state and puts refugees in sterilization camps.   
The story follows a young Mexican girl who is a writer in a sterilization camp. She escapes and remembers that she had a plan with her friends, a "call to action." They then get together to unify the voices of the oppressed. 
"Monsters shines light on what it means to connect or disconnect with friends and family when the planet and political landscape are crumbling around you," Kimberly McKean, assistant professor of performance and director of the play said. "Some of our characters fight for change and resist, while others sit in complacency like 'boiling frogs,' numb to the damage."  
The play was created through a collaborative playwrighting course led by Escobar and a special topic acting course led by McKean.  
Escobar graduated from UTEP with a degree in traditional playwrighting and has trailblazed a road in Latinx futurity and a new genre she calls "frontera-funk." Escobar hopes to connect professional and student playwrights.  
"One of the big reasons I came back to serve in this position this year was to look for ways to bring in my network of national theatre-makers and sort of break that notion that the people who have made it are on another level or they're untouchable," Escobar said. "I'm a steering member of the advisory committee of the Latinx Theatre Commons and we function on four tenants that are very important: advocacy, art-making, scholarship and networking. They function in a balanced way and that's what I'm hoping to bring,"  
Escobar hopes the university recognizes the students' work and supports it so it can continue in the future. 
"It absolutely needs to be archived because it's a huge research project in a sense that an incubator for devised scripting has never been implemented, that I know of, at this university. This type of ensemble-based, device-driven collaborative writing needs to be documented for our sake and for the department's sake to continue doing this type of work," she said. 
One collaborator, Isabelle Rivera, a junior musical theatre major, hopes the audience catches the true meaning of the play.  
"The audience needs to know that it was written here, and it's based on people here. It's something that represents the community itself, and that it's monsters we create," Rivera said. "It's people in your head, the depression and stuff like that. I think they need to understand that everyone has some baggage and monsters attached to them and you have to deal with it and you have to fight it." 
The play premieres at 7:30 p.m. Feb. 12 at UTEP's Fox Fine Art Center Studio Theatre. Additional shows are at 7:30 p.m. Feb. 13, Feb. 15 and at 2:30 p.m. and 7:30 p.m. Feb. 16. Tickets are $12 for students, $15 faculty and non-UTEP students and $18 for adults.  
Tickets can be bought over the phone at 915-747-5234 or on ticketmaster.com. For information call 915-747-5118.  
Exodis Ward may be reached at [email protected] 
About the Writer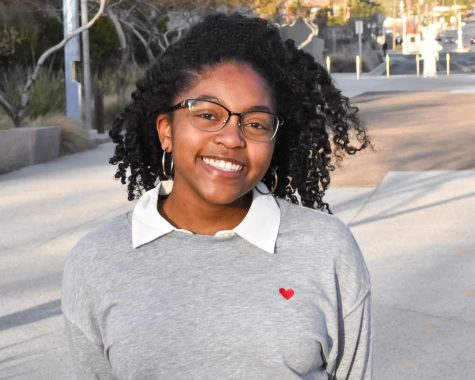 Exodis Ward
Exodis Ward is a Multimedia Journalism major, English Rhetoric minor at the University of Texas at El Paso. She is Entertainment editor at The Prospector,...