Folk abstract artist debuts solo exhibition at Galería Lincoln grand opening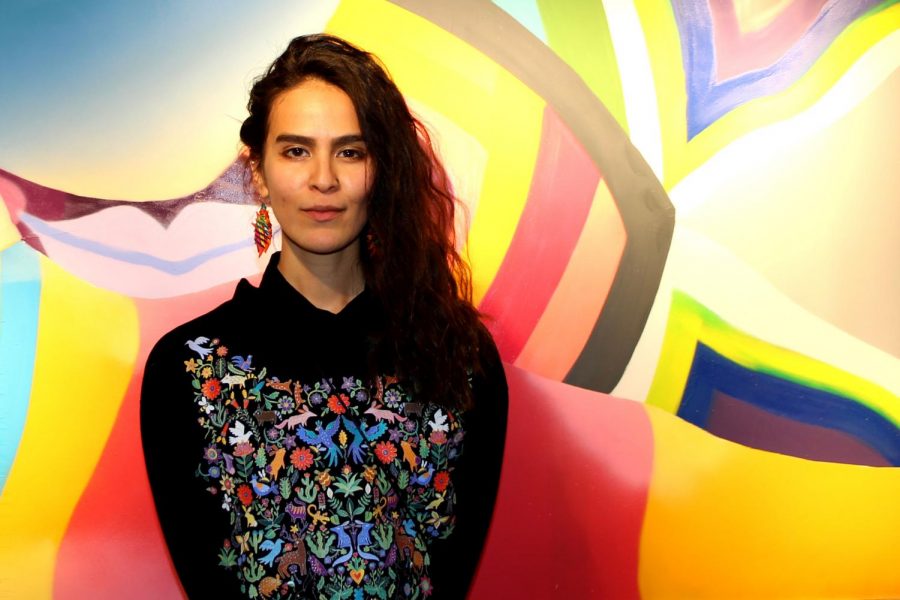 Galería Lincoln hosted its grand opening on Feb. 8 showcasing a solo exhibition dubbed "AO.Rituales" by artist Eugenia Maria Carmona, commonly referred to as "Ao."
The artist was raised in El Paso with her parents, but she also has roots in Chihuahua, Mexico. Growing up, Carmona developed a passion for the arts with one of them being folklórico dancing.
Carmona first attended New Mexico State University in Las Cruces to pursue an education in visual arts, then transferred to the University of North Texas in Denton, Texas to artistically challenge herself and learn how to be an artist in today's world while also understanding what it means to be an entrepreneur.
Carmona's passion for folklórico and appreciation for her Mexican culture is visually present throughout her artwork, where she has explored different mediums and has taken her own approach to textile making.
The artist was initially influenced by Las Cruces graffiti artists and their capability of working in such a large space and then decided it was time to push her own artwork at an intimate level. Carmona then began painting murals by combining the styles of abstraction and indigenous textiles.
"I really do think it was the folklórico that influenced my textiles, the movement, the energy, it's totally something that was manifested by this suppressed dancer's nature," the artist said in an exclusive interview with The Prospector.
The artist began taking commissions within El Paso as well as in her family's hometown Chihuahua, where she spent almost a year creating murals and developing her practice.
The artist uses thread and yarn in her textile work to explore patterns within the canvas as well as the outer edges.
"The process varies because sometimes I'm inspired by fabric and sometimes I am inspired by imagery, the sun the moon and nature," said Carmona whose work ranges from canvas paintings to murals that evolve around textile patterns, bright colors and earthy tones in reference to the desert and the five elements of the earth.
"I've always been a desert child so I feel like it seeps through my work within the tonal range that I use in my colors, the greys, the neutrals it is all referenced to nature, more earthy," Carmona said. "Whereas the more chromatic colors are more of a reference the energetic nature of my culture and the neon is more symbolic of my religion and my spiritual practice."
Carmona describes her artwork as "folkloric-abstract" while also representing her own life.
"Rituales. It's a sacred aspect of her life," said Galería Lincoln owner, Diego Martinez. "Her approach and work ethic are great and she's emerging, she was hungry and she needed the platform, so it all worked out."
Galería Lincoln's grand opening also featured other local talents, including Martinez himself, who transformed an airplane into a permanent, public art installation for the gallery. Live music featured artists Stan Z and DJ Birth Defects. The opening also shined a spotlight on El Paso, spoken-word artist, Celia Aguilar who performed by sharing intimate, poetry with the audience.
In coordination with businesses like St. Augustine Pizza, Craze, Blazing Tree Brewery, Old Sheepdog Brewery  and caterer David Benavidez, attendees enjoyed food and beverages while they marveled at Carmona's artwork.
Prime Photobooth was also present at the opening to allow guests to capture fun, instant photos with provided props.
"Today has been a perfect example of El Paso coming together. It almost feels long overdue, we had different people from the artists in front of the house asking for donations for plans, to senators, to the mayor's wife being one of the first people to come here and tell us thank you. A lot of people were moved by the choice of area that we're in," Martinez said. "We are very excited about the turnout we couldn't have been happier, the support from the community has been tremendous."
After a fun and exciting grand opening that kicked off the gallery's presence in the community, some also think that the gallery is poised to usher in a rich future for El Paso's local art scene.
"I think this is a really great moment here in El Paso. I love  's work, I love the textile work, all the movement that it shows. It really puts across the infectious smile that she has and the energy that she has; you can greatly see it within the artwork itself," said Angel Cabrales, artist and sculpture professor at UTEP. "If Galería Lincoln continues with shows like this, I think it would be a huge success for, not only the gallery, but for El Paso."
Jaqueline Martinez may be reached at [email protected]